I dag gjorde jeg et forsøk på la lage en rask enkeltmannsstørrelse av denne oppskriften. Det gikk egentlig ganske dårlig av to grunner:
For mye ost i bunnen
First Price crap ost (rev den med meg fra hylla i dag, ante ikke at den var så fullstendig rævva)
Jeg lagde bunnen to ganger, først med 100 gr revet ost, så med 60 gram, men det må nok reduseres ytterligere, her er hva jeg kommer til å gjøre neste gang (og til inspirasjon for andre):
Først sett ovnen på 200 grader.
Ingredienser
Bunn
1 egg
30 gram naturell kremost
10 gram parmesan
1 ts salatkrydder
40 gram revet ost (IKKE first price, men skikkelig ost!!)
meierismør til steking
Topping (valgfritt)
Hakkede tomater som tomatfyll
Champinjong
Skinke
Brie
Parmesan
Masse revet ost (igjen, IKKE first price, den smelta jo ikke engang!!)
Masse krydder (salt, pepper, oregano, basilikum, mer salatkrydder)
Fremgangsmåte
Visp sammen egg og kremost. Visp inn fløte, parmesan og krydder, og tilslutt den revne osten.
Bunnen må stekes alene først, denne gangen brukte jeg en liten stekepanne og stekte den på svak varme på begge sider som en pannekake, men på grunn av all den osten (og den dårlige kvaliteten), så måtte den stekes ganske lenge. Med mindre ost blir det nok bra :)
Når den er gjennomstekt la jeg den over på et bakepapir og la på toppingen.
Stek den til slutt i ovnen (som du har satt på 200 grader) i max ti minutter, serveres med seterrømme.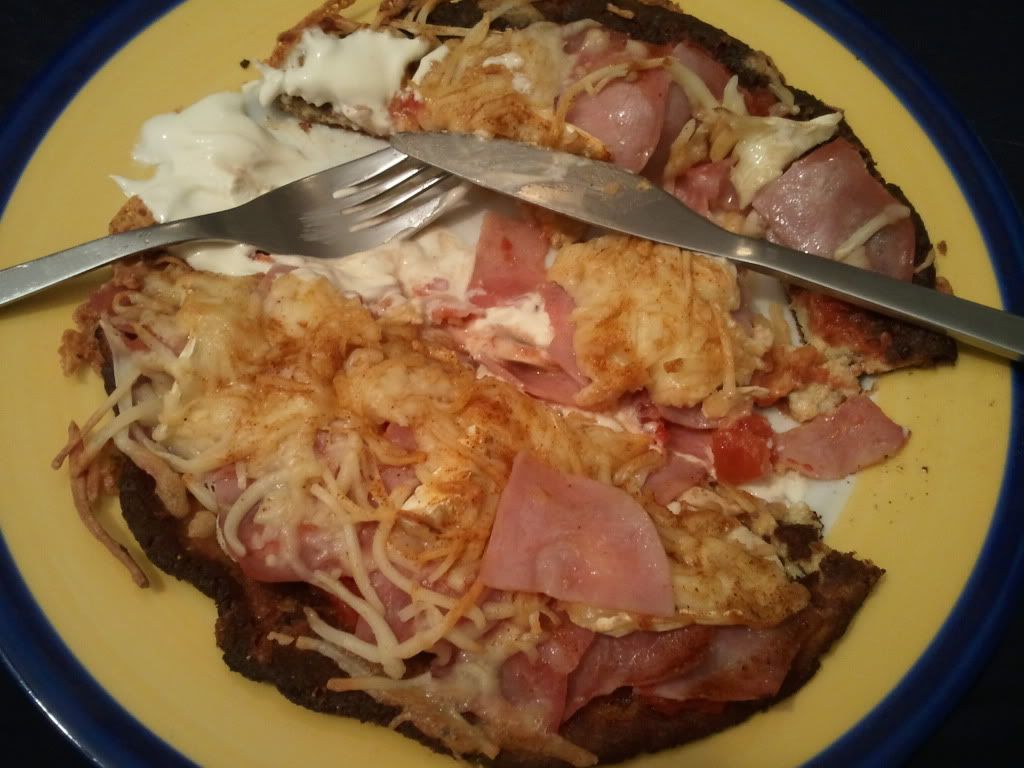 Altså til tross for den teite osten og at bunnen ble litt heftig brun så smakte det ikke så værst (spiste bare det i midten), men det var ganske langt unna originalen. Men jeg har ikke gitt opp! Nå har first price osten gått i søpla og neste gang prøver jeg med 40 gram ordentlig ost i røra istedefor 60, og ordentlig ost som faktisk smelter som topping :)
Si ifra om du prøver deg og får det til!