Til bursdagen min laget jeg en ostekake mange kaller for verdens beste, lavkarbo-style! Kaken tar lang tid å lage, men er ikke så vanskelig som man kan tro, og mesteparten av tiden går til venting på at kaken skal stivne, så du kan jo gjøre andre ting i mellomtiden.

Sjokoladepynten stivnet i kjøleskapet og gjorde kaka enda penere :)
Oppskriften er knabbet fra aatinkas innlegg på lavkarbo.no, og jeg har prøvd å følge oppskriften slavisk, men kom ikke lenger enn til bunnen før jeg hadde gjort feil. Jeg har også kun en enkel stavmikser og ikke noen kjøkkenmaskin, men det gikk bra fordet. En annen endring var at jeg også brukte litt natreen for å gjevne ut den kunstige søtningssmaken.
Jaja, her er fremgangsmåten med bilder:
Bunn:
250 gram skoldede mandler
35 gram sukrin (jeg blandet med oppskriften under og brukte 0,6 dl, men ble godt fordet)
0,7 dl smeltet smør

Skolding av mandler
Jeg skoldet faktisk mandlene selv. Det gjorde jeg ved å koke opp vann, hive dem i og la dem fosskoke i fem min. Så klemte jeg ut alle mandlene fra det løse skallet, men det skal vist være enklere å dra det av med et kjøkkenhåndkle. Jeg hakket opp mandlene med en stavmikser og blandet med 0,6 dl sukrin og smør (ja jeg leste feil, men det ble godt).
Jeg bruker en vanlig IKEA kakespringform og kledde bunnen med bakepapir. Trykk mandelblandingen godt ned i formen og sett den kjølig i ca to timer.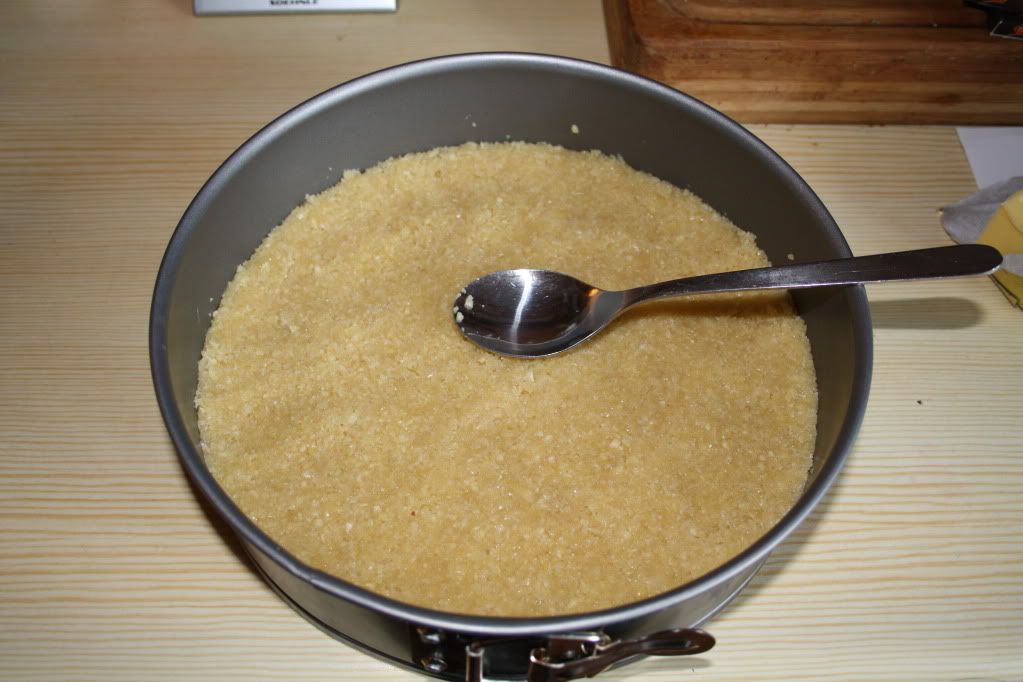 Her har jeg trykket ut mandelbunnen i kakeformen, la den hvile i 2 timer før du fortsetter.
Siden kaken er litt vanskelig å få ut av formen så satte jeg bakepapir på bunnen av springformen (22 cm, tror min er 18?), og satte den opp ned. IKKE GJØR DET!! Jeg tenkte at siden bunnen er fast så er det ikke så farlig, men når jeg stekte den så begynte det å renne smeltet sukker (eller hva det var) ned på bunnen av ovnen og jeg røykla hele leiligheten. Jeg måtte skrape ut av ovnen og sette inn et brett bakepapir før jeg kunne fortsette. Men det gikk bra, og det smakte ikke røyk av kaka heldigvis :)
Men før kaka skal i ovnen må du ha på fyll nr 1!
Fyll 1
500 gram kremost (2 1/2 pakke Philadelfia eller 4 pakker Tine Kremost, eller nesten 2 pakker familiephiladelphia som jeg brukte) – så fet som mulig
0,6 dl sukrin
2 store eller 3 små egg
Noen dråper natreen
Alt has i kjøkkenmaskin med kniv og mikses godt – ca 3 minutter, jeg brukte min lille stavmikser med kniv. Det føltes litt rart, men jeg turte ikke å bruke vispen siden det står kniv. Den skal bli mer kremete enn flytende, min ble ganske flytende, mye mer flytende enn jeg trodde, men det gikk fint fordet.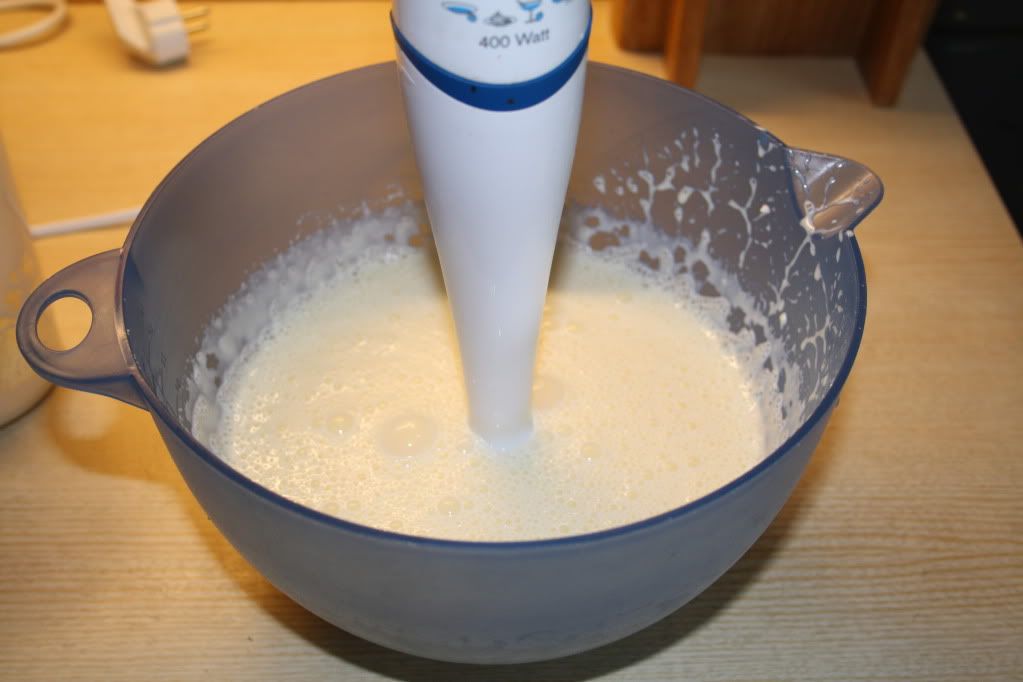 Fyll 1, veldig flytende egentlig
Om den ikke blir tykk så ikke fortvil, bare hell den på bunnen og ha den i ovnen, det gjorde jeg. 190 grader i 20 minutter. Den skal ha stivnet nå! Litt «dissete».

Ferdig stekt bunn med fyll 1
Ta ut og la hvile i ca 15 minutter. Da rekker du å lage neste fyll:
Fyll 2
Del vaniljestangen i to på langs og skrap ut frøene. Putt alt i kjøkkenmaskinen igjen og miks godt, jeg vispa med en gaffel. Dette skal også bli kremete, den ble mye tjukkere enn flyll 1 i hvertfall.Denne var fantastisk god, kunne spises med skjed! Den blir ikke like god med bare vaniljeessens, men siden jeg skulle ha vaniljestang i noen cupcakes og så brukte jeg en halv vaniljestang i hver oppskrift og 4-5 dråper vaniljeessens i hver (mest for å spare pæng).

Fyll 2 klart for kaka
Ha over kaka, glatt pent på toppen og ha inn i ovnen på 250 grader i 10 minutter. Det øverste fyllet er ganske skjelvende når du tar den ut, men ikke flytende.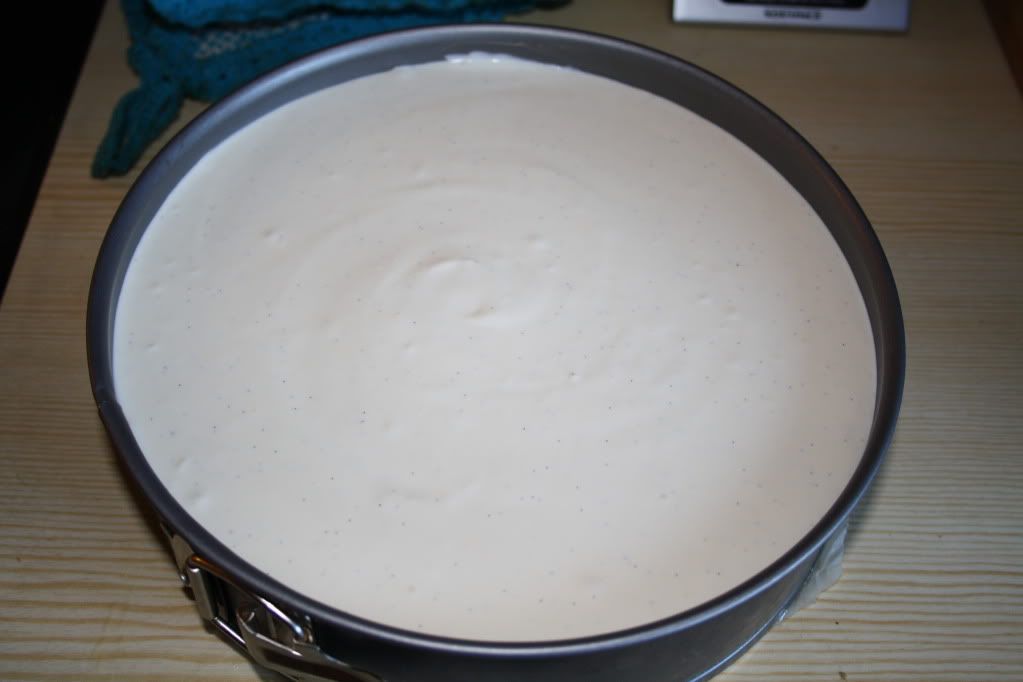 Fyll 2 på kaka
La kaka stå i romtemperatur i 5-6 timer (eller så lenge du kan) og i kjøleskap 12 timer før pynting/oppdeling. Jeg hadde den på benken til jeg skulle legge meg og så inn i kjøleskapet over natta.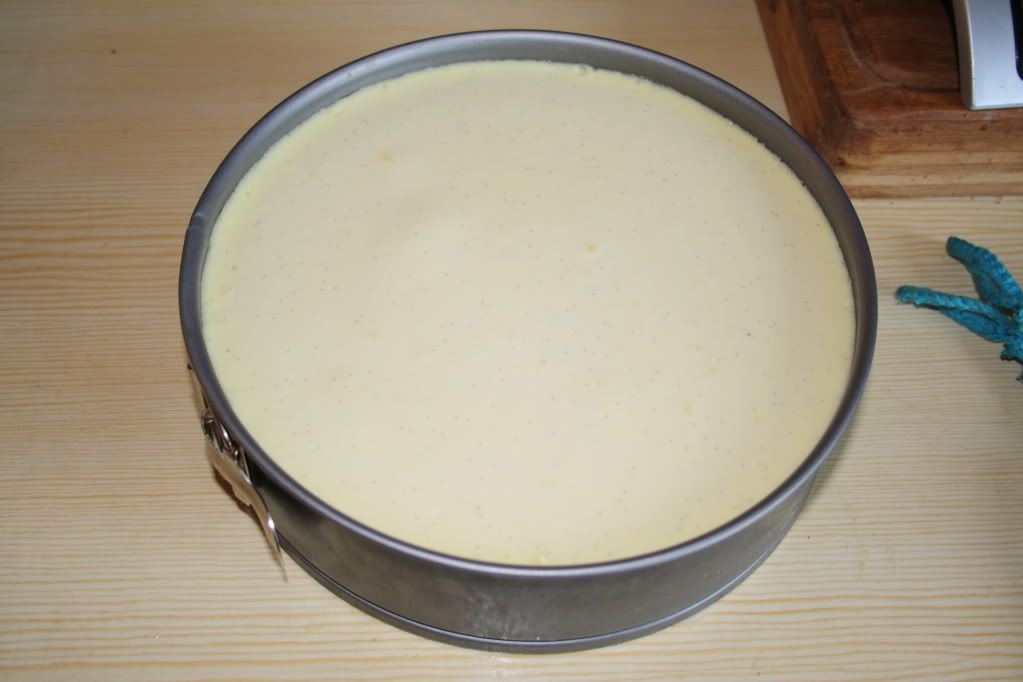 Fyll 2 etter 6 timer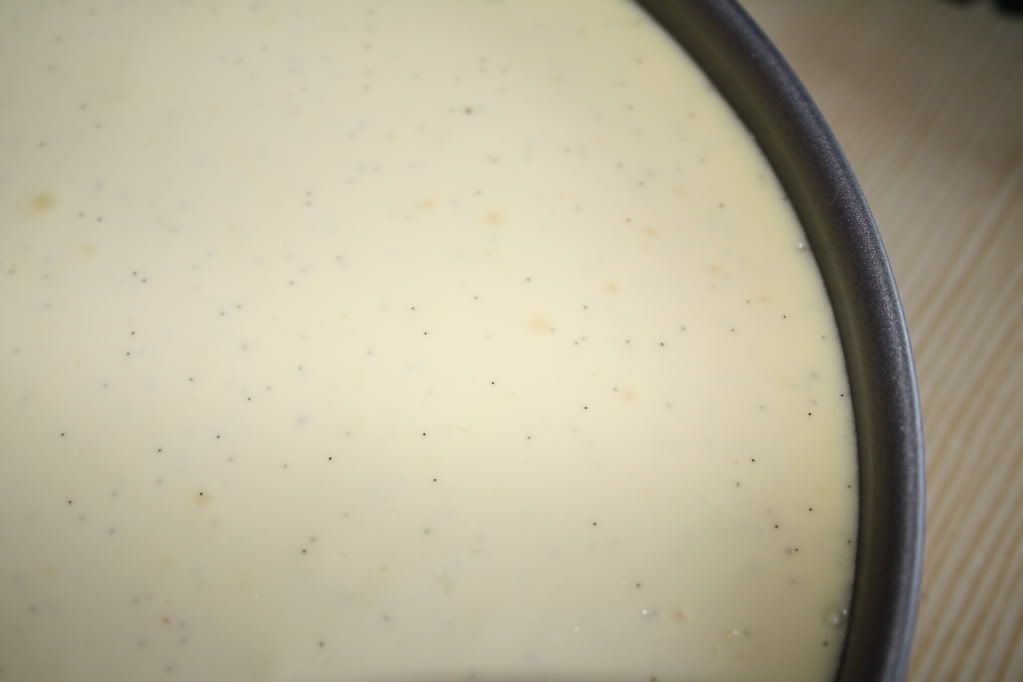 Fyll 2 etter 6 timer

Kaka dagen etterpå (fikk merke etter forsøk på å legge på gladpack, IKKE gjør det)
Gelelokk
5 plater gelatin
3 dl ublandet fun light (jeg brukte den nye strawberry rabarbra)
Noen bær – jeg brukte frosne bringebær og blåbær, omtrent nok til at de dekker kaka. De ga også litt væske, derfor hadde jeg lite saft i forhold til geleplatene
Jeg hadde ikke i noen bær så jeg tok litt mere fun saft.
Så kom utfordring nr 2 da. Iløpet av natta hadde det blitt en liten sprekk mellom kaka og springformen. Jeg var jo veldig klar over at bunnen ikke var tett, og dette kunne jo bli utfordrende i og med at geleen er fullstendig flytende når du heller den på. Jeg helte den på og heiv kaka inn i kjøleskapet og håpet den ville stivne på sekunder, men det gjorde den ikke. Så jeg fylte hele kjøleskapet med tørkerull, men det rant så fælt at jeg måtte ut igjen med kaka å sette den på et fat. Da rant det ikke så mye lenger og geleen stivna tilslutt.
For å få den ut av formen tok jeg bare en skarp kniv og skjærte rundt kaka. Jeg beholdt bunnen (bare klippet vekk overflødig bakepapir), og satte den på en ny tallerken med serviett under. Siden bunnen sto opp ned var det ikke noe problem å skjære i kaka.
Av pynt så brukte jeg overflødig cupcake fyll laget på 100 gr mørk sjokolade, 50 gr smeltet smør, sukrin, fløte og kaffe. Den ble god, men sterk! Den blei litt løs, så jeg måtte ha den i kjøleskap en stund før jeg kunne pynte med den. neste gang bruker jeg nok en philadelphia topping istede (sukrin, philadelphia og smør). Blomstene kjøpte jeg på en svensk matbutikk og er ikke lavkarbo.
Lykke til!
Energi
| | | |
| --- | --- | --- |
| | Fett | 88 % |
| | Protein | 9 % |
| | Karbohydrat | 3 % |
| | Alkohol | 0 % |
Ifølge aatinka er det 2,5 gr karber i hvert stykke (16 stykker), 40 gr karber totalt!