Har du lyst til å handle på eBay, men syns det er komplisert? Nå har jeg laget en guide selv femåringer kan forstå. Jeg har gått igjennom registrering, søk, kjøp og betaling for å handle på eBay. Har du spørsmål så kom med dem :)
Se beskrivelse under bildene for ytterligere informasjon.

Trykk på «My eBay»

Trykk på «Register»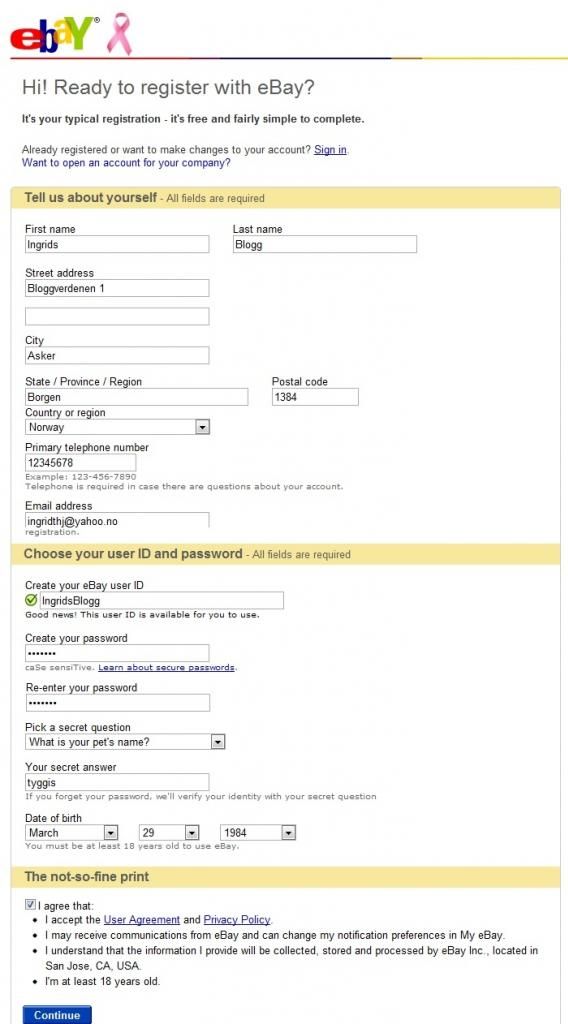 Fyll inn skjemaet så godt det går. Helt standard skjema. Trykk på «Continue»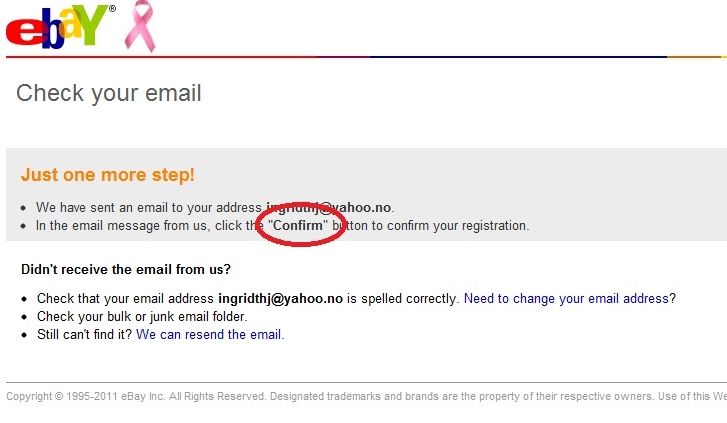 Når du har gjort det riktig, får du denne meldingen. Åpne deretter eposten din. 

E-posten fra eBay havnet i spammen hos meg. Når du finner e-posten, åpne den og trykk på «Activate Now»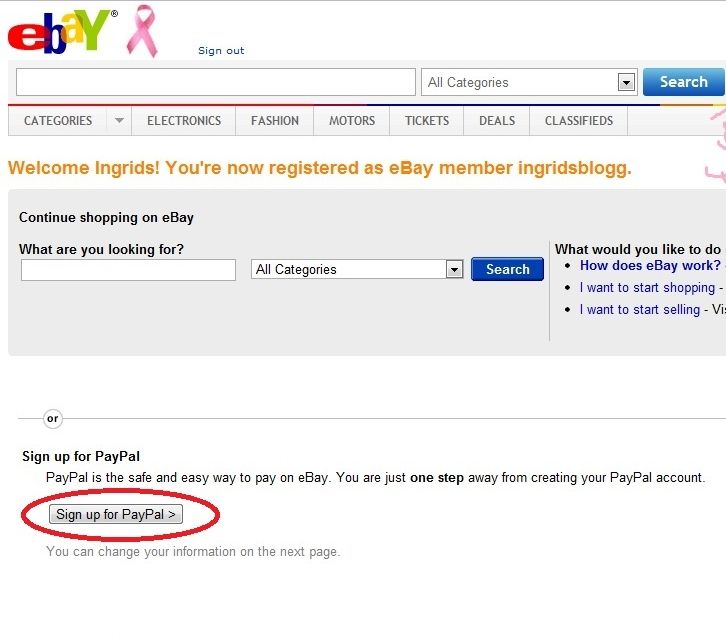 Du får da opp denne siden. Her kan du lage en Pay Pal konto. 
Pay pal er en sikker betalingsløsning man bruker på eBay. Den fungerer på samme måte som PayEx om brukes i Norge. Jeg har ved tre annledninger blitt lurt på eBay, og har alle gangene fått igjen penger ved å åpne en sak i PayPal. Kjøp aldri fra selgere som ikke bruker PayPal (men dette er ytterst få).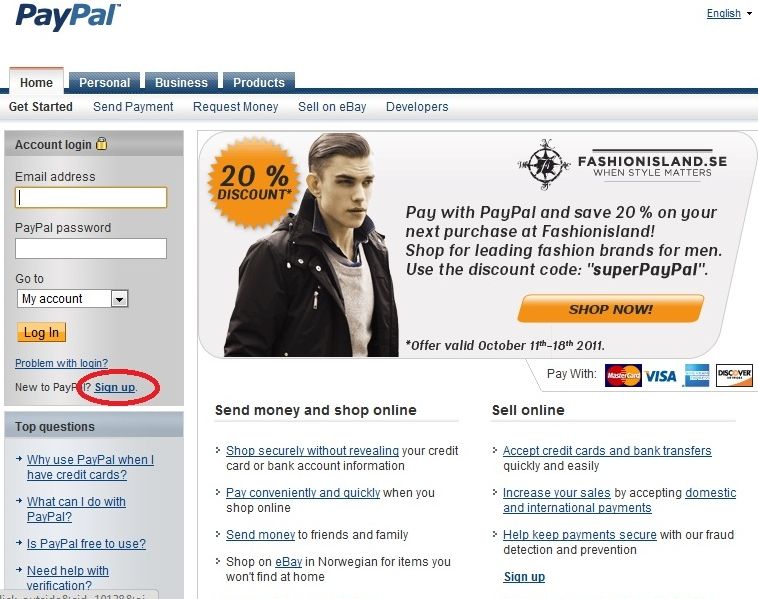 Trykk på «Sign Up»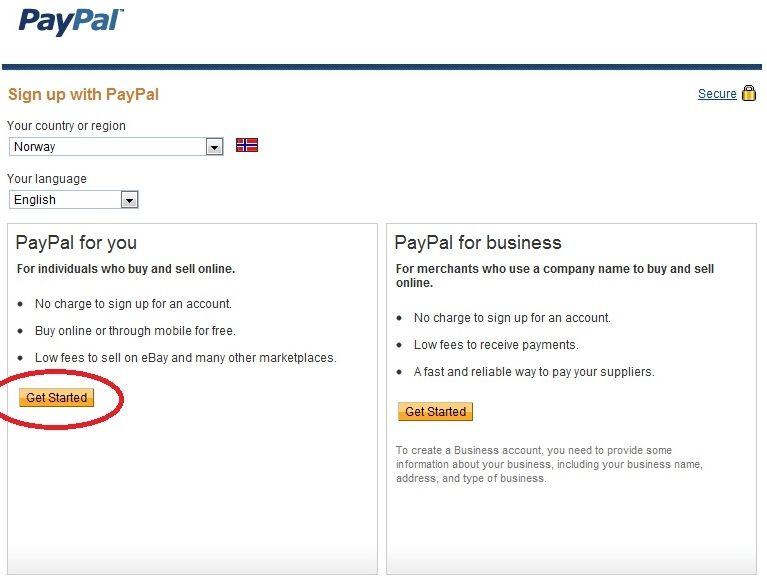 Trykk på «Get Started»

Legg inn informasjon som i sted. Du må også legge inn et kredittkort (dette er helt trygt). Legg inn det kredittkortet (eller visa) som du ønsker å handle med nå og i fremtiden.
Når du har fått satt opp en PayPal konto kan du starte med shoppingen. For å gjøre det enklere for meg selv, setter jeg opp et avansert søk så jeg kun får varer til max 35$ (så man slipper moms), og velger kun selgere som sender til Norge. HER har jeg satt opp dette søket, så slipper du å gjøre det selv. Søkeordet er «Louis Vuiton» men det bare bytter du ut i søkefeltet til det du leter etter :) 


Til venstre ser du kategoriene, her er det bare å velge å vrake. Under søkefeltet kan du få inspirasjon til andre søk, men husk at om du klikker direkte på disse så fjerner du prisbegrensningen og kun sending til Norge, så det er bedre om du limer inn ordet i søkefeltet manuelt. Til venstre har du en sorteringsmeny. her kan du for eksempel velge «shipping and handeling, lowest first» som er bra om du vet akkurat hva du skal ha.
Dette søket kan du lagre og finne igjen på «Saved Searches». Når du skal søke på noe annet en annen gang, bytter du bare ut søkeordet, så slipper du å legge inn et avansert søk hver gang du skal søke på noe nytt (om du fortsatt ønsker å ha max dollar på 35 og bare selgere som sender til Norge altså). Skal du søke på noe annet nå, er det bare å endre søkeordet i søkefeltet, og innstillingene dine vil fortsatt være der :)

Det finnes auksjonsgjenstander og «Buy it Now» gjenstander. Sistnevnte er fast pris og benyttes som regel av «storselgere», mens førstnevnte må du vente til et visst klokkeslett. Det er som en vanlig auksjon, men jeg anbefaler å vente med å gi bud til rett før fristen går ut. Jeg kjøper begge deler.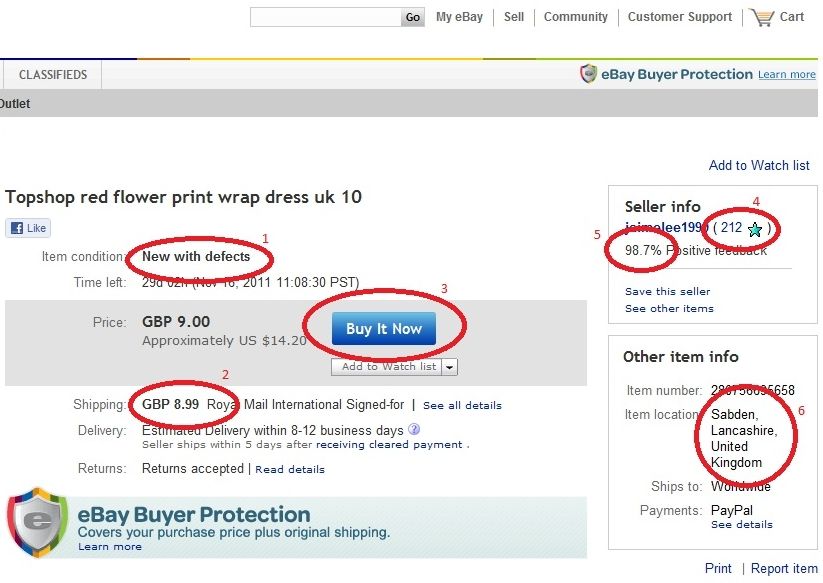 1. Gjenstandens tilstand
2. Fraktkostnaden, alltid viktig å sjekke denne
3. «Kjøp Nå» knappen, trykk for å kjøpe (denne er ikke endelig, kommer en knapp til)
4. Antall karakterer selgeren har, burde være mer enn 50
5. Prosent positive karakterer. Om ikke 100% positive kan det lønne seg å sjekke hvorfor selgeren har fått negative karakterer, kan for eksempel være fake produkter
6. Hvor i verden selgeren er fra. Står det Hong Kong eller Kina er det om regel fake (men det er ikke alltid det gjør noe)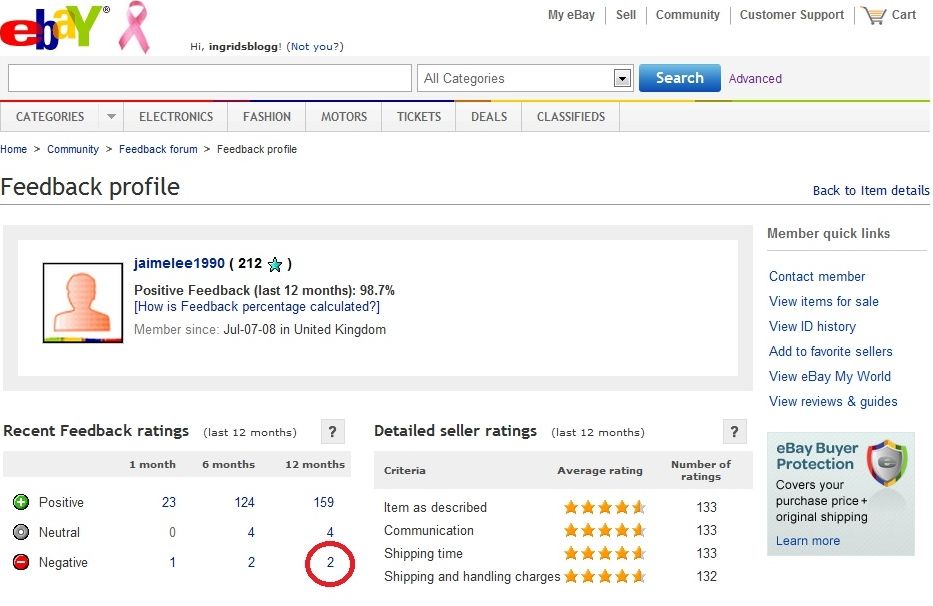 Her har jeg trykket på nr 4. fra bildet over. Trykk på 2-tallet for å se de negative karakterene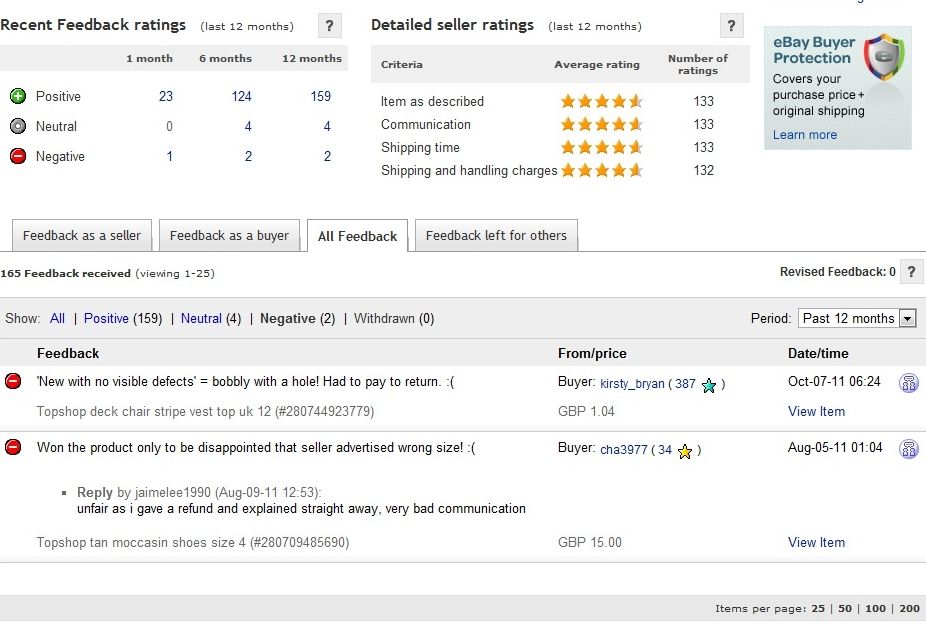 Ikke noe å bekymre seg nevneverdig over i forhold til hvor mange positive det er

Etter å ha trykket på «Buy Now», trykk på «Commit to Buy» under «My ebay» for å fullføre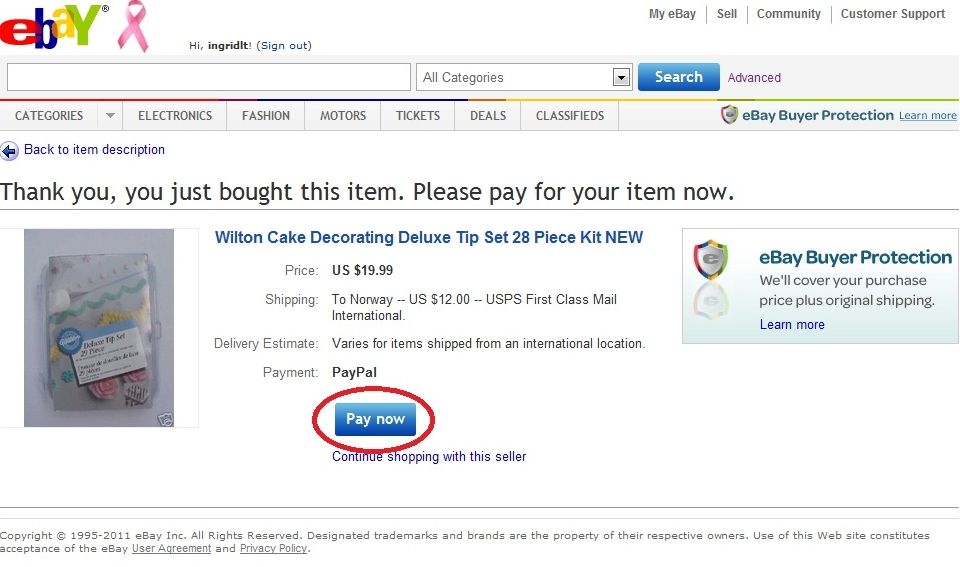 Jeg valgte å gå for kakedekorering i stede for kjole. Trykk nå på «Pay Now». Ønsker du å handle mer kan du gjøre det først.

Når du er ferdig med å handle, kan du se hva du har kjøpt, trykk på «Purchase History»

Her kan du betale ved å klikke på «Pay Now»

Sjekk at adresse og slikt stemmer. Om du kjøper flere gjenstander fra samme selger, er det smart å vente litt, så selgeren får slått sammen fraktkostnaden. Vent gjerne til dagen etter. Du kan klikke på «Request Total» på siden før for å få dette raskere.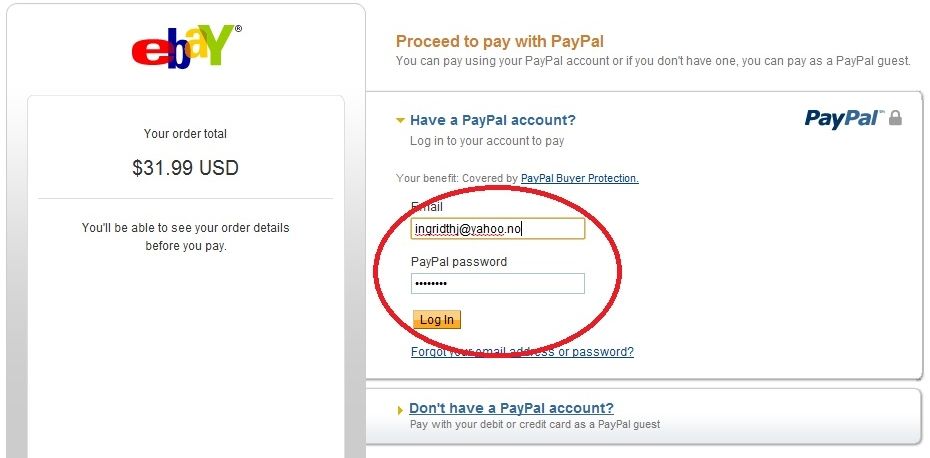 Når du har trykket på «Continue to PayPal» blir du videresendt hit. Her må du logge deg inn igjen med brukernavn og passordu du lagde på Paypal.

Nå får du se hva handelen koster deg i kroner. Trykk på «Continue».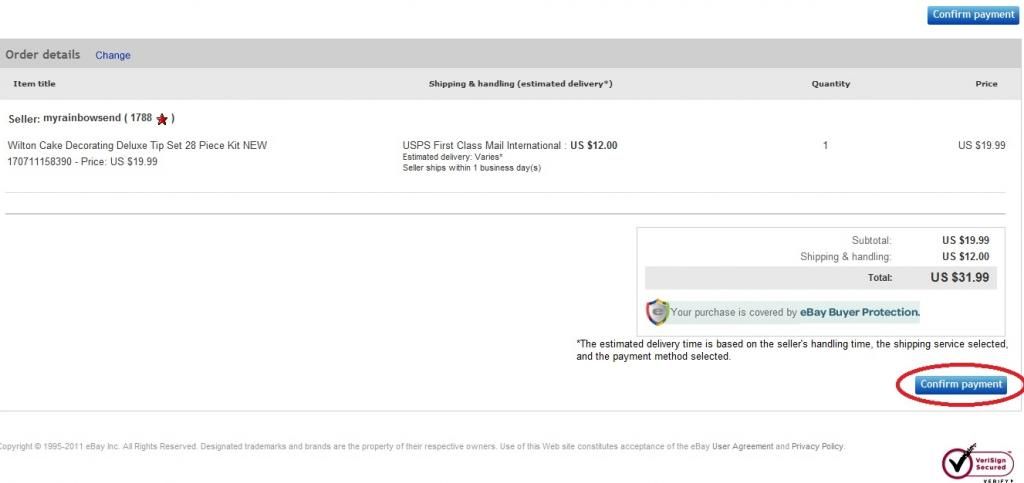 Sjekk adresse osv, og trykk på «Confirm Payment»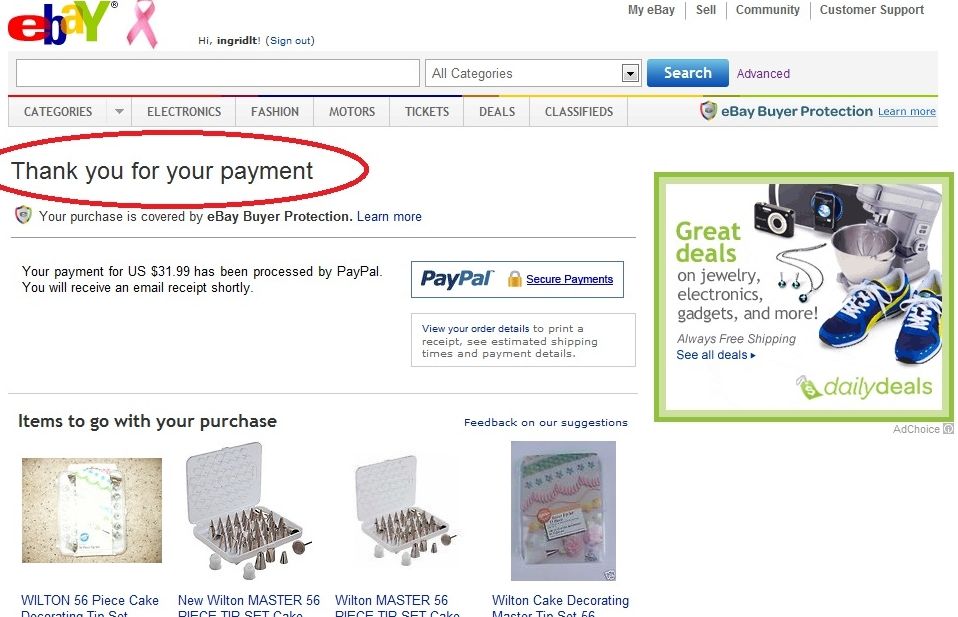 Tadaa! Gratulerer med nytt kakesett Ingrid! *klappe på skulderen*
Var det greit å følge? Noe du lurer på?
Ps: Sjekk min kategori eBay for å sjekke hvilke selgere jeg handler fra ;)