Puh! Årets varmeste dag, ja det får en si! Denne dagen har vært skikkelig perfekt. Vi sto opp relativt tidlig og spiste en deilig frokost på balkongen. Jeg lagde også min marvelouse protein-bær shake, nå med cherry butter som jeg kjøpte for en stund siden på iHerb, og det var supergodt å ha i! Denne er vist også veldig god å ha i syltetøy.
Her har dere oppskriften til to porsjoner, men jeg pleier å variere litt fra gang til gang ettersom hva jeg finner i skapet.
3-4 isbiter
1 neve fryste bær (jeg brukte skogsbærsblanding)
2 egg (3 små)
1 ts Cherry Butter
1 ss tyrkisk yoghurt
1 dl fløte
ca 1 dl vann
Så mikser du alt sammen i en blender eller med stavmiser, heller over i to store glass og oppi med et sugerør :)
Etter frokosten dro vi ned på treningssenteret og kjørte en knallhard økt. Jeg kjørte den nye sirkelrutinen min med vekter, og jeg er like dau etter hver gang. I tolv tia var det på tide med litt sol og saltvann, så da dro vi ned på Holmenskjæret og badet. Vi klarte faktisk å finne oss en litt rolig plass vekke fra den store folkemengden, men etter vårt første dupp var vi plutselig omringet av en gjeng på rundt 8 godt voksne mannfolk med bulemager, sigg i en hånd og øl i den andre. I tillegg satt de rett opp og ned i en halvsirkel vendt mot oss. Jeg liker å skifte bikini etter et dup, men det var helt uaktuelt her. Jeg er ikke så fryktelig sjenert, men det var litt en følelse av å ha et publikum som ventet på et srippeshow, så mine raske mr. Bean skifte-triks fikk vente. Når røyken begynte å ose opp i nesene våre fikk vi derimot nok, så da flyttet vi oss.
Etterpå fikk vi nyte en deilig pastasalat (atkins pasta selvsagt), og slikke sol et par timer til, nesten som å være i syden det her :)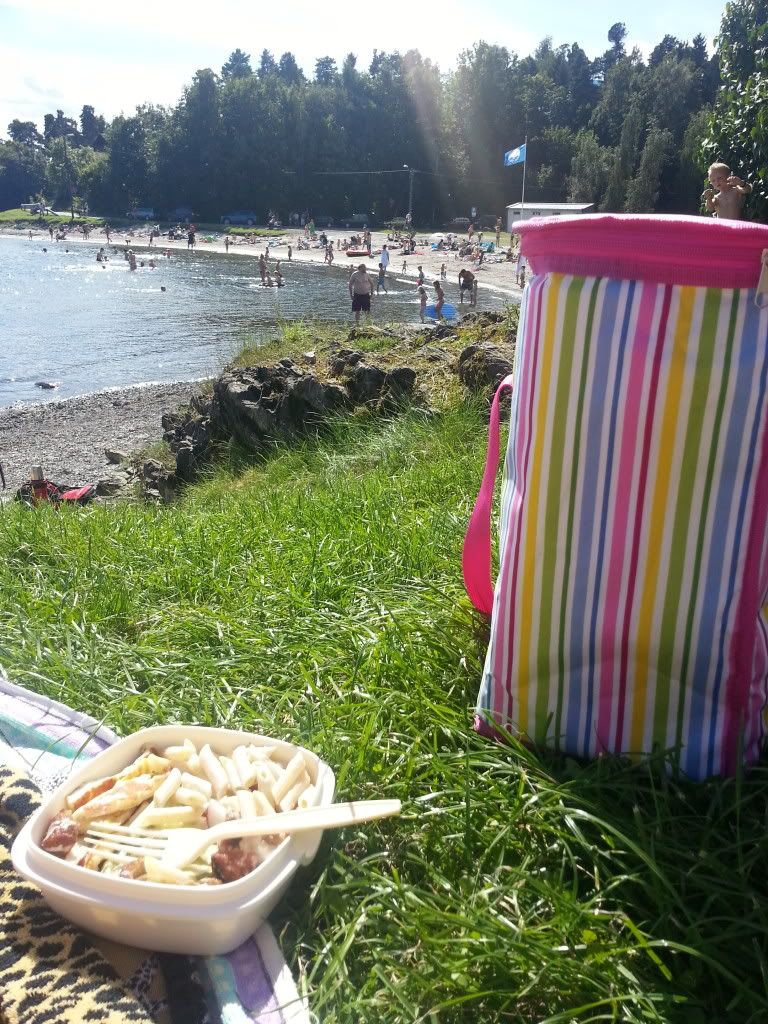 Vel hjemme igjen driver jeg og drømmer om at vi skal bli ferdig med masteroppgaven til neste uke. Det betyr at vi har en uke fri før evt jobb starter, og da kan det kaaaanskje bli rom for en liten restplassferie ett eller annet sted langt unna herfra, DET hadde vi trengt! Er ganske mange turer ute nå som ikke koster spesielt mye, og jeg antar at dess lenger man venter, dess billigere blir det, eller? Det er jo fortatt august da, så man må vel vente til september for å få de skikkelige lave prisene. Jaja, får vel bare se hva uka bringer :)
Endelig får jeg brukt den fine bikinien min! Her kan dere se hvordan jeg har laget den :)
Hvordan skifter du bikini/badebukse på stranda? Har du vært med på hoppe-på-tur før til syden, og var det vellykket?