Tidligere har jeg ikke vært så opptatt av vekt, men etter et par kroppsanalyser vet jeg ca hvordan jeg ligger an med tanke på fettprosent og muskelmasse, så nå har jeg faktisk satt meg opp et mål som er hovedsaklig basert på fettprosent, men også indirekte på vekt. Jeg tror ikke jeg kommer til å øke muskelmassen min spesielt mye mer, med tanke på at den allerede er oppe i 50 kg, heller at jeg mister litt om jeg går ned i vekt. Målet er selvsagt å beholde muskelmasse og miste fett, men det er ikke alltid man kan få alt ;) Målet er å bli fit og ha en sunn kropp!
Her har dere ihvertfall en oversikt over mitt mål, jeg forklarer nærmere under.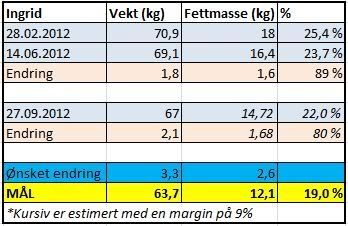 Ok, så de første to datoene er greie, dette er resultatet jeg hadde på kroppsanalysene jeg gjorde da, med fettprosenten til høyre. Jeg har ikke gjort kroppsanalyse igjen nå, siden det koster litt penger, men det jeg har gjort er å kalkulere hva jeg har mistet av fett og muskler siden da. Som dere kan se på endringen mellom de to første datoene, så har jeg der mistet 1,8 i total vekt, hvorav 1,6 av dette er fett. Altså er fett 89% av den totale vektnedgangen. For å ha en liten margin har jeg satt denne prosenten til 80% når jeg har kalkulert ut hvilket forhold jeg sannsynligvis har nå, og for å kalkulere ut målet mitt. Det betyr at for å komme meg ned på 19% kroppsfett, som er målet, må jeg veie 63,7 kg hvorav 12,1 kg er fett. Siden jeg nå er nede på 67 kg, betyr det at jeg må gå ned 3,3 kg for å komme meg til ønsket fettprosent, og det er jo ikke så mye vel?
Nå er det ikke sikkert at 19% fett er akkurat det som er perfekt for meg, men jeg liker å ha mål å jobbe mot, og jeg ønsker å bli kvitt en del fett, så da satte jeg det målet, med forbehold om endringer! Jeg skal på ingen måte sulte meg for å komme dit heller. Sunn mat med lite karbohydrater og trening er det jeg har planer om å holde meg til, og lite utskeielser. En normal fettprosent på dame ligger fra ca 19%, så det skal ikke være noe usunt for meg å ligge her heller :)
Hva lags mål liker du å jobbe etter?