Nå er det skikkelig pisskaldt ute, og det er sikkert mange som er usikre på hva man skal ha på seg i alpintbakken! Dette er nok også grunnen til at mange skisystemer er relativt tomme når gradestokken ligger på 15 kalde eller enda lavere! Jeg fikk også en forespørsel om å lage en liten guide for en stund siden, så her kommer'n :)
Det jeg hadde på meg i Hemsedal forrige helgen er et godt utgangspunkt (da var det 24 kalde ved hytta, og ca 15 kalde i bakken), så vi kan starte der: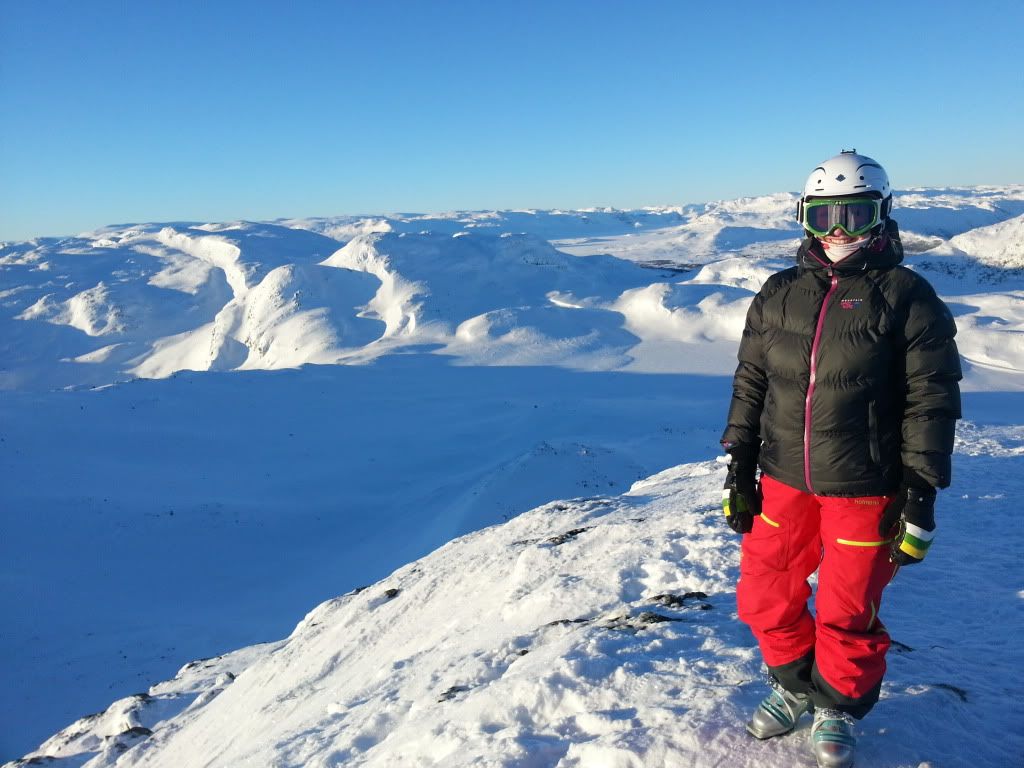 Fra bånn og opp!
Føtter:
Føttene er nok den største utfordringen for de fleste når gradetokken kryper under 10 kalde. Alpintstøvler har begrenset med plass, men det er et par ting man kan tenke på for å holde varmen:
Hold støvlene varme før bruk! Pass på  ta inn støvlene dine om natta så de er gode og varme før du tar de på deg. Skal du kjøre langt på morgenen til skianlegget, så anbefaler jeg å legge støvlene foran i bilen, og ikke i bagasjerommet.
Velg ullsokker! Ull holder deg tørr, og varmer mer enn noe annet teknisk materiale. Pass også på at du ikke velger for tjukke sokker! Om skoen blir trang, får du dårligere blodsirkulasjon, og dermed blir du kaldere på beina. Velg heller en tynnere ullsokk og ha plass til litt luft rundt tærne. Det finnes mange gode sokker med høyt ull-innhold å velge imellom. Husk derimot at ull-prosenten ikke indikerer hvor god kvalitet sokken du kjøper har. Noen sokker har en høy ullprosent, men så er det kun deler av sokken (som for eksempel sålen) som inneholder ull. Slik er det ofte med veldig rimelige sokker, så les den lille skriften bak på pakken! For at et par sokker skal ha lang varighet burde de faktisk ikke ha noe mer enn 60% ull. Kvalitetssokker med en ullprosent på mellom 30 og 60% holder. 2469, Lorpen og Smartwool har fine skisokker.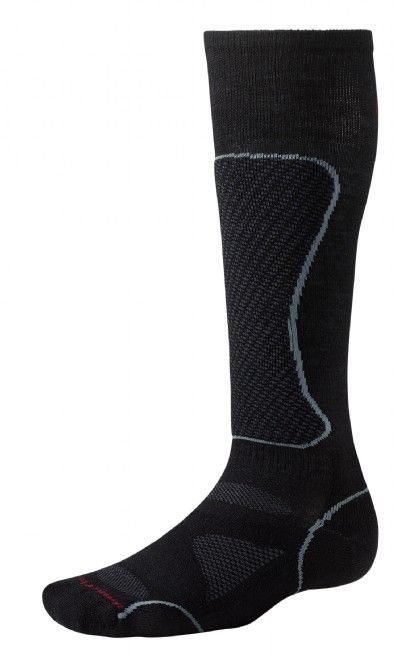 2469 Trysil alpintsokk, Lorpen Ski Lite, og Smartwool Skiing
Bruk sålevarmere! Om du har råd og plass i skoen er dette en fantastisk investering. Jeg investerte i batterier og ledninger med en varmeplate som jeg festet på sålene jeg hadde (er billigere enn å kjøpe ferdige såler), men det ble rett og slett for trangt i mine racingstøvler. På toppen av heisen i St. Anton måtte jeg av med begge støvlene og rive av ledninger og batterier da jeg hadde mistet følelsen opp til under knærne i løpet av en heistur. Det var snakk om ca 1-2 mm med plass som manglet! I de nye derimot er blir det kanskje plass til et par sålevarmere :) Anbefales på det varmeste (høhø)! Et annet tips er å bruke engangs-fotvarmere som du får kjøpt i de fleste sportsforretninger. Disse tar dog litt plass, så det er ikke alle som har plass til dem. Om du derimot har plass er de faktisk utrolig effektive. Du åpner plasten, rister på posen og lar den ligge i et par minutter, før du plasserer den under eller over tærne i støvelen. De koster som regel rundt 30 kr for en pakke, og de holder hele dagen.

Termic fotvarmere, og engangspakker fra The Heat Company
Varm støvlene i lunsjen! Det viktigste du gjør i lunsjen på en kald dag, er å ta av deg støvlene. De fleste varmestuer har varme i gulvet så det ikke skal bli så vått, få av deg støvlene og plasser de kalde tottelottene på gulvet mens du spiser. Du kan også ta ut innerstøvelen og plassere på det samme varme gulvet. Om du ikke har plass til engangs-fotvarmere, kan lunsjen være en flott anledning til å bruke disse. Åpne pakken, la de ligge litt mens de blir varme, og ha de i støvelen. Støvlene er da gode og varme når du skal ut på ski igjen.
Ikke velg racing! Et siste tips gjelder valg av støvler. Trenger du ikke den stiveste racingmodellen, så ikke velg den. Innerstøvelen på racing er mye kaldere enn innerstøvlene til «vanlige» alpintstøvler. Det samme gjelder telemark. (det fines vel ikke racingstøvler til snowboard).
Ben:
Det er absolutt ikke gitt at man skal kle seg likt på bein og overkropp når man står på ski, derfor deler jeg opp i en ben- og en overkropp-del.
For oss jenter er rumpe og lår områder som er vanskelig å holde varme på ski, spesielt på skisteder med stolheis. Her er ihvertfall mine beste tips for å holde seg varm på beina:
Ull innerst! Ull er det beste hjelpemiddelet du har, men ulla må være innerst. Du kan ha på deg fem lag ull, men om trusa di er laget av bomull, så kan denne ødelegge mye. Bomull blir fort kaldt og vått, og har ingenting å gjøre inntil huden din når det er kaldt ute. Så få deg et par ullboksere! Ett godt tips angående ullboksere er å kjøpe de lengste du finner. Mange ullboksere (eller ulltruser) er veldig korte, men vi jenter fryser ikke bare på den øverste delen av rumpa, men gjerne ned til midten av låret. Dette tipset gjelder selvsagt også til gutta, da de har edlere deler de må ta vare på i vinterkulda! Men velg ull, fremfor disse superundertøy-bokserne som er vindtette foran. En vindtett boxer gir deg ikke noe varme. Den øker også risikoen for å bli klam. Det er likevel et must å ha på seg en vindtett bukse når det er så kaldt, så da blir denne vindtette bokseren overflødig. Så langt har jeg vært mest fornøyd med boksere fra Aclima. Den holder bra på fasongen, klør ikke, og puster godt. Jeg har også boksere fra Kari Traa (disse syns jeg er noe tette), og Devold (disse syns jeg klør litt).
Lag på lag! Når det er skikkelig kaldt ute har jeg på meg to lag ull og en fleecebukse inni skallbuksa mi. Jeg bruker en skibukse fra Norrøna (Lofoten gore-tex pro) som ikke er foret. Har du derimot en foret skibukse, kan du muligens droppe fleecebuksa. Det som er viktig å tenke på er at det ikke må bli for trangt! Det er for det første svært ubehagelig, og kan også virke mot sin hensikt. Hensikten med lag på lag er nemlig å skape luft imellom plaggene. Denne lufta vil du gradvis varme opp, og blir som en beskyttende liten boble rundt kroppen din :)

Fleecebukse fra Sweet Protection, Skisokker fra Lorpen (Ski Lite heter modellen).
Overkropp:
Når det er skikkelig kald ute kan man godt kjøre på litt på overkroppen. Overkroppen er den kroppsdelen som er viktigst å holde varm. Om du holder på å dø av kulde vil kroppen din automatisk jobbe for å holde denne delen av kroppen varm, så om du fryser her, så kan jeg garantere deg at du også kommer til å fryse på resten av kroppen etter svært kort tid! Fordelen med denne kroppsdelen er også at det er ganske enkelt å kle på seg nok klær uten at det blir for trangt. Du kan kle deg på to måter når det er veldig kaldt ute, hvilken kommer nok mest an på hva du har i skapet:
Dun! Om du har en skikkelig god dunjakke, så velger du selvsagt dun. Dun er en fantastisk oppfinnelse da den holder deg utrolig varm, og prinsippet blir det samme som ved «lag på lag», bare tidobblet! En ting å tenke på er at ikke alle (eller faktisk ganske få) dunjakker er vindtette. Den jeg kjøpte i høst er det (Mountain Hardwear Nilas), men ellers er det ganske uvanlig med vindtette dunjakker. Det du kan sjekke, og det du burde sjekke når du kjøper dunjakke for vintern, det er om sømmene på jakka går tvers igjennom. Gode dunjakker har sydd inn bokser, slik at sømmene ikke går rett igjennom. For du kan helt sikkert tenke deg hvor vindtett en jakke med små hull rett igjennom jakkeen er? Nei ikke veldig. Noen dunjakker (inkluder min faktisk), har kun disse boksene på kroppen, men det holder. Om du ikke har en vindtett dunjakke, vil jeg anbefale deg å ha en skalljakke eller vindjakke som forsterkningsplagg. Om du har plass kan du ha denne over, men da er det faktisk viktig at det er plass! Om ikke det er plass, så ha den under. Så hva har jeg under dunjakka?  Under dunisen har jeg faktisk nesten ingen ting. Jeg har en sports-bh i fleece (noe som også er svært viktig for oss jenter, spesielt de med store pupper, velg fleece eller ull!), også har jeg en ulltrøye. Jeg har også ryggplate. Om du ikke bruker ryggplate, ville jeg vurdert et lag ull til. Det er fordi ryggplata i seg skaper utrolig mye varme. Selv om en dunjakke puster mye bedre enn vanlige skijakker og skalljakker, er det ikke noe poeng i å kle på seg alt for mye. Blir du fryktelig svett i dunjakka di, kan dunet kollapse, og denne luftbobleeffekten kan forsvinne. Så blir det kaldt!
Lag på lag! Det er ikke alle som har dunjakke, og kanskje ikke alle som har lyst til å kjøre i dunjakke heller, så hva gjør man da? Jo, da fortsetter man med lag på lag, som på underkroppen. To lag ull, en tjukk fleece, og en skalljakke. Her er det viktig at jakken puster, og spesielt om du har en jakke med for. Om du skal være ute en hel dag med en jakke som ikke puster godt nok, kan du ende opp med is i foret på jakken, og jakken blir iskald! Derfor er jeg faktisk større fan av skalljakker i gore-tex. En skalljakke er også mye mer anvennelig, da man kan bruke den samme jakka året rundt, bare ved å variere hva man har under. De puster som regel godt, og om man skulle bli svett eller fuktig er det bare å dra til bilen og skifte fleece. Pass ihvertfall på å tørke jakka di skikkelig når du kommer hjem!
Hender:
Jeg trenger ikke å skrive så mye annet her enn votter. Varme votter! Og vottene MÅ være vindtette. Gore tex og skinn er det beste. En enkel måte å sjekke om vottene er vindtette er å prøve å blåse igjennom votten. En relativt vindtett vott kan man fortsatt blåse litt igjennom, men man skal helst måtte ta i litt. Om du har skallvotter, så anbefaler jeg å ha en ull-liner eller ullvott inni. Johaugs linere i merinoull er fenomenale, og er laget av samme produsent som leverer linere til forsvaret og skilandslaget! På bildet under (og øverst) har jeg de tjukkeste fora vottene jeg eier, det fungerer også bra i bakken (på lange turer kan «ferdigfora» votter være vanskeligere å tørke). Det er viktig å tette sprekken mellom votten og jakka. Har du en god jakke med stramming nederst, kan du ha votter som du får plass til under jakka, helst med en slags form for strikk eller stramming som jeg har på mine scott votter. Alternativet er høye votter som du drar over og strammer oppå jakka, som hestravottene under.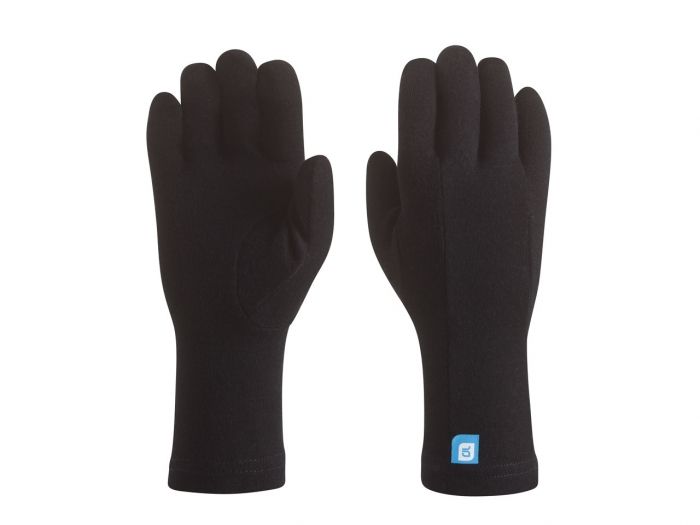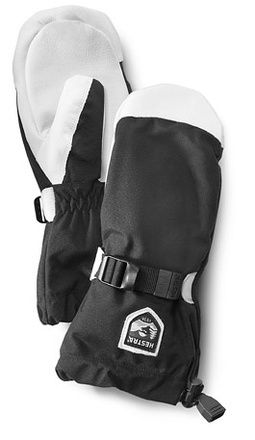 Johaug linere og Hestra skallvotter

Hjelm fra Sweet Protection, Dr. Zipe goggles, votter fra Scott, flecebuff fra Bergans og buff fra DNTung
Hode og hals:
I halsen har jeg alltid en tynn buff som jeg kan dra litt over hodet, og en tjukk fleecebuff som jeg har opp til haka. Da får jeg som regel tettet alle sprekker. Det varmeste du kan ha på hodet ditt er hjelm og goggles! Kjøp en hjelm som sitter som støpt, den skal sitte godt og tett ved ørene. Det dummeste jeg ser er folk som kjører med lue under hjelmen, det er jo bare unødvendig å kjøpe hjelmen så stor! Man skal max ha plass til en tynn buff. Om du absolutt kjører uten hjelm, så velg en lue som er vindtett. Low Alpine har noen veldig fine, og denne fra Mountain Hardware er jeg superfornøyd med! Goggles hjelper deg også med å holde varmen, så lenge du har noen som passer til hjelmen din. Det viktige er at det ikke blir store glipper mellom hjelm og goggles. Skal du derfor kjøpe nye goggles, så ta med deg hjelmen, og motsatt! Spesielt mange jenter tror at de skal ha de minste gogglesene som finnes. Det er bare tull, man må ofte ha helt enorme goggles for å fylle hele plassen som hjelmen gir. Ja, dus er ut som en flue i butikken når du prøver de uten hjelm, men så skal man jo bruke de MED hjelm, og det blir noe helt annet! Om du ønsker goggles som du også kan bruke uten hjelm, så anbefaler jeg deg faktisk å kjøpe to par (om det er viktig for deg å ikke se ut som en flue).
Oppsummering:
Jeg har altså på meg:
Høye ullsokker fra Lorpen (Ski Lite)
Ullbokser fra Acloma
3/4 ulltights fra Kari Traa
Lang ulltights som er brettet opp fra Devold (Active)
3/4 fleecebukse fra Sweet Protection
Skallbukse fra Norrøna (Lofoten Gore-Tex Pro) med seler
Sports-BH i fleece fra Devold
Ulltrøye fra Moods of Norway
Ryggplate fra Komperdell
Dunjakke fra Mountain Hardwear (Nilas)
Forede votter fra Scott
Buff fra DNTung
Fleecehals fra Bergans
Hjelm fra Sweet Protection (Trooper)
Goggles fra Dr. Zipe (Mistress III)
Sånn, da håper jeg dere er rustet mot vær og vind! Og bare så det er sagt, skal du på langrenn i kaldt vær, så ikke følg denne guiden til punkt å prikke, det blir ALT for varmt :) Da kan du heller ta en titt på denne guiden!