Ja, «bare with me», det blir litt fokus på hund for tiden :) Jeg har jo faktisk akkurat fått meg min helt egen hund, og bloggen speiler jo store deler av mitt liv, så da blir det sånn ;) Men for dere som har null interesse for hund, så kan jeg love at det kommer til å roe seg litt etterhvert ;) Det blir heller ikke bare hund fremover heller :)
Men så lenge hundetemaet koker her i bloggen tenkte jeg at jeg skulle tipse mine kjære hundeiende lesere om en del produkter til hund jeg har funnet billig på nett! Jeg har handlet både på iHerb, eBay og andre amerikanske nettbutikker. Jeg tar forøvrig også gjerne imot tips om dere har andre nettsteder hvor dere handler rimelige ting til hunden! Vi hadde jo i utgangspunktet ingenting, så det har blitt litt innkjøp her og der!
Jeg starter med iHerb. Utvalget her er ikke enormt utover snacks og mat, men de har noen veldig gode og sunne snacks til hunden, og jeg skal si Akka var fan! Dette er hva jeg tok med hjem:
Kjempegøy med litt nye produkter igjen da! Jeg skal få lagt dem inn i iHerb-guiden min asap og :)

Bæsjeposer
Biobag, Dog Waste Bags, 50 Bags, 11.4 in x 7.9 in x 0.92 mil (32 cm x 20 cm x 23 um)
Hundeposene er kjempefine. De er nedbrytbare, så da antar jeg at man kan kaste dem i matavfallsboksen (den ute altså), og det er jo bra for miljøet :) De er også praktiske og oppbevare da jeg kan henge de opp på en krok i gangen på grunn av hullene (det er to hull i toppen over der man river av posene).

Godbiter i 100% laks
Cat-Man-Doo, Life Essentials, Freeze Dried Wild Alaskan Salmon Treats, 5 oz
Den tørkede laksen var en stor favoritt! Disse kubene er litt større enn de fiskesnacksene som produseres av Provit, men koster kun 75 kr for en STOR pose! Det jeg liker med disse (og forøvrig også med bitene fra Provit) er at de er lette, såd et blir ikke så fryktelig mye mat når man bruker de til lek og trening. En del annen snop jeg har vært borti de siste ukene har vært mye større eller kompakte, det blir jo nesten en hel middag av en runde med søk i stua :p Også ELSKER Akka disse da, det er nesten vanskelig å få henne til å fokusere på oppgaven når jeg har disse i hånda bak ryggen  ;)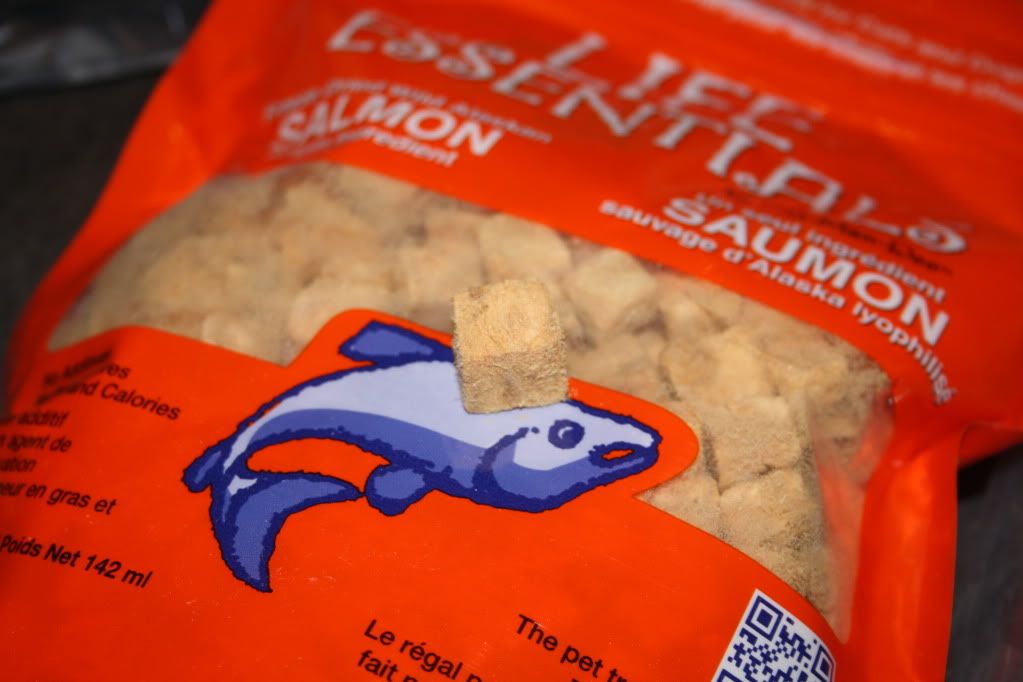 Tynne flak av tørket fisk
Cat-Man-Doo, Bow Wow Bonito, The Big Bag, Extra Large Dried Bonito Flakes for Dogs, 4 oz
Fiskeflakene var også svært populære, men jeg er litt usikker på hvordan jeg skal bruke de. Jeg tror nok dette er supert å blande med vanlig for om hunden din sliter med matlysten, men det er litt upraktisk å bruke til lek. Et alternativ kan jo være å putte dette inn i en leke eller noe, men tja, vi får se hva det blir til. Posen er ihvertfall kjempestor, og dette er veldig sunt (76% protein), så det går nok med :)
Hundehånkle (2 stk)
Pacific Dry Goods, DogTowl, The All-Purpose Towel for Dogs, 2 Towels, 24″ x 20″ Each
Hundehånklene jeg kjøpte var også fine, men kanskje litt mindre enn forventet. De skal visstnok suge opp ekstra mye fuktighet da. Vi har foreløpig bare brukt disse etter en tur utendørs, og foreløpig er det ikke så vått, så jeg har egentlig ikke fått testet de nok til å si om de fungerer bedre enn et vanlig hånkle eller ikke. De er jo praktiske å ha med seg da, siden de er mindre enn vanlige håndkler, veier svært lite, i tillegg til at de skal ha bedre sugeevne. Og med en pris på 28 kr for to, så er det vel ikke så mye å lure på :)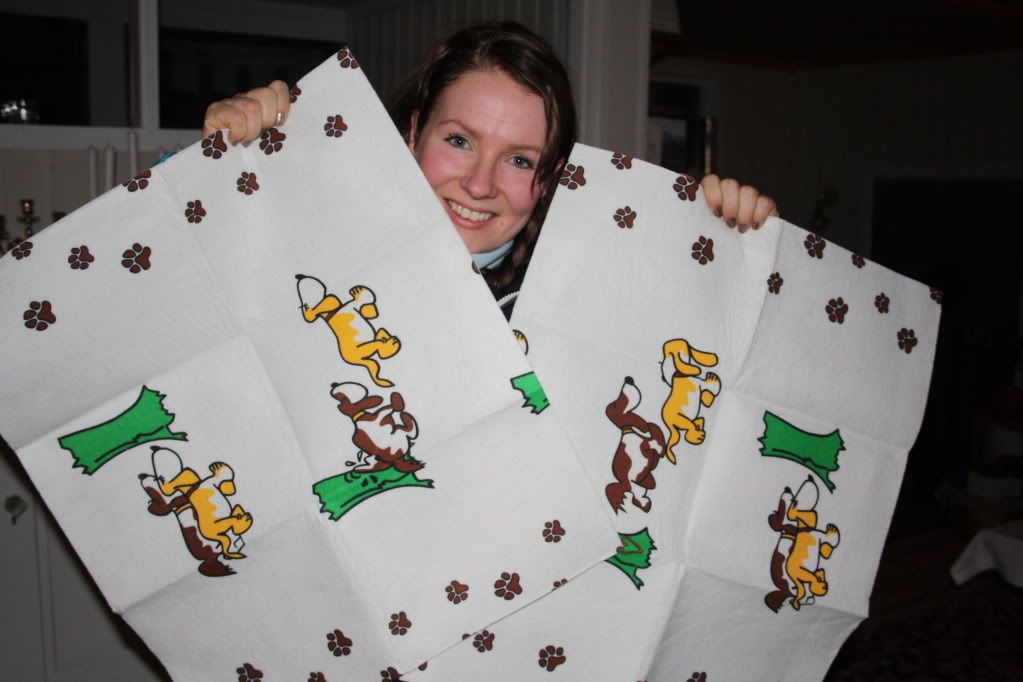 «Dentastix» beina jeg kjøpte er jeg også superfornøyd med. De inneholder naturlige ingredienser som fremmer god ånde, i tillegg til at de renser tennene og er bra for fordøyelsen. Disse bena er egentlig for hunder over 22 kg, så jeg delte ett ben i to, og den gikk ned på høykant! De finnes også i en mindre størrelse, de finner du her!
Naturlige «dentastix»
Dancing Paws, Breath-A-Licious, 6 Large Bones, 2.3 oz (65.2 g) Each
Hundeshampoen har jeg ikke testet enda, men dere finner den her:

Hundeshampoo
Austin Rose Inc., Caroline's Doggie Sudz, Shampoo for Pampering Pooch, Mango & Neem, 16 fl oz (472 ml)
Jeg fordelte produktene i disse to kurvene: