I forrige uke feiret vi 4-årsdag (jej), og jeg fikk en helt fantastisk bukett med vakre røde roser av min kjære på fredag.
Det er en knapp uke siden, og slik så de ut for 2 dager siden, flotte ikke sant?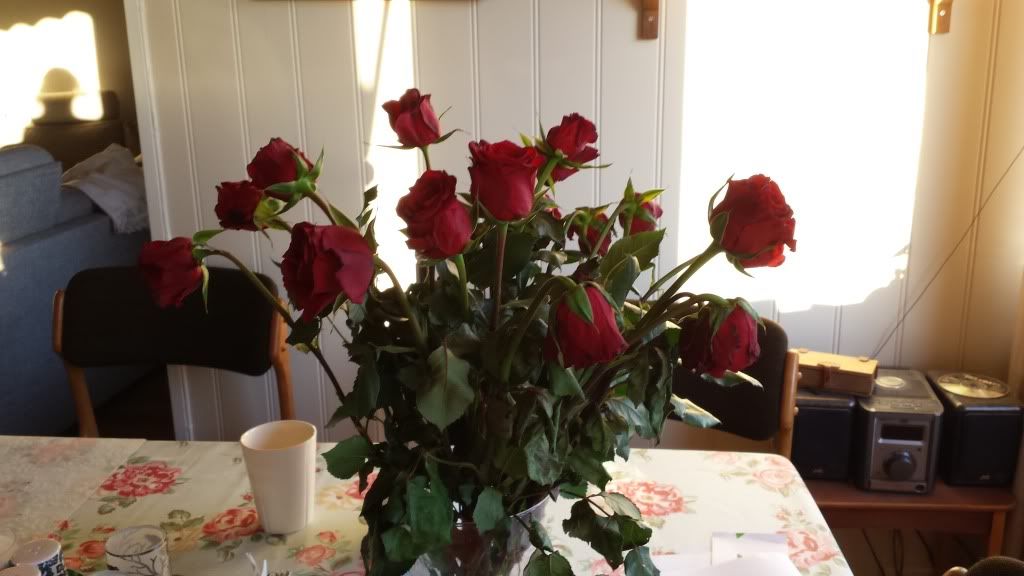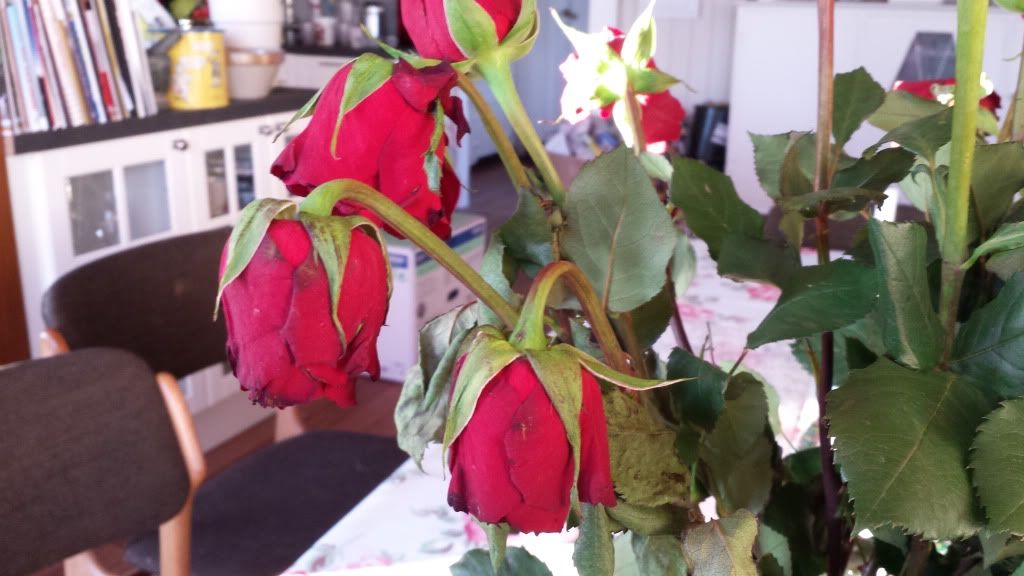 De er fra Mester Grønn, og  jeg lurer på om de ikke har noen form for garanti på rosene sine, så jeg burde kanskje gå tilbake med dem. Jeg startet å lure på hvorfor de hadde blitt slik så raskt, om det var noe jeg hadde gjort? Jeg er jo ikke så flink med planter egentlig, men roser trodde jeg hovedsaklig trengte snitting og vann, og det har de da fått. Fingrene mine er ganske langt fra grønne, litt rosa kanskje, så min mistanke om at rosene var døende på grunn av meg var ganske stor.. På onsdag i forrige uke fikk jeg en langstilket rose da jeg var innom rosebutikken i Asker (AmoRosaBlomster – kjempeflott butikk), så jeg kikket bort på den der den sto i vinduet, og så at den klarte seg aldeles utmerket. Jeg tenkte om det kunne være snittingen, vannet eller temperaturen i rommet som gjorde rosene slappe, men både snitting, vann og temperatur er lik for den enkeltstående rosen i vinduet. Den eneste forskjellen jeg hadde bidratt til her hjemme var å ha i den rosenæringen som fulgte med.
Enten har vi hatt uflax, ellers er det store kvalitetsforskjeller på roser, for sjekk bare ut den saken her, denne har stått i vinduet i nesten en uke nå:
Jeg tror det er litt av begge deler.
Men det er ikke bare mine roser som er trøtte i dag, jeg er tydeligivis ganske trøtt selv. Min standard frokost for tiden er tinte bær, yoghurt/CC, hakkede nøtter eller supermüsli og en skvett Walden Farms kalorifrie pannekakesirup. Etter å ha gjort i stand det meste hadde jeg to ting igjen før jeg var klar for å sette meg; ha på en skvett Walden Farms og ta en slurk Omega-3. De flaskene er jo ganske forskjellige, men likevel er det en hel del likhetstrekk ved dem. Etter å ha ristet omega3-en godt tok jeg meg selv i å helt ubevisst helle omega-3 på frokosten min, og ikke i munnen.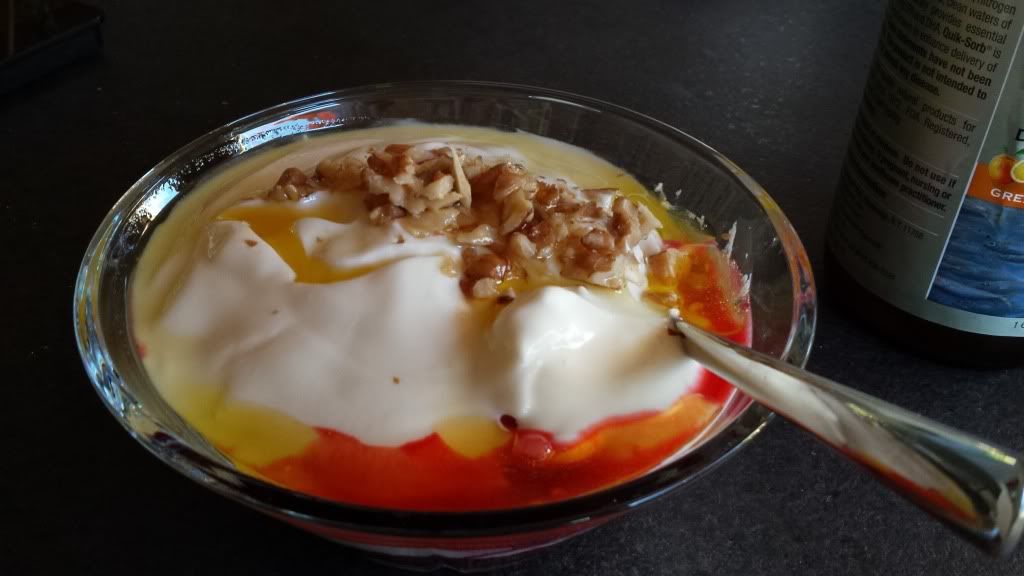 Pokkersen i helv… tenkte jeg, og sto og lurte på om jeg skulle hive hele skiten i do og starte på nytt. Nå har det seg slik at den omega-3 jeg tar ikke egentlig smaker så veldig mye omega-3, den smaker faktisk først og fremst appelsin. Så jeg helte av så mye jeg klarte i vasken, og tok litt kjøkkenpapir og fjernet størsteparten av det som gjensto. På med den riktige sirupen og røre rundt.
Og jeg smakte faktisk ikke forskjell. Hadde dette vært vanlig tran derimot, så hadde nok hele greia gått i søpla. Jeg har en eneste gang tatt en spiseskje med møllers tran, og jeg sliter med ettersmaken enda.
Er det ikke merkelig hvordan vi i noen grader mixer smaker så det synger etter det, men i andre tilfeller så er det full krise om vi blander to forskjellige smaker? Hvorfor er syltetøy og ost greit, men ikke nugatti og salami? Jeg syns ingen av de kombinasjonene høres spesielt lekre ut jeg da, men så er jeg ganske enkel i matveien tror jeg :p Men det ender jo opp samme sted uansett!