Etter å ha lett etter en slik krydderhylle i evigheter måtte jeg til slutt gi opp og heller lage min egen. Jeg var lei av at alle krydderne vi har sto på kjøkkenbenken, men jeg ville fortsatt ha de fremme. Med denne snertne, selvlagde enheten kan jeg ha alle favorittkrydderne mine fremme, samtidig som benken enkelt kan vaskes. Jeg slapp å skru hull i de flotte nye kjøkkenflisene våre, og hyllen kan enkelt fjernes om jeg skulle trenge det.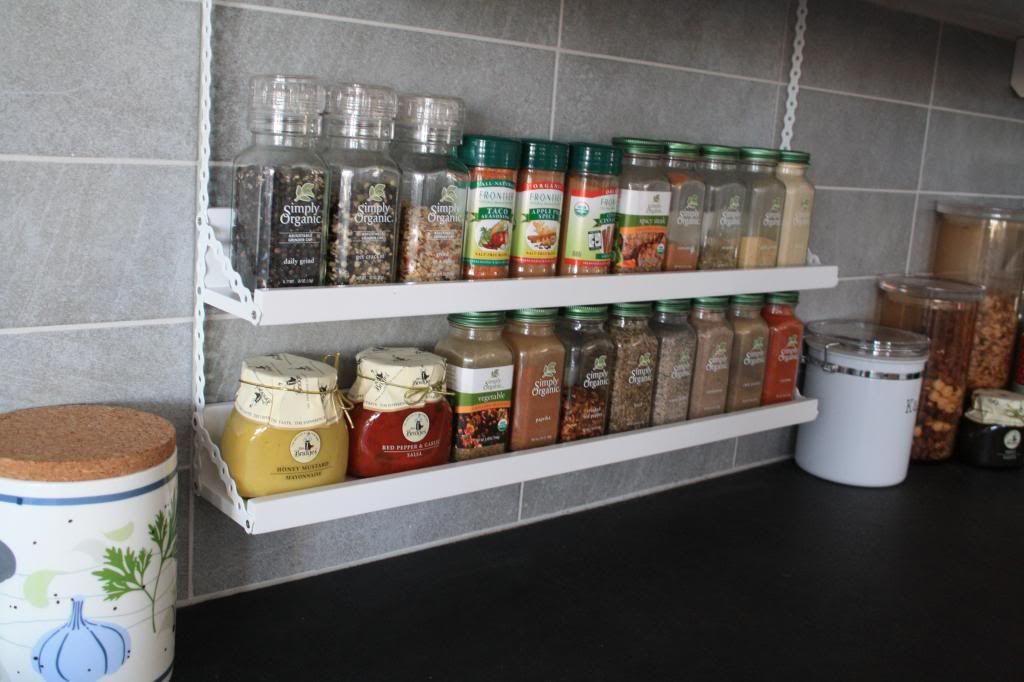 Du trenger:
2 bildehyller (jeg kjøpte disse for 149 kr stk hos Åhlens, men vet at IKEA også har slike)
1 rull med hvitlakkert patentbånd
12 x små skruer (jeg brukte 2,9 mm fra Clas Ohlson)
Drill og borr (2,5 mm)
Skrutrekker
Avbitertang
Kroker eller skruer for å feste hylla i overskapet
Tommestokk eller målebånd
Penn og papir
Det første du må gjøre er å måle opp hvor høyt du vil ha hylla og hvor mye plass du skal ha i mellom dem. Det beste er å tegne opp området og hvordan du vil ha hylla. Så klipper du til patentbåndet i to lengder som skal gå fra bunnen av den nederste hylle og helt opp der du fester den i overskapet. Du må ogå klippe fire biter som går på skrå på siden av hyllene. For Åhlens-hyllene passet det bra med 7 hull lange biter).
For at ikke hylla skal sprekke (jeg holdt på å gjøre det), så er det viktig at du borrer hull til skruene først, og dette hullet må være ganske stort i forhold til skruen. Jeg brukte 2,9 mm skruer og måtte faktisk opp i borr på 2,5 mm for at det ikke skulle sprekke (prøvde 2 mm først, men det gikk ikke). Det er mest praktisk å borre alle hullene før du skrur noe sammen.
Skru så sammen patentbånd og hyller, pass på at det langsgående patentbåndet ligger innerst, det blir penest. Bruk en vanlig skrutrekker, og ikke ta i for mye, disse hyllene er ikke av det mest solide slaget.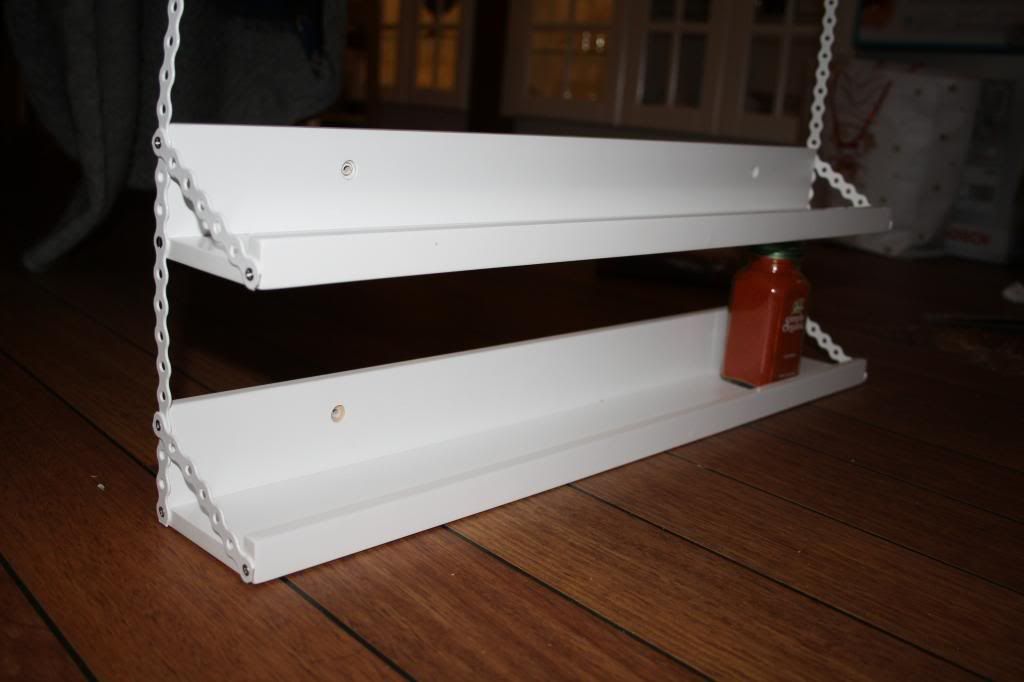 Tada! Jeg gjorde ikke noe med hullene i selve hylla, i og med at det alltid kommer til å stå krydder foran disse. Om man irriterer seg over disse, kan man fylle de med hvit akryl.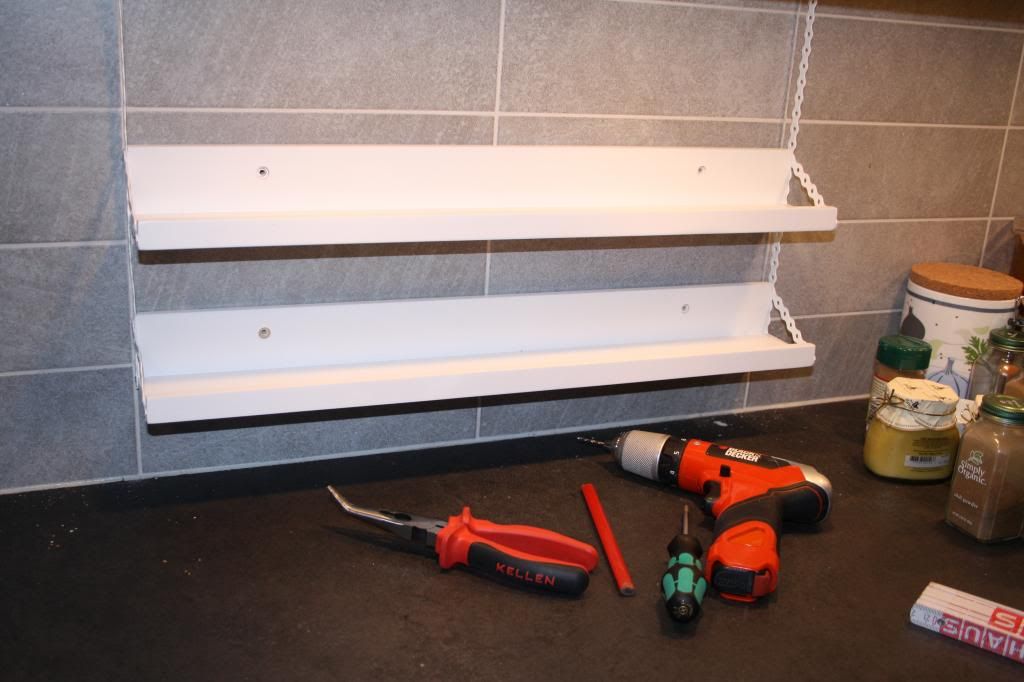 Jeg bøyde til toppene og hadde egentlig tenkt å skru fast hylla i overskapet, men så ombestemte jeg meg og hang den opp i kroker istede. Bruker du kroker trenger du ikke bøye til toppene, men det vil gjøre det enklere å få hylla av og på krokene. Om du ikke bøyer patentbåndet må du også henge krokene 90 grader ut eller inn.
Hylla ble overraskende stabil og skrangler ekstremt lite. Jeg er ihvertfall kjempefornøyd med resultatet, det ble enda bedre enn forventet :) De fleste av disse krydderne kommer i glassflasker som er ganske tunge, og den klarer dette fint selv med de to enda tyngre krukkene på nederste hylle.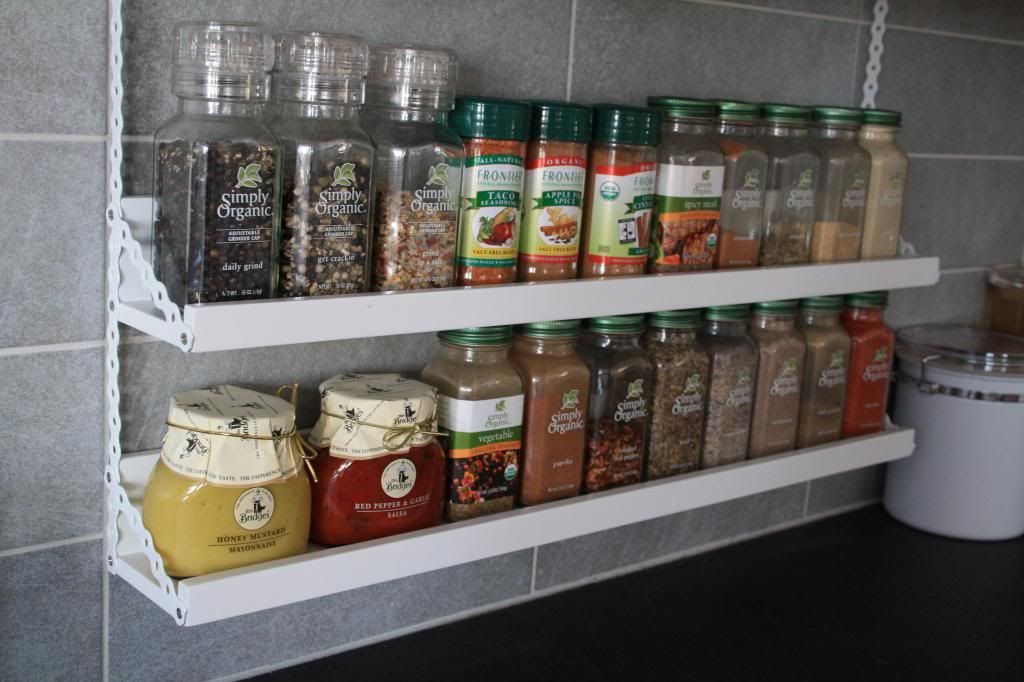 Fra avstand legger man knapt merke til patentbåndet, og det ser ut som om hylla svever i lufta (evt er skrudd fast i veggen) :) FTW!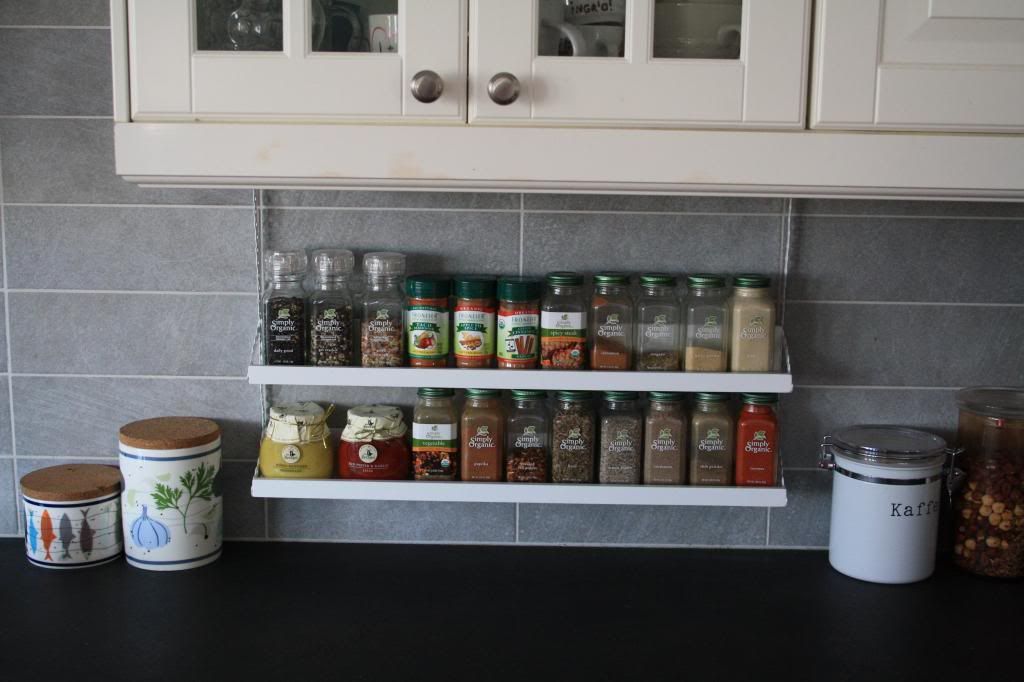 Sidebåndet gjør også at krydderne ikke sklir av hylla
Om du er nysgjerrig på kryddern jeg har i hylla så er disse kjøpt fra den amerikanske nettbutikken iHerb. Krydderne fra Simply Organic finner du her, og krydderne fra Frontier finner du her. Om du bruker kode EMO037 får du 5-10 dollar i avslag når du handler første gangen :)
Syns du hylla ble fin? Kunne du tenke deg noe slikt selv?