Denne uka har jeg vært på Smak-messen med jobben, og gjett om det var morro! Det er faktisk den første messen på Lillestørm jeg har syntes har vært bra, og jeg har vært på et par. De fleste jeg har vært på har riktig nok vært rettet mot konsumenter, mens dette var en bransjemesse, og det er nok der forskjellen også ligger. Det var mye folk, masse flotte stands og generelt masse liv. Standsene (da spesielt i mat-delen) var utrolig rause – trengte ikke å spise noe lunsj den dagen for å si det sånn! Jeg spiste nesten alt jeg kom over, haha, både kaker, konfekt, iskrem, pizza, calzone, nybakte boller, sjokolade og mye mer, rulla jo ut derifra! Nå er det ikke ofte jeg skeier ut så veldig da, så jeg syns det var helt greit. Jeg var dessuten så mett resten av dagen at jeg knapt spiste noe til middag, og kveldsmat, det trengte jeg ikke gitt!
De fleste ga bort smaksprøver, og ikke i en form man kunne ta med seg hjem, men et par produkter ble det da. Jeg fikk med meg en pakke glutenfritt knekkebrød med ost fra Helios og en pose med mais-flips fra en mann som sto utenfor messeområdet. Jeg trodde dette først var sånt man fylte pappesker med, men det var altså spiselig.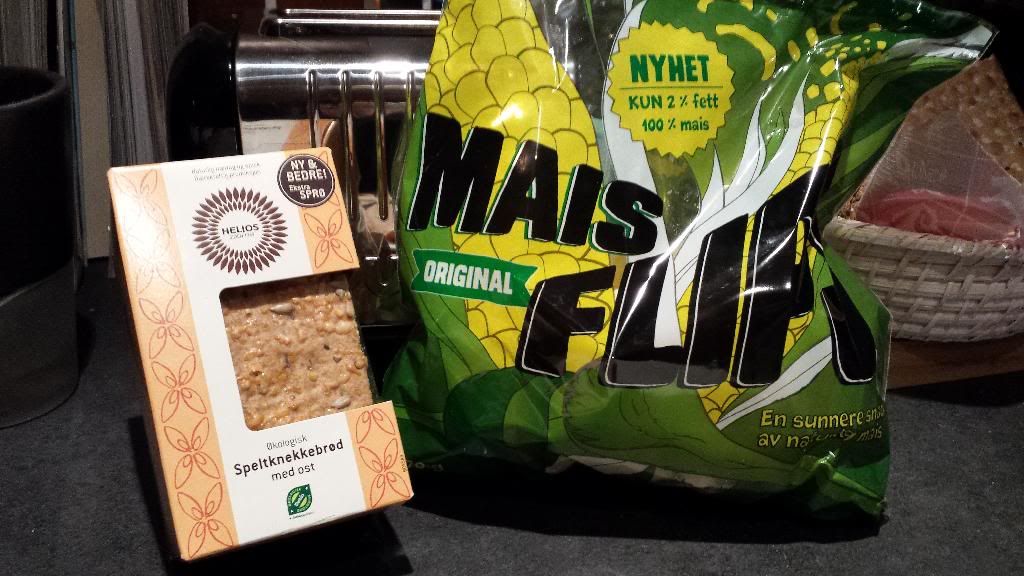 Knekkebrødet syns jeg var veldig godt. Jeg smakte på det alene, og det var nok bedre alene enn med philadelphia melkesjokolade som jeg valgte å ha på. Nå skal det nevnes at jeg smørte på sjokopålegget før jeg så at det var knekkebrød med ost, haha, så det var nok ikke den beste kombinasjonen ;) Her er forøvrig middagen min den dagen, ikke akkurat noe å skryte av. To lomper med philadelphia (vanlig) og laks, en med philadelphia melkesjokolade og ett Helios knekkebrød med det samme.
Mais-puffene, som jeg fra nå vil kalle dem, var faktisk ikke så værst. Hele posen inneholder kun 270 kalorier, og selv om det er myeluft, så er det en veldig stor pose! Mesteparten av luften er uansett i maisfluffene, så det føles jo ut som om man spiser noe veldig stort. Disse inneholder derimot en hel del stivelse, så det er jo ikke akkurat lavkarbo. I tillegg gjør all stivelsen at du kan bli ganske oppblåst om du spiser mye (og vi vet jo alle hva som skjer når magen er oppblåst), så pass på at du er i komfortabelt lag, evt alene om du skal hive innpå en hel pose ;) Mais Flipsene er fra Lier og finnes i følgende butikker så langt: Lier Frukt og Grønt, Aria Dagligvare Drammen, Gøy NOR AS og BAZA Matbutikk. Ikke landsdekkende akkurat, men hvem vet hva som kan skje med litt promo her på bloggen ;) (den er ikke betalt by the way).
Ut over det så har jeg handla en masse nytt på iHerb! Jeg har hele 6 hentlapper nå, så skal få tatt meg en tur på posten i morgen :) Jeg tenkte jeg likevel kunne dele hva jeg hr bestilt av nye saker, for det er vel alltids litt spennende ;)

HealthSmart Foods, Inc., Chocolite Protein Bar, Cookies N Cream, 16 Bars, 1.20 oz (34 g) Each
Denne varianten er ganske ny, og disse barene er ikke like store som quest barene. En fin liten snacks :) En bar inneholder 95 kalorier!

Go Raw, Organic Super Cookies, Chocolate, 3 oz (85 g)
Disse kjeksene er organiske og inneholder relativt lite sukker. Jeg har funnet ut av at det er bra å ha litt slikt nacks liggende så jeg ikke hiver i meg mer mat enn nødvendig når jeg ikke trenger det (igjen, trenger ikke alltid en hel quest bar). Disse inneholder ca 53 kalorier per porsjon (ca 18 kjeks).

Atkins, Treat Endulge, Chocolate Candies, 5 Packs, 1 oz (28 g) Each
jeg har jo allerede prøvd M&M varianten av disse, men nonstoppene har ofte vært utsolgt. Nå har jeg endelig fått tak i en pakke, så det skal bli spennende å teste! Jeg har forøvrig fått høre, og erfare av M&Msene at man ikke skal spise for mange av disse, da de fort lager litt krøll for magen!

Helwa, Enjoy, Gluten Free Chocolate Covered Wafer, 3 Packs, 0.76 oz (21.5 g) Each
Hallo, må jo bare prøve da! Gluten og hvetefrie sjokoladekjeks, nom! Jeg trodde riktig nok at en pakke inneholdt 120 kalorier, men ser jo nå at det er 3 serveringer i en pakke. Jaja, får vel holde meg i tøylene da, når jeg først har åpnet en ;)

Helwa, Free Time, Gluten Free Chocolate Covered Wafers, 3 Packets, 0.71 oz (20 g) Each
Fra samme merke som over, men mer sjokolade. Likevel inneholder disse 110 kcal per servering (ikke så mye å snakke om egentlig)

Walden Farms, Calorie Free Ketchup, 12 oz (340 g)
Denne kalorifrie ketchupen har fått både positive og negative kommentarer, så jeg er spent på å teste! Har du testet denne kanskje?

Walden Farms, Original Barbeque Sauce, 12 oz (340 g)
Denne har fått veldig god tilbakemelding, men siden vi ikke griller så mye for tiden, så vet jeg ikke om jeg får testet den med det første. Er likevel veldig spent :)

Walden Farms, Asian Dressing & Marinade, Calorie Free, 12 fl oz (355 ml)
Igjen, en kalorifri dressing som har fått gode tilbakemeldinger. Spiser jo mye wok, så dette skal bli bra!

Out of Africa, Hand Caddy, Hand Wash & Lotion Set, Lavender, 2 Piece Set, 8 oz (230 ml) Each
Jeg har bestilt en del varianter på håndsåpe da det begynner å skante på lageret vi kjøpte inn på Ullared i sommer. Denne skal stå på badet nede. Den har fått supre tilbakemeldinger og inneholder både håndsåpe og håndkrem, noe som vi virkelig trenger nå i vinterhalvåret!

Out of Africa, Pure Shea Butter, Hand Wash, Vanilla, 8 oz (230 ml)
En annen variant av samme merke som over, men med vaniljeduft. Denne skal vi ha på badet oppe :)

Deep Steep, Foaming Hand Wash, Lavender – Chamomile, 8 fl oz (237 ml)
Og denne havner på kjøkkenet. Igjen, veldig gode tilbakemeldinger :)

Frontier Natural Products, Organic Cacao Nibs, 16 oz (453 g)
Tente å prøve Frontier's kakao-nibs da disse var OK på pris også har jeg jo vært veldig fornøyd med andre produkter fra Frontier! Tidligere har jeg bestilt krydder, disse kan du lese mer om her!
Var du på Smak-messen? Hva syns du? Har du testet noen av disse produktene før?