God mandag kjære lesere! Jeg må bare ta opp en sak, en sak som jeg ikke trodde skulle være nødvendig å ta opp, men i dag tok noen kaka. På lørdag sto vi opp tidlig for å få oss et par mil på baken før skiathlon som startet kl 11. Kl 08.00 sto vi klare på Solli, nesten helt alleine. Det kom to biler bak oss, og vi ble litt overrasket da den bakerste bilen dro forbi den første i høy fart – dårlig tid? Jaja, vi hadde heldigvis ikke sluppet ut Akka enda, hun har jo ikke helt forståelse for dette med biler og fart.
Føret i dag var helt fantastisk! Trærne var snødekte og sporet var helt perfekt. For første gang på lenge hadde jeg faktisk feste! Herlig å få trent beina litt på langrenn og, har blitt mye staking i det siste! Vi kom ikke langt før vi så at det hadde vært en skøyte-løper (evt fristil-løper?) i sporet forran oss. Vanligvis er det 3 klassiske spor mellom Solli og Myggheim, men selv om det bare er to nå, så er det definitivt ikke nok plass til å skøyte imellom. Med den myke snøen blir resultatet store snøhauger i sporet hver 4. meter, og med så ferske og flotte spor så er jo dette fryktelig unødvendig. I tillegg er det en egen skøyteløype som går fra Solli Gård. Det står faktisk svart på hvitt hos skiforeningen at det ikke er tillat å skøyte her da det kan ødelegge sporene, så hvorfor folk gjør det likevel vet jeg ikke.
Akkurat når vi går og snakker om dette, så kommer det jaggu meg en ung jente i fristil bak oss (samme jente som hadde så dårlig tid på parkeringen). Hun ødelegger sporene i begge retningene, og samboern min bestemmer seg for å si ifra til henne. Med øretelefoner var det ikke lett å kommunisere med henne, og det eneste hun sier er at «hun går der hun vil», også spurtet hun videre. Eh, ok? Jeg trodde faktisk det var en gyllen regel om at man ikke skøyter istykker klassiske spor, og tenkte vel for meg selv at de som ødelegger ikke vet bedre, men hun her viste definitivt bedre. Jeg har jo skøyteski selv, og skulle aldri skøytet istykker så flotte spor! Jeg har gått på skøyteski mellom Solli og Myggheim en gang tidligere, men da var det så lite snø at det ikke var kjørt opp spor, og da har det jo faktisk ikke så mye å si.
Her er en relativt liten skade i forhold til alle vi tråkka oss igjennom på veien. Er det virkelig nødvendig?
Uansett, vi møtte selvsagt denne jenta igjen på vei ned fra Mikkelsbånn, og da bare smilte og hånlo hun til oss. Jævla egoistiske drittunge tenkte jeg da, er det mulig? Skiforeningen har jobbet hele natten for å lage flotte spor til oss, det er lørdag morgen, og allerede kl 09 så er sporene ødelagte, hæ? Men jeg lar meg faktisk ikke provosere av slike drittunger. Jeg tar det gjerne opp i bloggen min, for slik oppførsel skal ikke gå upåaktet hen (også lurer jeg på hva dere syns), men jeg vet at karma kommer å bite den jenta i rævva en ellerannen gang. Om hun oppfører seg sånn ellers og så kommer hun ikke langt her i livet, og jeg syns faktisk synd på henne. Det er kanskje drastisk å engasjere seg så mye i en slik sak, men jeg eier faktisk ikke respekt for mennesker som kun tenker på seg selv. Jeg driter i hvor god du er eller hvor viktig du er, egoismen din får du ta med deg et annet sted.
Men ikke engang en egoistisk liten drittunge fikk ødelagt denne dagen :) Det fantastiske føret og det gode været gjorde dette vanskelig, bare se på bildene under :)

Soool!!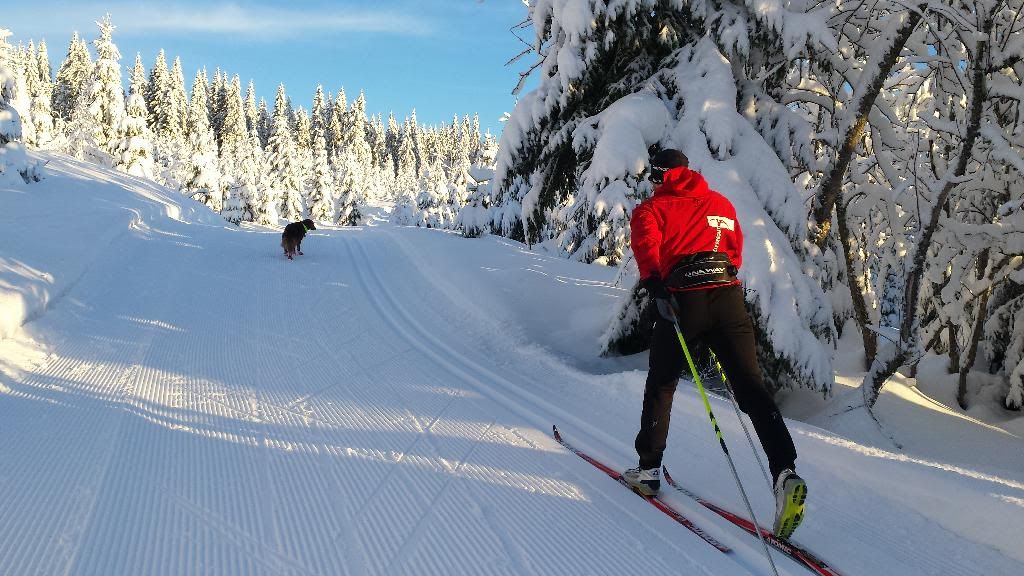 Fin stil :)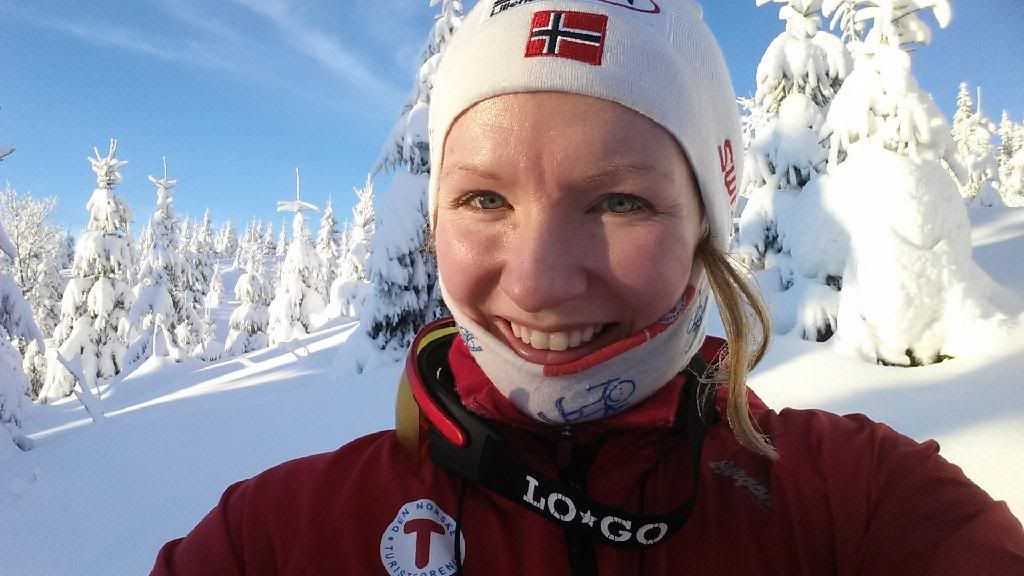 En sliten Akkis etter den lange bakken fra Mikkelsbånn
Det ble t/r Mikkelsbånn, nærmere sagt 20 km. Er ikke så verst å ha gått 2 mil, vært på posten og dusja før kl 11 på en lørdag altså ;) Men deilig, det er det! Vi sto jo faktisk ikke opp noe seinere enn vi gjør i ukedagene, så så ille er det ikke. Kunne uansett sove ut på søndagen, så vi får klare oss med det ;)
Hva syns du om folk som går fristil og ødelegger klassiske spor? Syns du det er OK? Gjør du det selv? Er det andre ting som irriterer deg mtp folks folkeskikk i skiløypene?