I helgen var vi på Villmarksbutikken i Jessheim for å kjøpe en hagle. Jeg fikk nemlig nye hagle av samboern og pappa til bursdag, men jeg fikk lov til å velge modell selv (jippi). Grunnen til at vi dro helt til Jessheim er fordi de skulle ha et veldig stort utvalg. Vi har også snakket med de på to forskjellige villmarksmesser i år, og de har gjort et svært godt inntrykk.
Besøket i butikken sviktet ikke. Jeg har faktisk aldri fått så god hjelp i en slik butikk tidligere (takk Robert), og for en butikk! Butikken er helt enorm, rålekker og med masse kule produkter. Det blir definitivt ikke siste gangen vi handler her!
Tilbake til servicen så er det noe jeg faktisk vil belyse. Både jeg og samboern har vært innom fryktelig mange butikker som driver med jakt og fiske, og det er en ting vi begge har lagt merke til. Personalet snakker til samboern min, ikke til meg. Selv om det er jeg som stiller spørsmålene, så svarer de til samboern min. Tror dere det er frustrerende eller? Jeg føler meg jo fullstendig oversett, som om jeg var en datter på 5 år som bare var med. MEN, på villmarksbutikken var det faktisk helt motsatt. Samboern min hadde vurdert å kjøpe hagle til meg på forhånd, men våpenansvarlig her sa at om ikke jeg er med så får han komme tilbake med meg. Enten kjøper han hagle når jeg er med, ellers kjøper han ikke hagle i det hele tatt. Og dette handler om service. For å finne en hagle som passer meg, er det faktisk kritisk at jeg er med.
For dere som lurer så endte jeg opp med en Sabatti Lady hagle på ca 3 kg, altså 100 gram lettere enn min gamle, og jeg GLEDER meg til å dra på skytebanen. Jeg hadde vel egentlig bestemt meg for denne for lenge siden, men nå hadde vi sett på så mye annet, og det var rett og slett den jeg likte best og den som passet meg best. Vi endte også opp med to nye fiskestenger, 3 sluker, mark, kart og litt annet småtterier. Så da fikk vi vel dra på fisketur da!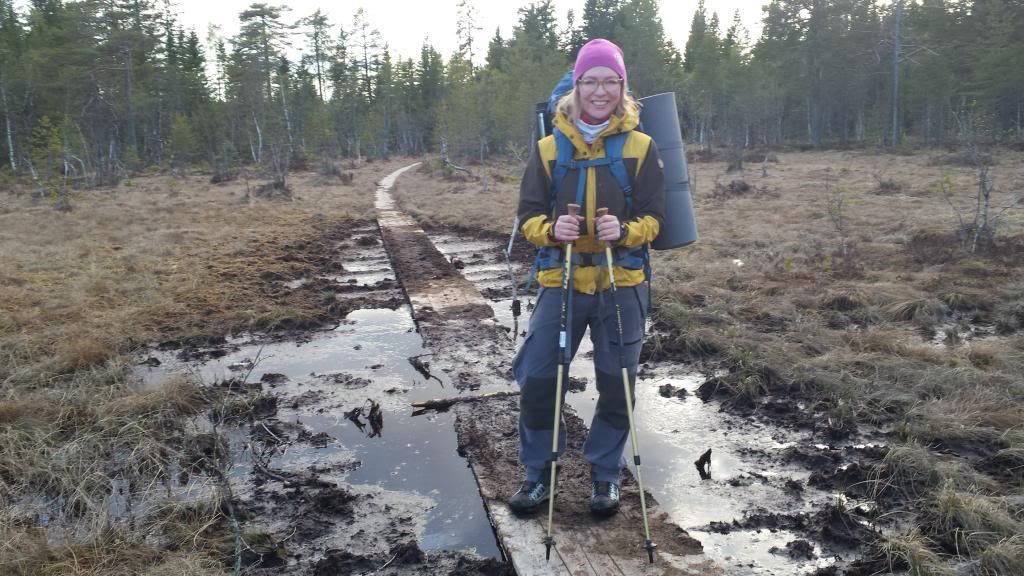 Det ble litt spontant, men vi fikk så lyst til å fiske at vi pakka sekken med en gang vi kom hjem. Vi var ikke avgårde før rundt kl 19, og selv om vi visste at vi måtte være hjemme igjen allerede 09.30 dagen etter (skulle i bursdag), så er jeg veldig glad for at vi dro. Men nå hadde vi nye 4-delte stenger (som ikke fester seg i alle mulige trær og busker når man går igjennom skogen), noen supre, ekspertanbefalte sluker, fersk mark, og gode fiskeråd fra Oddvar. Humøret og motivasjonen var på topp!
Vel fremme så var det selvsagt en ungdomsgjeng som hadde slått seg til der vi hadde tenkt til å slå opp teltet. Men vi gikk bare videre og fant en kanskje enda flottere plass litt lenger borte. Mens samboern slo opp teltet, så sto jeg og fiska. Akka var rolig i starten, men etterhvert begynte hun å bli litt smågæren igjen, og når det dukket opp en flokk med ender så gikk ting litt over styr. Akka jaget ender, kjæresten jaget Akka, og jeg prøvde å veive opp snøret så raskt som mulig så hverken ender eller Akka skulle havne på kroken. Og om det ikke skulle bli mer action nå så fikk jeg napp! Det nøkka skikkelig i stanga og jeg skjønte at her var det noe stort på gang.
Jeg veiva alt jeg hadde samtidig som jeg prøvde å få kontakt med samboern (som var opptatt med å få kontakt med Akka), og han kom heldigvis løpendes til unsetning etter kort tid. Jeg veiva jo inn alt for raskt, men jeg fikk den da inn til land, og etter litt styr fikk samboern hevet den opp på gresset. Jeg trodde faktisk ikke mine øyne, jeg fikk den største Abboren jeg noen gang har sett! Og all ære til samboern som faktisk kutta seg på de skarpe finnene når han skulle få den opp av vannet. Sjekk så stor og fin den var:

1 kg med Abbor er ikke ofte man får!
Skikkelig morro å endelig få fisk! Det hjalp med litt nytt utstyr og god guiding altså :)
Men kvelden var ikke over enda. Når samboern sto og pusset tennene så han plutsleig at noe rørte seg nede i vannkanten. Vi lyste ned med lyktene våre, og her var det masser med kreps og små ørret! Jeg har faktisk aldri sett kreps før i levende live, så dette var veldig morro :) De var fortsatt ganske små da, så ikke noe vi kunne plukke med til middag akkurat, men kanskje senere?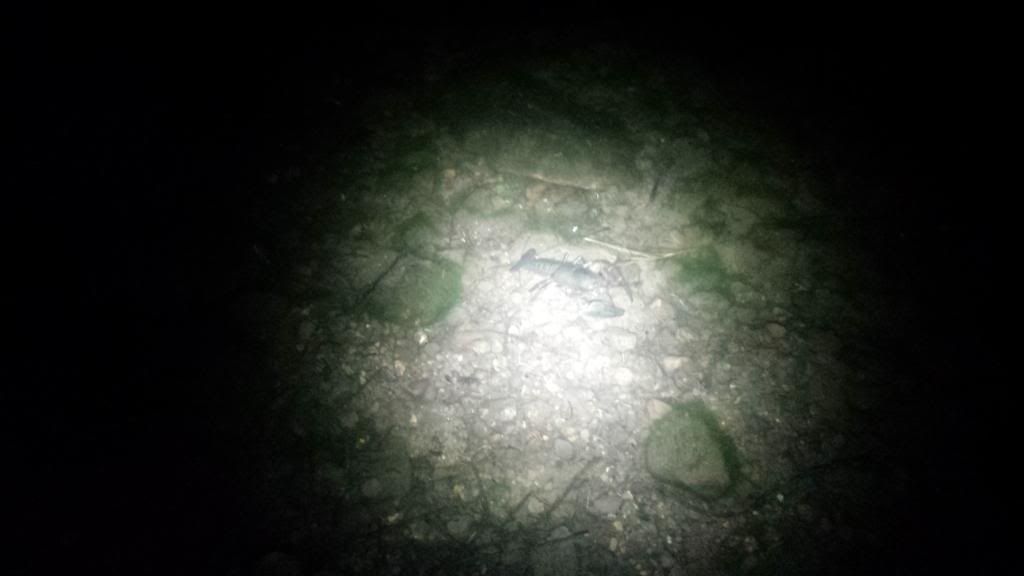 Jeg sov ganske dårlig den natta. Det var fuktig og nede i -1 grader, så selv med en god dunpose ble det alt for kaldt. Det er deilig å ligge i telt altså, men når du ligger i soveposen og fryser så har du ikke veldig lyst til å gå ut av soveposen, selv om det er for å kle på deg mere klær. Jeg tror jeg lå en halvtime før jeg klarte å karre meg ut for å dra på meg sokker og tights, men glad var jeg for det etterpå.
Klokka vekte oss allerede kl 07, og morgensolen strømmet allerede igjennom teltduken. Vi måtte avgårde allerede 08.30, og vi ville jo få fisket litt før vi dro. Mens jeg gjorde istand frokost fikk kjæresten fiske, og tror dere ikke han fikk en kjempeflott ørret på kroken!

For en fantastisk morgen dere. Trøtt eller ei, det brydde meg ingen ting :)
Så med to fisk i sekken bar det tilbake til bilen. Godt fornøyde med å ha gjort noe annet enn å sitte forran TVen. Som jeg har sagt før så trenger man faktisk ikke veldig mye tid for å gjøre noe litt annerledes. Vi dro hjemmefra kl 19 og var hjemme halv ti dagen etter, og hva hadde vi ellers gjort? Mest sannsynlig sett på TV til langt på natt og sovet til godt utpå formiddagen.