Snart er det 17. mai igjen, og denne dagen er kjent for frotsing hele dagen lang. Is, kaker, øl, middag til frokost, ja, du vet hva jeg snakker om. Da kan det jo være ålreit å stille med en litt sunnere dessert! Her har jeg samlet fire oppskrifter som er perfekte til 17. mai :)
Lavkarbo 17 mai-kake med jordbær og blåbær fra Fedon
Denne oppskriften har jeg fått fra Fedon, en herlig sukkerfri kake du ikke klarer å motstå!
Bunn:
8 egg
100 g Fedon SmartSweet
500 g finmalte hasselnøtter/mandler
2 ts bakepulver
Fremgangsmåte:
Stivpisk eggene og Fedon SmartSweet til eggedosis og vend inn malte nøtter og bakepulver.
Hell røren i den smurte formen, og stek kaken nederst i ovnen til den er fast og gjennomstekt. Sjekk temperaturen underveis, kaken kan lett bli for mørk på overflaten.
Stekes i ovn ved 160°C i ca. 30 minutter i rektangulær form (30 x 20 cm). Sjekk med kakepinne om kaken er ferdig.
Fyll:
1 liter matyoghurt / gresk yoghurt eller kesam 8%
ca. 75 g Fedon SmartSweet
1 vaniljestang, deles i to på langs og innholdet skrapes ut med en kniv.
3 dl kremfløte
2 kurver jordbær
1 kurv jordbær
Fremgangsmåte:
Rens en kurv med jordbær og mos de med en gaffel sammen med 25 g Fedon SmartSweet.
Pisk kremfløten med Fedon SmartSweet og innholdet av vaniljestangen, vend inn yoghurten. Ta av 1/3 av "kremen" og bland de moste jordbærene inn i resten.
Del kaken i to lag og legg jordbærkremen mellom lagene. Glatt ut krem på toppen av kaken. Toppen av kaken pyntes som det norske flagget med jordbær, blåbær og krem.
Lavkarbo pavlova med bær
Denne er knallgod og passer til alle ganer. Bunnen kan du lage en dag i forveien, men ikke ha på kremen før samme dag som du serverer kaken.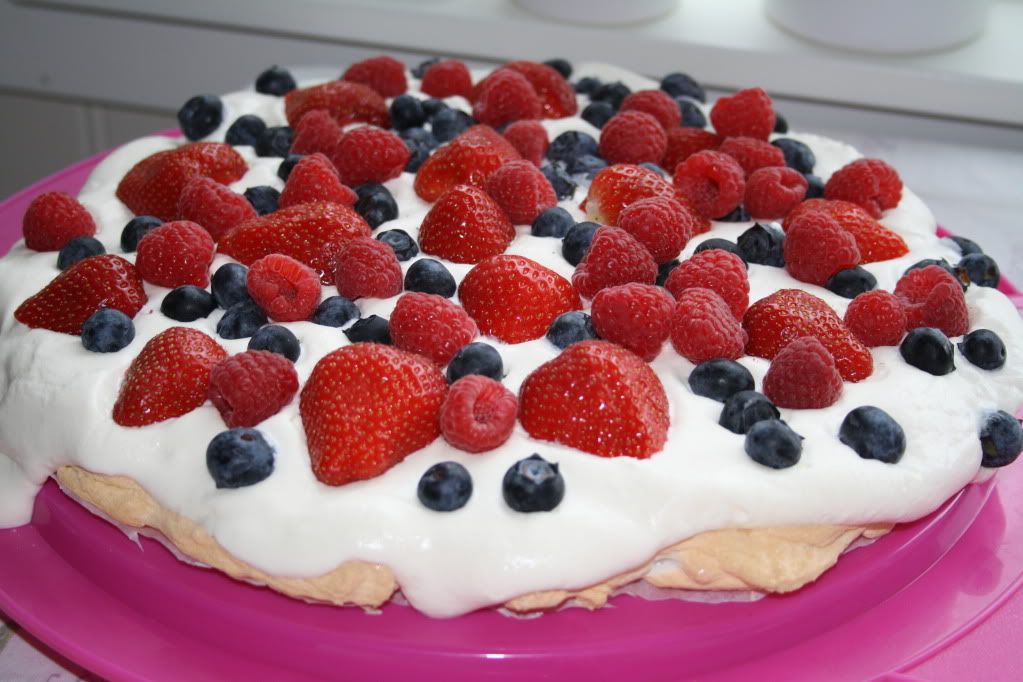 Bunn:
6 eggehvitter
3 ss sukrinmelis
1 ts hvitvin-eller bringebæreddik
1 toppet ts johannesbrødkjærnemel
Fremgangsmåte:
 Pisk eggehviter stive, tilsett sukrinmelis og fortsett å piske til det er godt blandet.

Tilsett eddik og jbkm og bland godt. Ha det utover et bakepapir og form den som en kake.

Stekes på 125 grader i ca 40 minutter og ha den stående i 30 minutter til med døren åpen.

Oppbevar den på en tørr plass om du ikke skal spise den med en gang, og ikke dekk den til med noe tett, da blir hele kaken myk. 
Topping:
5 dl krem til topping
Bringebær/jordbær/blåbær til pynt
1 ss sukrinmelis til kremen
Fremgangsmåte: 
Pisk kremfløte og sukrinmelis til en tykk og god krem.
Bre kremen utover kakenog pynt med friske bær
Se flere bilder av denne oppskriften her!
Sukkerfri «Kan ikke la være»
Dette er min favorittoppskrift! Jeg lager den til hver eneste julaften og 17. mai om jeg får :) Den består av sitronfromasj og multekrem, og smaker helt fantastisk!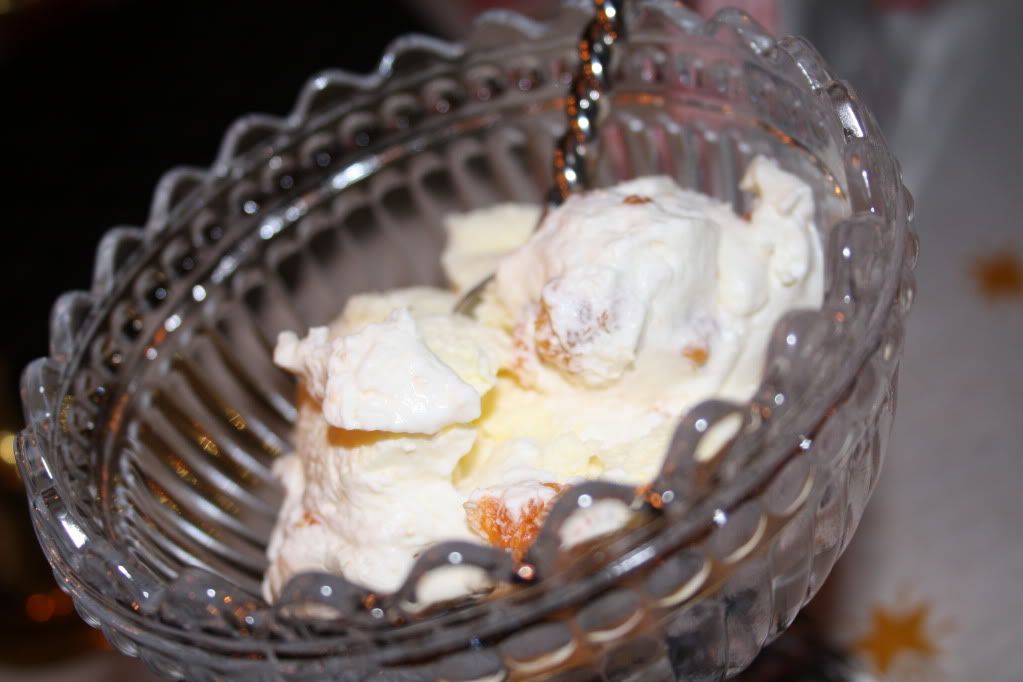 Sitronfromasj:
4 egg
8 gelatinplater
20-30 dæsjer sitrondråper
revet sitronskall (om du har)
5 dl kremfløte
1/2 dl sukrin
Fremgangsmåte:
Legg gelatinplatene i vann i fem minutter så de blir myke. Smelt de på svak varme med litt av vannet. La gelatinen svalne litt før du blander dem med det andre.
Visp kremfløten og eggehvittene stive i hver sine boller med mixer. Visp sammen sukrin, sitron og eggegulene og hell i gelatinen mens du visper godt i en tredje bolle. Rør inn kremfløten forsiktig, så eggehvittene.
Ha røra over i en serveringsform (ganske stor med denne oppskriften), og la det stå i kjøleskapet en times tid.
Multekrem:
4 dl kremfløte
1 pakke multer (ca 200 gram)
1/2 dl sukrin
Fremgangsmåte:
Visp kremfløten stiv
Rør sammen sukrin, og bær
Rør de to blandingene forsiktig sammen med kremen og ha over den stivnede sitronfromasjen.
Desserten må oppbevares i kjøleskap frem til servering, og kan gjerne stå over natten
Se flere bilder av denne oppskriften her!
Sukkerfri sjokoladeis
Disse er jo bare geniale da. De er superenkle å lage, helt uten sukker og faller i smak hos alle som liker sjokoladeis fra før.
Iskrem med revet sjokolade (ca 8 stk):
 3 eggeplommer
3 dl kremfløte
3 ss sukrin (det funker nok enda bedre med sukrinmelis om du har det)
1 vaniljestang eller 10 dråper vaniljeessens
80 gram revet sjokolade
Fremgangsmåte:
Pisk sammen eggeplommer og sukrin
Pisk sammen kremfløte og vanilje
Vend massene forsiktig over i hverandre sammen med revet sjokolade
Fyll i formene og la dem stå i kjøleskapet i 3-4 timer
Sjekk ut flere sukkerfrie oppskrifter her!
Skal du bake til 17. mai? Hva skal du lage?