Trodde du at blåbærsesongen var over? Åneida! Blåbærsesongen har riktig nok vært tidlig ute i år, men på østlandet trenger du bare å komme deg et par hundre meter opp så finner du saftige fine bær. Vi var en tur i helgen og plukket masse!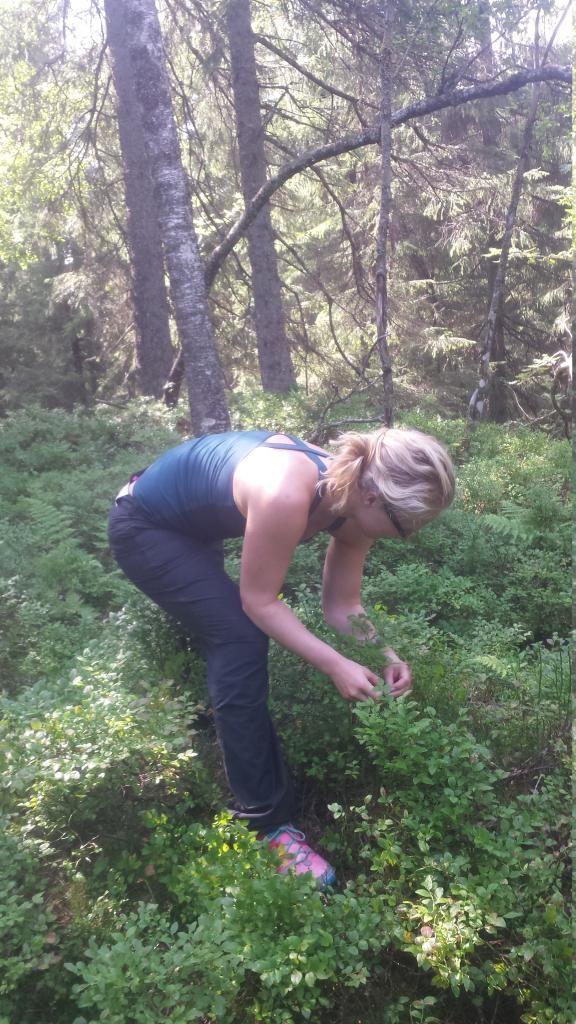 Vi elsker å fylle frysern med bær, for hva er ikke bedre og sunnere enn selvplukkede skogsbær? Vi har faktisk enda blåbær fra i fjor, men så har vi nok vært litt restriktive med bruken og da ;) I helgen plukka vi to tyrkisk-yoghurt bøtter, men det blir mye mer denne uka her. Nå ha rvi peilet ut hvor de gode områdene er, så da skal vi ta med oss litt flere bøtter :) Jeg pakka riktig nok ned fire bøtter, men jeg så ikke i farta at to av de ikke var vaska :p Typisk.
Om noen lurer på hva jeg har gjort med håret mitt så har jeg satt det opp (gjort et forsøk ihvertfall) med en pinne. For det var så SABLA varmt i skogen og jeg hadde glemt hårstrikk!

Toppen min er fra Patagonia, kjøpt på eBay og buksen er fra Houdini kjøpt på Nomaden i Oslo (elsker denne). Gore-tex skoene mine er sponset av Helly Hansen :)
Om du skal ut å plukke må du nok belage deg på å gå litt, men ikke nødvendigvis veldig langt. Det var ganske ferdigplukka i nærområdene, men vi måtte ikke lenger enn én km til før vi fant fulle busker. På grunn av varmen kan du også mest sannsynlig glemme områder som har stått åpent i sola. Velg de områdene med litt skog, hvor buskene har fått le fra de uttørkende strålene. Og kom deg opp i høyden. Vi fant flotte bær på ca 3-400 meters høyde i Asker :)
Liker du å høste av naturen?