Jeg innså ganske raskt at det ikke kunne fortsette med den vanlige ashtanga yogaen da jeg ble gravid. Allerede i uke 5 begynte jeg å slite, som også var den siste uken jeg gjennomførte en hel yoga-session. Etterhvert har jeg innsett at ashtanga rett og slett blir litt for tøft. Litt research sier også at man skal være forsiktig med yoga de første 12 ukene, altså første trimester. Hovedsaklig er dette på grunn av økt abortrisiko, men hvor mye som ligger i det er vet jeg ikke.
Nå ble det likevel en naturlig pause for min del, og når jeg ønsket å komme i gang med treningen igjen var det på tide å gjøre litt research. Siden jeg sliter en del med vond rygg og hodepine var yoga et naturlig valg, så jeg kastet meg ut i youtubejungelen. Jeg fant til slutt fem videoer på ca. en halvtime hver som jeg ønsket å teste, og jeg har helt klart funnet meg noen favoritter. Nå gjør jeg 30 miutter yoga hver morgen, og det er ganske utrolig hvor positivt det er for kroppen! Dette er like relevant for deg som sliter med vond rygg, nakke eller har mye hodepine. Start dagen med yoga!
«Jeg hadde to valg: å bli værre i ryggen – i værste fall sengeliggende, eller å gjøre noe. Jeg valgte å gjøre noe.»
Men 30 minutter yoga på morgenen. Hvem har tid til det da? Vel, det har alle om man prioriterer det. Jeg må stå opp før, også prøver jeg å bruke mindre tid på andre ting. Jeg blir ikke svett av dette, men de fleste dusjer jo på morgenen uasnett. Jeg hadde to valg; å bli værre i ryggen – i værste fall sengeliggende, eller å gjøre noe. Jeg valgte å gjøre noe.
Jeg har en fast yogaplass på gjesterommet. Her ligger det en tynn yogamatte med et yogateppe over som jeg har kjøpt her. Det trekkes ifra 4 pund når du sjekker ut, så den koster bare 16 pund pluss frakt på ca. 11 pund. Litt dyr frakt da, men jeg syns det totalt blir en veldig god pris for et veldig bra teppe. Jeg har faktisk to! Det beste med disse er at de kan ligge fremme hele tiden. Så får jeg heller dra frem støvsugern en gang iblant…

Denne liker jeg – en varian av childs pose :) Knærne er litt lenger i fra hverandre for å få plass til magen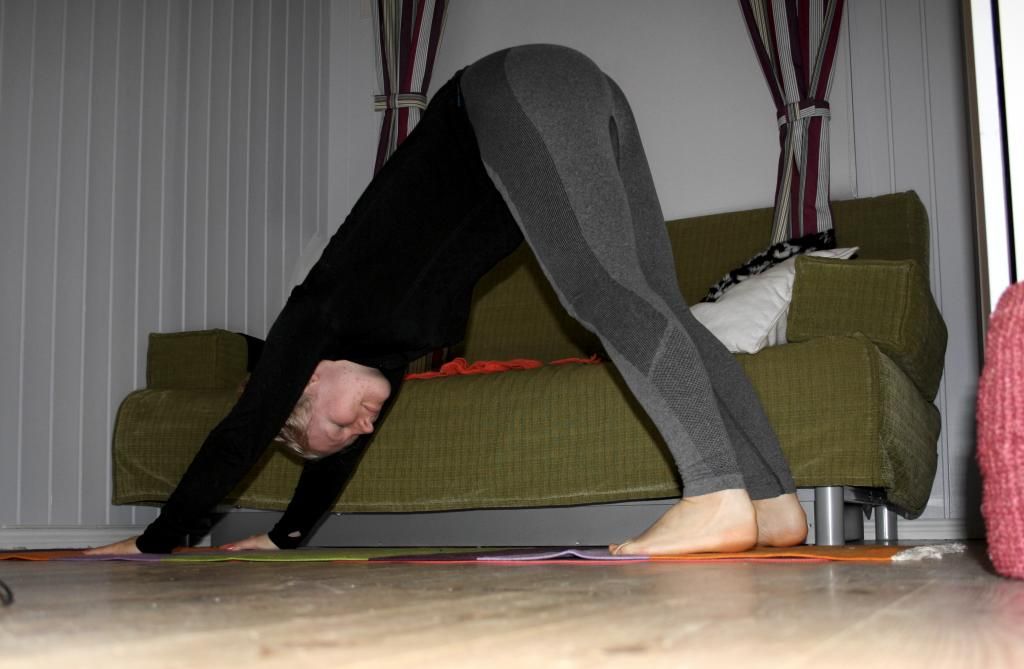 Den klassiske downward dog er plutselig blitt overraskende tung. Det føles ut som om jeg ikke klarer å få knekk i hofta i det hele tatt, men jeg ser jo på bildet at det ikke er så ille som det føles som. Helt tydelig at jeg har noen muskler i korsryggen som har godt av litt tøy og bøy.
Her er filmene jeg har funnet til nå. Jeg har faktisk ikke prøvd meg på de to siste enda, mest fordi jeg har vært så fornøyd med de jeg startet med, og da mener jeg hovedsaklig den på toppen.
Denne er helt fantastisk, og gir meg en utrolig herlig start på morgenen. Den er akkurat passe tøff, og perfekt for nybegynnere og viderekomne. Jeg ser at den får litt kritikk da det visstnok er reklame midt i timen, men jeg bruker chromecast, som mest sannsynlig er grunnen til at jeg har sluppet unna dette.
[yframe url='https://www.youtube.com/watch?v=MCSFobwvQTg']
Denne syns jeg var litt for tøff, og jeg må faktisk innrømme at jeg blir litt psyka ut av at frøkna ikke er gravid. Det er heller ingen musikk, og litt dårlig lyd på fortellerstemmen. Jeg ble litt sur på frøkna da jeg syns hun holdt noen posisjoner alt for lenge (noe jeg ikke orker – og jeg hater å ikke få til noe). Vil man ha variasjon eller en litt tøffere økt kan jeg absolutt anbefale den, men er du helt ny ville jeg startet med den over eller den under.
[yframe url='https://www.youtube.com/watch?v=pdI8CCxStP0′]
Denne er også veldig behagelig, litt kortere enn den øverste (ca. 20 min). Denne gjør jeg gjerne igjen, men liker fortsatt den øverste filmen best.
[yframe url='https://www.youtube.com/watch?v=_b5CgHdeOpU']
Denne har jeg ikke prøvd. Det er en 10-minutters økt som man kan sette sammen med tilsvarende økter fra samme kanal om man vil. Tenker meg å prøve meg på denne når jeg har litt dårlig tid og ikke rekker den på en halvtime.
[yframe url='https://www.youtube.com/watch?v=B87FpWtkIKA']
Denne har fått veldig gode tilbakemeldinger, men det er ingen som forteller hva man skal gjøre, i tillegg er det noen «props» – altså hjelpemidler som trengs. Første gangen jeg gjør en ny yogatime så må jeg selvsagt se en del på skjermen, men etterhvert er det deilig å kunne fokusere på seg selv og ha en stemme som forteller hva som kommer. Det får man ikke i denne timen, og da må man jo kikke opp på skjermen hele tiden, litt ugunstig i noen (de fleste) posisjoner. Men jeg kommer til å prøve, én gang ihvertfall :)
[yframe url='https://www.youtube.com/watch?v=O3EM3rGrSIg']
Jeg bruker youtube-appen på tabben min og kobler den til chromecasten i gjeste-TVen. Fungerer utmerket – mye enklere enn å bruke youtube-appen i TVen (noen som har prøvd å søke på noe i youtube-appen i TVen? Altså seriøst..). Vi er faktisk så fornøyd med chromecast at vi har en i hver TV :)
Kunne du tenke deg å starte dagen med yoga? Har du vurdert yoga/meditasjon som behandling for vond rygg, nakke og hodepine?