Denne oppskriften ligger ute fra før, men etter å ha laget den for 3. gang, så har jeg innsett at det må være noe feil med oppskriften. 2. gang jeg lagde den så brukte jeg litt mye bringebær, men den blei helt rosa denne gangen og, så jeg har innsett at jeg kanskje brukte for mye bringebær fordi jeg rett og slett hadde skrevet feil i oppskriften – og jaggu hadde jeg ret! Jeg fikk også en kommentar på innlegget om det ikke var noe rart med den, da hennes sjokolademousse også ble helt rosa – men jeg var like overbevist om at det var jeg som hadde gjort feil.
Jeg brukte riktig nok mindre sjokolade enn originaloppskriften første gang, men jeg brukte nok ikke fullt så mye bringebær. Så her er oppskriften igjen – for å få den til å se ut som på bildene :)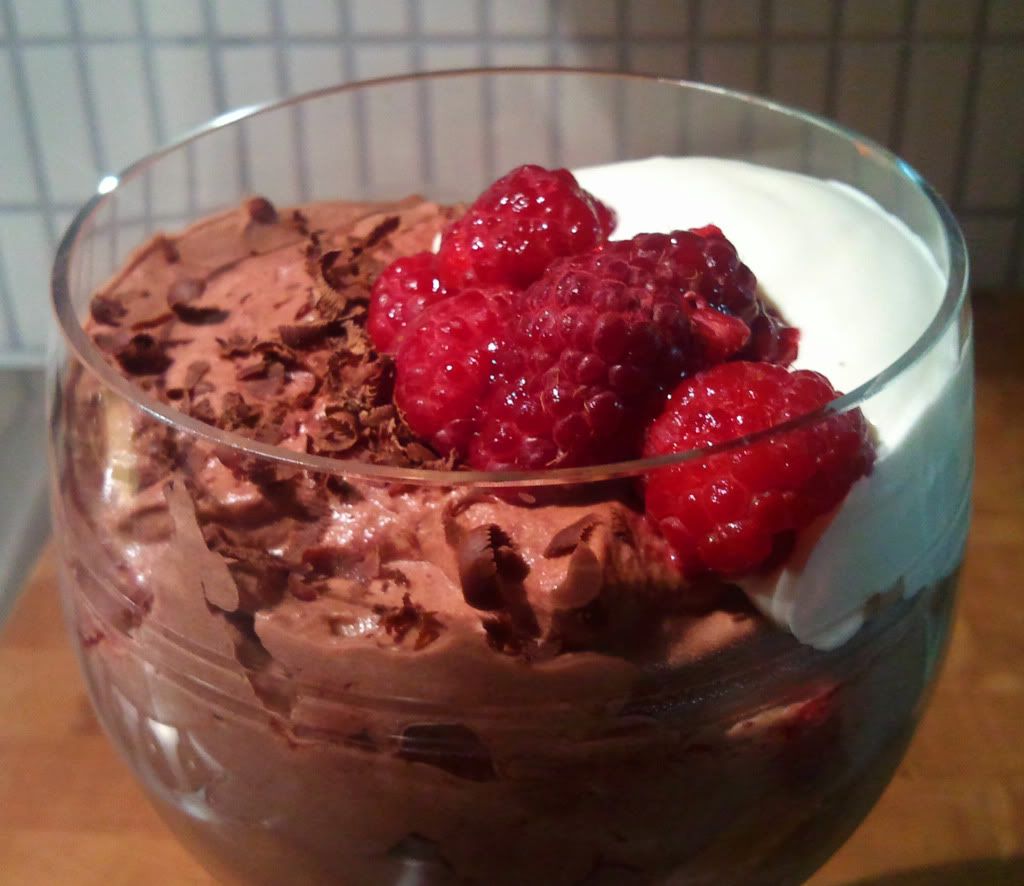 Ingredienser:
3 stk egg
200 gram bringebær
150 gram mørk sjokolade, minst 70 %
1 dl kremfløte
1 ss honning eller litt sukring/stevia
Pynt:
50 gram raspet mørk sjokolade, minst 70%
100 gram bringebær
2 dl pisket kremfløte
Fremgangsmåte:
Del eggehvitte og eggeplomme i to større skåler.
Visp eggehvitten til en hard krem
Bland honning og tinte bringebær i eggegulene.
Smelt sjokoladen i vannbad og bland sammen med bringebær og eggegulene
Velt eggehvitten med bringebærrøra og bland det forsiktig sammen med en slikkepott.
Visp kremfløten for seg og ha i tilslutt.
Ha røra over i serveringsboller og rasp over mørk sjokolade. Settes i kjøleskap i minst to timer.
Serveres med bringebær og krem.
Næringsinnhold:
Fett 79 %
Karbohydrater 14 %
Protein 8 %
Har dere forresten fått med dere at Gymgrossisten kjører 30-50% avslag på alle bokser med barer nå? De har blant annet 30% på questbarer, nesten iHerbpris, og 30% på barer fra oh-yeah! som er SYKT gode! Du finner alle boksene her :) Annonselenker