I jula kom ALLE tøybleiene jeg har kjøpt på nett, og det var morro å pakke opp! Se så fine de her, så mange flotte mønster og farger!
De over her er fra Alva Baby, bleier fra Kina. De to lengst til høyre har et fleece-aktig ytterstoff, mens de andre er glatte. Ellers er de like. Jeg bestilte noen med innlegg og noen uten, så bestilte jeg også to bunker med innlegg løst. Her er det jeg kjøpte fra Alva Baby. For full oversikt kan du lese dette innlegget:
Jeg bestilte også fire nyfødtbleier i etterkant, det er de fire søte små under. De er skikkelig mye mindre, så får se hvor lenge man har behov for de, men jeg syns igjen at bleiene som skal passe alle aldre så veldig store ut. Siden de er såpass billige så kommer jeg nok til å bestille minst fire til, i værste fall får jeg vel selge dem om jeg ikke får behov for dem. Alle nyfødtbleiene finner du her! Disse finnes også med borrelås, men etter å ha spurt litt rundt såvirker det som at de fleste foretrekker knapper, da borrelåsen fester seg i absolutt alt. Ønsker du derimot nyfødtbleier med borrelås så finner du de her.
De to med mønster til høyre har et fleeceaktig ytterstoff, mens de to ensfargede har glatt ytterstoff – ellers er de like.
Her ser dere hvordan bleiene ser ut inni med 3-lags bambus innlegg. Man kan også stappe innlegget i en lomme så det sitter litt bedre, vi får se hva jeg gjør. Du ser også tydelig forksjellen på størrelsen på nyfødtbleiene og de i one size. Begge bleiene kan også justeres mindre i størrelsen med knapper: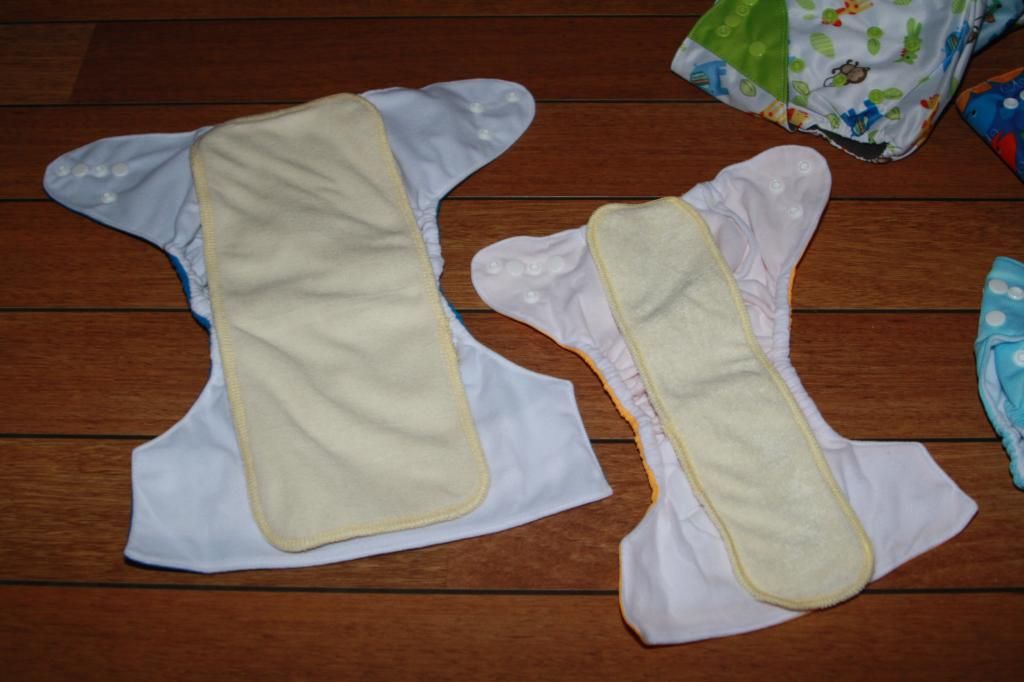 Disse seks bleiene er fra nettbutikken Ecoable. De hadde en kampanje før jul så jeg fikk 20% rabatt, så da bestilte jeg to pakker med tre bleier i hver. Nå valgte denne nettbutikken å sende alle disse sammen da, selv om jeg bestilte to pakker, så det sto en verdi på $58 på pakken. Flaks for meg tror jeg tollvesenet hadde litt for mye å gjøre, så jeg slapp faktisk unna gebyr likevel! De på bildet under er ai2-bleier med fleeceinnlegg og du finner dem her.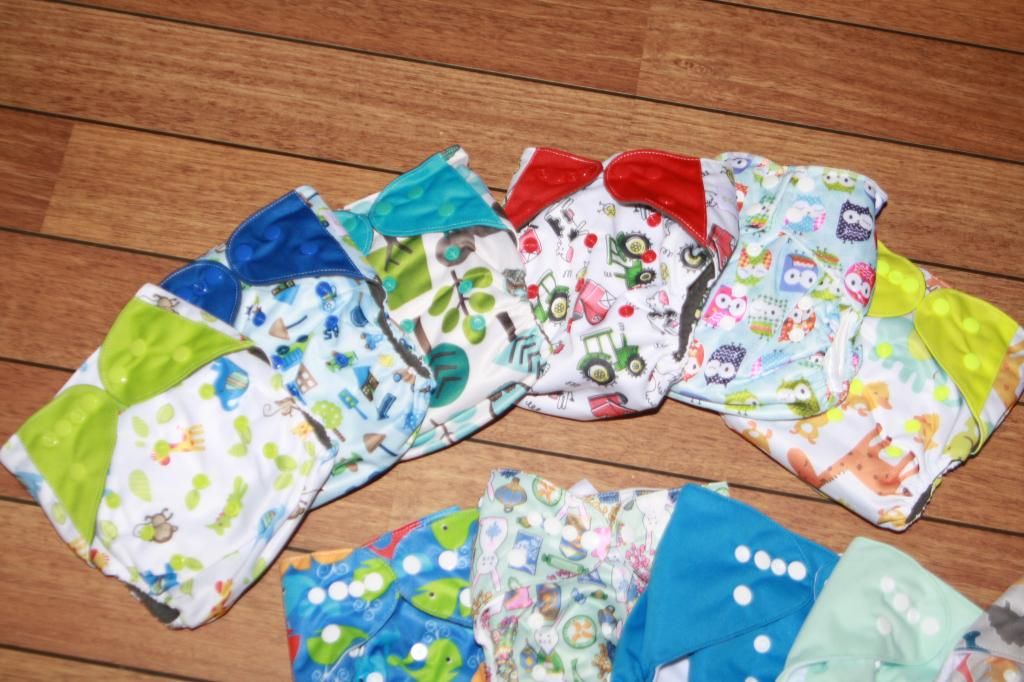 Slik ser de ut inni. Av en ellerannen grunn hadde én av de en knapp man kunne feste innlegget til, de andre innleggene lå løst i.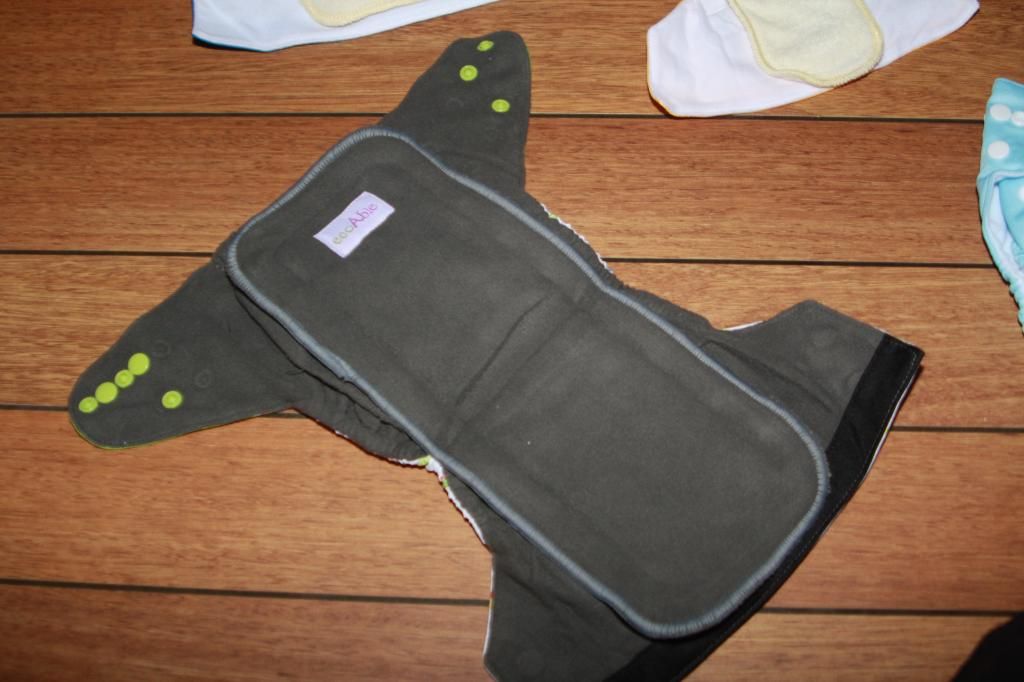 Jeg bestilte også én ai1 bleie, altså all in one. Da er innlegget sydd inn. Disse finner du her!
Så, da er det vel bare å vente tålmodig til mars, så skal vi få testet bleier :) Jeg trenger nok litt flere bleier enn dette, men det er ikke alle bleier som passer til alle barn, så da kan det være greit å vente med å kjøpe fler til gullet kommer :)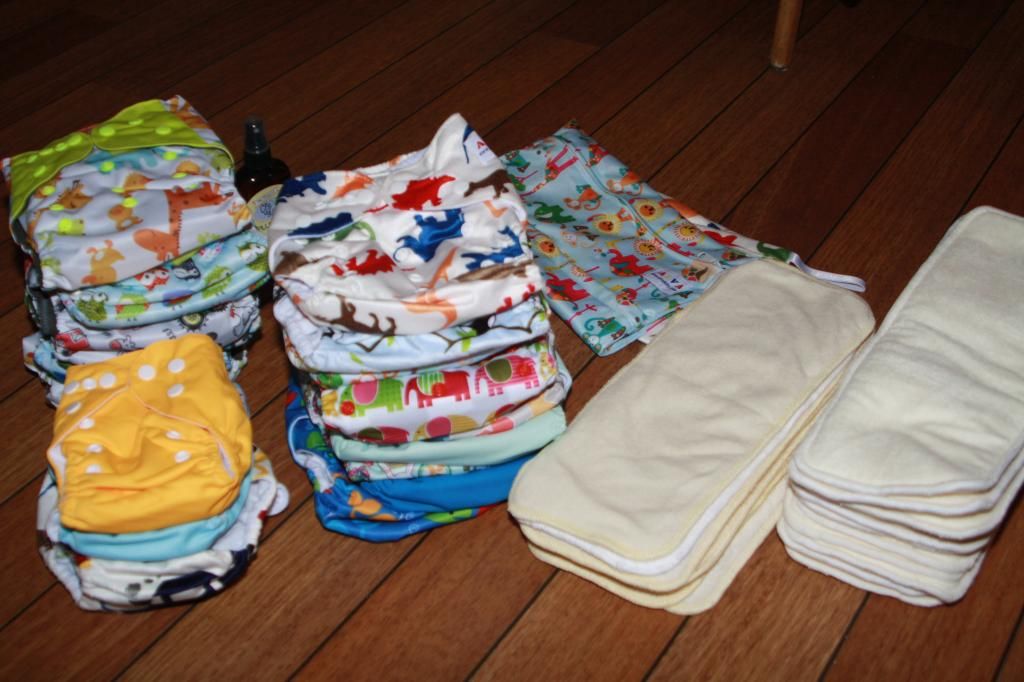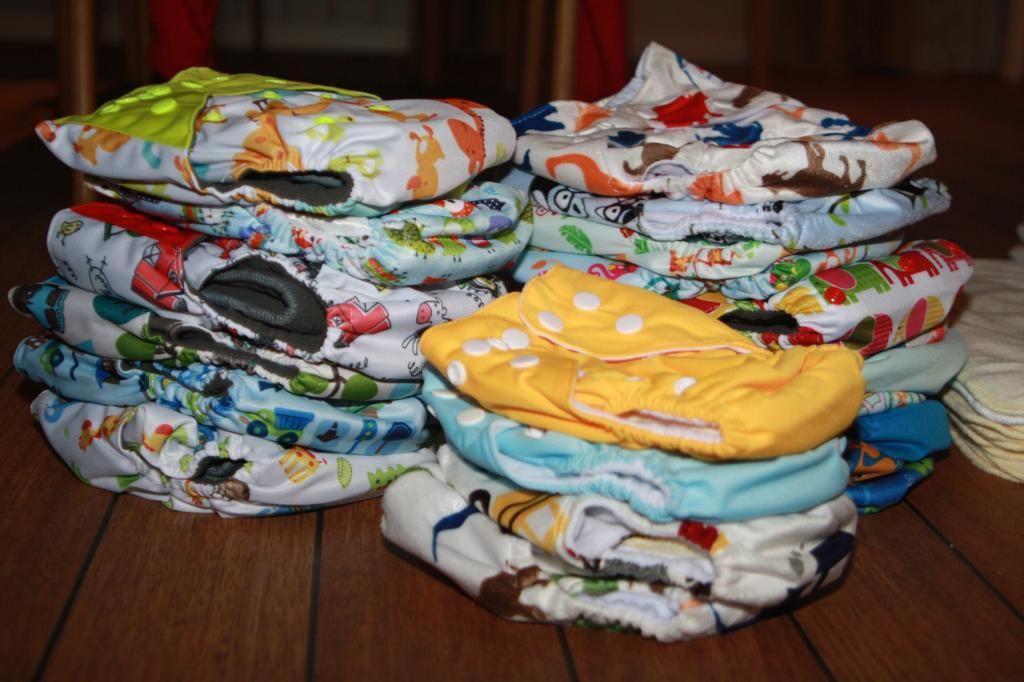 Har du brukt/vurderer du å bruke tøybleier? Hvilke merker anbefaler du?