Jeg har allerede sydd et babynest, så hvorfor et til tenker du kanskje? Vel, jeg er ikke så veldig fornøyd med det første jeg sydde. Jeg brukte bare det jeg hadde for hånden, og jeg kan ikke si at jeg var så veldig nøyaktig, så det fikk en litt merkelig form. Når det i tillegg dukket opp flere og flere nydelige babynest på termingruppen min, så måtte jeg bare ta mot til meg og sy ett til.
Og dette babynestet ble jeg VELDIG fornøyd med :)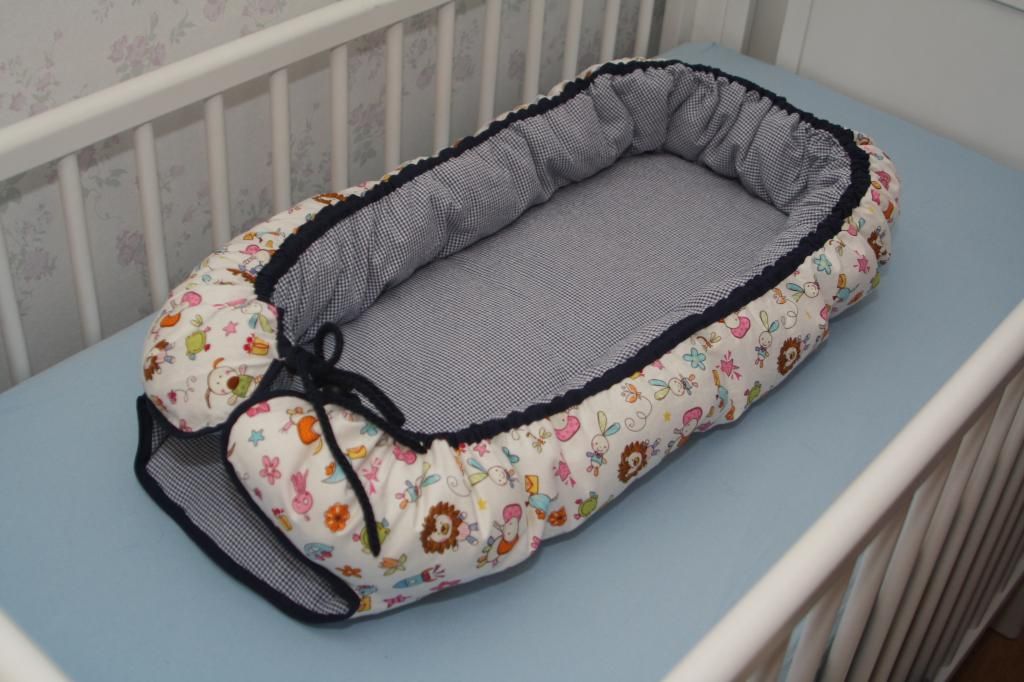 Jeg har kjøpt alt på stoff og stil. Jeg hadde litt problemer med å velge stoff og slikt på nett, så jeg ble veldig glad da jeg så at de hadde en butikk i Drammen, så da dro jeg dit for å handle uansett. Om du bruker platevatt i hele kan man også bruke jersey-stoffer, altså stoffer med strech. Bruker du putevatt i kanten rundt så bør du bruke stumme stoffer, altså stoffer uten strech. Ellers kan det bli veldig ujevnt. Jeg brukte kun stumme stoffer, og det er faktisk samboeren som har plukket ut alt sammen, er han ikke flink?
Her er det du trenger:
Om du vil holde deg til stumme stoffer så kan jeg anbefale deg bruke bomulslerret og/eller vevd bomull. Alle stoffer bør vaskes først, og jeg anbefaler at du syr en søm langs klippekantene så de ikke rakner under vask (trengs ikke ved bruk av jersey). De kan også krympe litt når man vasker de. Derfor har jeg skrevet 1,1 m stoff og ikke 1,05 som det står i oppskriften.
Jeg anbefaler virkelig å kjøpe mønsteret. Ikke er det spesielt dyrt (25 kr), og om du er en relativt fersk syerske så kan jeg love deg et penere resultat (se bare på mitt forrige…).
Ellers kan du også bruke denne fremgangsmåten som jeg brukte sist. Den går bort i fra oppskriften på et par punkter, og de tar jeg for meg under her.
Fremgangsmåte
Klipp og sy sammen stoffene
Du starter med å klippe ut de to store stoffbitene du har mønster til. Disse legger du rett mot rett (altså utside mot utside), og syr fra tuppen av den ene buen ut, til tuppen av den andre. Du bruker helt enkle «rett frem» sting :)
Skråbåndet
Når dette er gjort så skal du sy på skråbåndet. Ikke klipp det til før du er nesten ferdig med å sy. Brett skråbåndet inn ca. 2 cm helt i starten så du får en fin ende (det er ikke gjort i bloggen over), og start der stoffene er sydd sammen. Jeg syns ikke dette var så veldig enkelt, for man skal sy dette på stoff som buer, men vær tålmodig så får du det til. Jeg prøvde å bruke nåler, men syns nesten det var enklere uten, og heller tilpasse underveis manuelt. Og ja, jeg måtte ta opp et par ganger. Sømmen mellom de to stoffene skal helst ligge rett under skråbåndet. Når du har 4-5 cm igjen å sy, så klipper du til båndet. Husk å regne med ca 2 cm som du bretter under for å avslutte med samme fine kant.
Så skal du sy en runde til, men nå på andre siden av skråbåndet, det er langt enklere!
Blonder (valgfritt)
Om du ønsker blonder kan du legge disse under kantbåndet nå. Jeg anbefaler på det varmeste å sy fast den ene siden først og feste blondene når du fester den andre kanten. Tenk derfor på hvilken retning du vil at blondene skal peke i forhold til stoffene du har valgt.
Platevatt
Klipp til platevatten og sy den inn i nestet. Platevatten skal være litt større enn sømmen du ser på bildet under her, da man skal sy igjennom den. Den går utenfor med ca 2 cm rundt hele kanten.
Dette var heller ikke så veldig enkelt syns jeg. For det første er det litt vanskelig å få den til å ligge helt riktig under (klipp derfor heller litt større enn litt for liten platevatt), også var det heller ikke suuuperenkelt å få buen oppe helt rett. Jeg festet både stoffer og vatt med nåler hele veien, likevel ble det feil og jeg måtte gjøre det igjen. Så vær nøyaktig her, og hold tunga rett i munnen.
Når dette er gjort så ruller du den siste delen av platevatt til ei pølse. Denne blir veldig lang, så jeg anbefaler at du får hjelp til dette. Jeg tok anorakksnoren og bandt fast i tuppen på pølsa, og dro snora gjennom buen først. Dette gjorde det langt enklere å få hele pølsa igjennom, og det var absolutt ikke vanskelig (dette er normalt det de fleste sliter mest med). Når pølsa var igjennom dytta jeg den litt opp i endene så det skulle bli enklere å sy igjen i bånn.
Lukking og siste kantbånd
Her anbefaler jeg å sy igjen som i originaloppskriften, og ikke som bloggeren over har gjort. Brett kantene innover, og sy en søm heeelt ytterst (bloggeren har ikke brettet innover). Dette syns jeg gjorde det enklere å sy på det siste kantbåndet pent.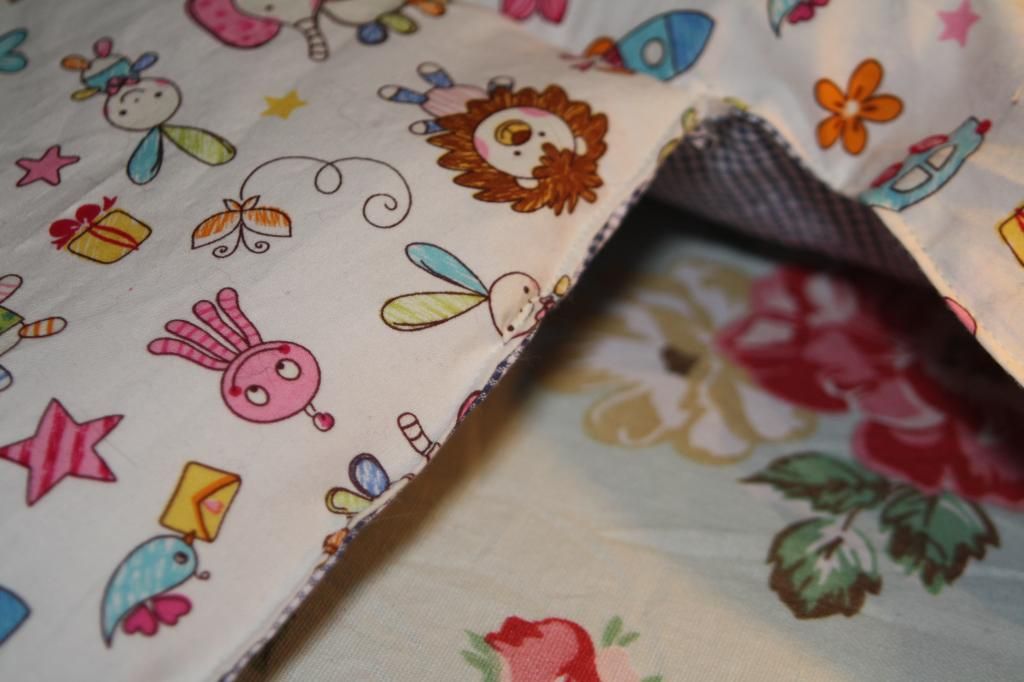 Sy til slutt på kantbånd hele veien nede. Start der det tidligere kantbåndet slutter, og brett det inn 2 cm så du får en fin kant. Dette syns jeg var helt umulig å feste med nåler, så jeg tok også dette på «frihånd». Det er vanskeligst å få kantbåndet til å sitte i hjørnene, så her må du passe på at sømmene når inn til selve stoffet og ikke bare går gjennom kantbåndet.
Avslutt når du har kommet til andre enden av kantbåndet ved å klippe av kantbåndet inkl en 2 cm brett for en pen kant.
Anorakksnor
Deretter er det bare å ta en sikkerhetsnål og begynne å tre anorakksnoren igjennom kantbåndet som går rundt. Dette er litt tidkrevende, men ikke spesielt vanskelig. Når den er igjennom så klipper du av når du har ca. 10 cm ute på hver side, uten at babynestet er snurpet sammen. Brenn endene lett med en lighter, og tre på snorstopperne. Om du ikke får snorstopperne over kan du stikke en knappenål igjennom tuppen av tråden (gjennom der det er hardt). Du fører tråden gjennom stopperen når den er åpen, tar tak i den med andre hånden, og trekker igjennom.
Tada! Da er du ferdig! Babynestet kan brukes på begge sider. Det er superenkelt å vende det. Jeg syns nok vårt nest er finest (og kanskje mest praktisk) med den blå siden inn.
Her er det vrengt: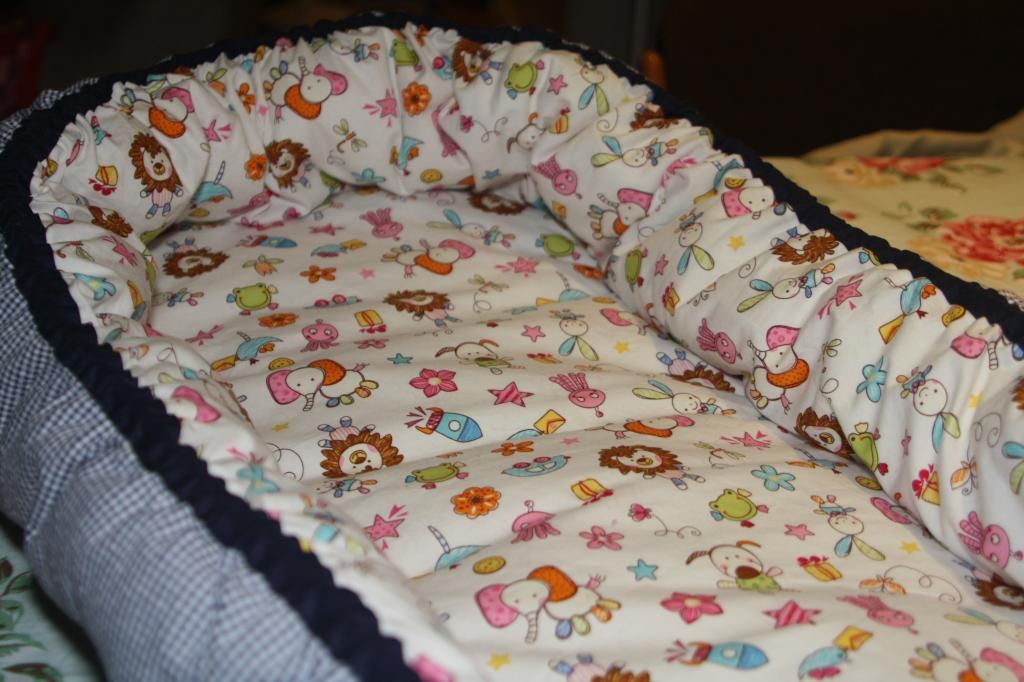 Og her i senga. Altså disse sprinkelsengene er jo helt enorme, så jeg er veldig glad for at lille får ligge i et koselig lite nest i starten :)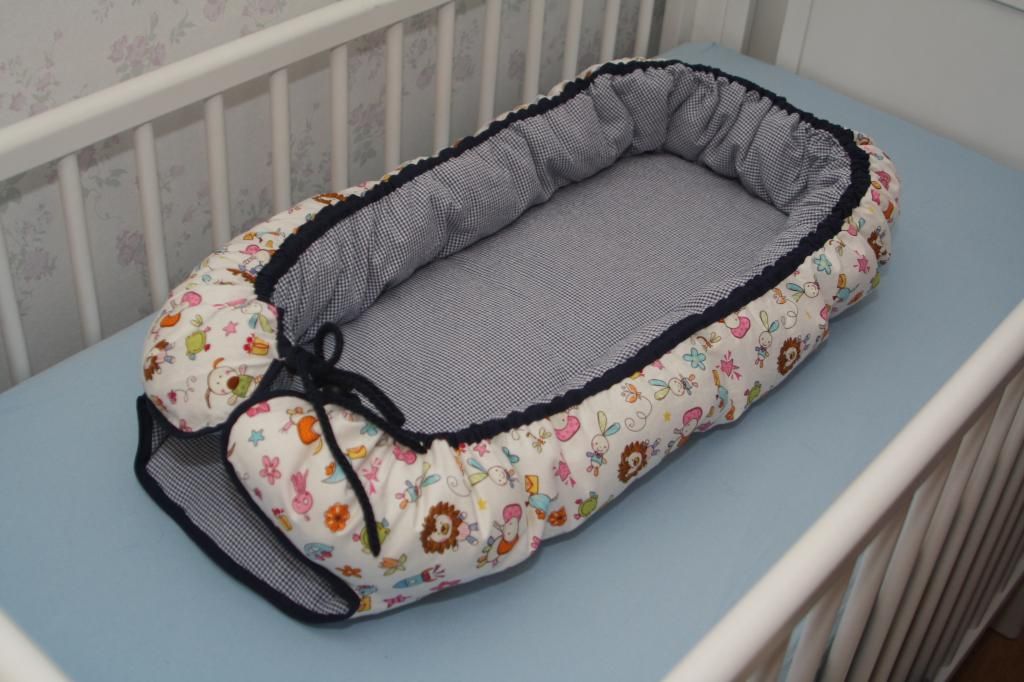 Om du har spørsmål til sying av babynest så fyr løs! Jeg har ikke lagt ut bilder av hele fremgangsmåten, men de du ikke finner her, finner du i selve oppskriften og i bloggen jeg lenket til over.
Har du laget babynest før? Syns du det var vanskelig?