Da er 17-mai antrekket klart – nesten! Se på denne fine selebuksa da :) Bodyen jeg har inni er fra Cubus, en gave fra en venninne, sløyfa fulgte med bodyen. I tillegg til buksa har jeg tenkt til å prøve meg på en sixpence i samme stoff, skal se om jeg finner noe passende mønster.
Buksemønsteret er fra Stoff og Stil, men istedefor å sette borrelås på selene, har jeg laget knapper. Det er mulig jeg går litt bort fra oppskriften et par steder, men det er fordi jeg ikke helt forsto den. Resultatet er jeg ihvertfall strålende fornøyd med :) Det er artig og lærerikt å gå igjennom oppskriften igjen (som når jeg lagde dette blogginnlegget), for da ser man plutselig hvor man har feilet. Jeg har f. eks brukt en strikk på 5 mm istedefor 35 mm i sidene, og måtte dermed gjøre et par justeringer for at det skulle bli pent. Nå gir jeg dere muligheten til å gjøre det rett fra starten, for jeg gjør det IKKE om igjen! Er man fornøyd så ser jeg faktisk ikke noe poeng i det ;)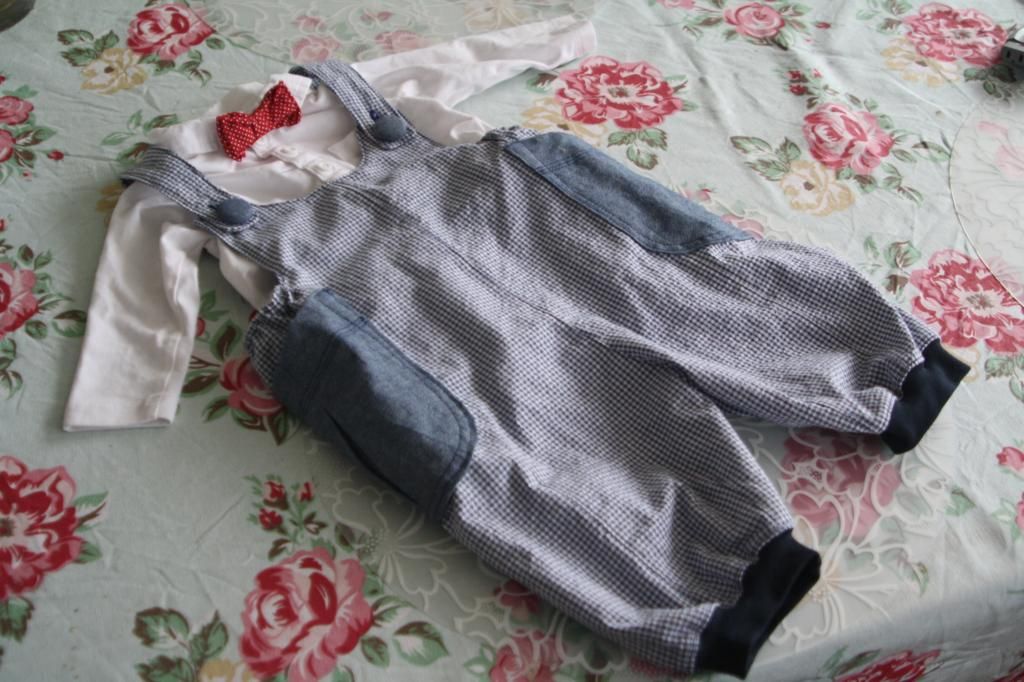 Du trenger:
Sjekk ut lenken til mønsteret for å se hvor mye stoff du trenger til ønsket størrelse. De har ikke skilt på mengde stoff til bukse og lommer i oppskriften, så jeg kjøpte 30 cm stoff til lommene som er det minste man kan kjøpe på S&S.
Fremgangsmåte:
Klipp ut alle delene etter mønsteret. Lommene klipper du i eget stoff om ønsket.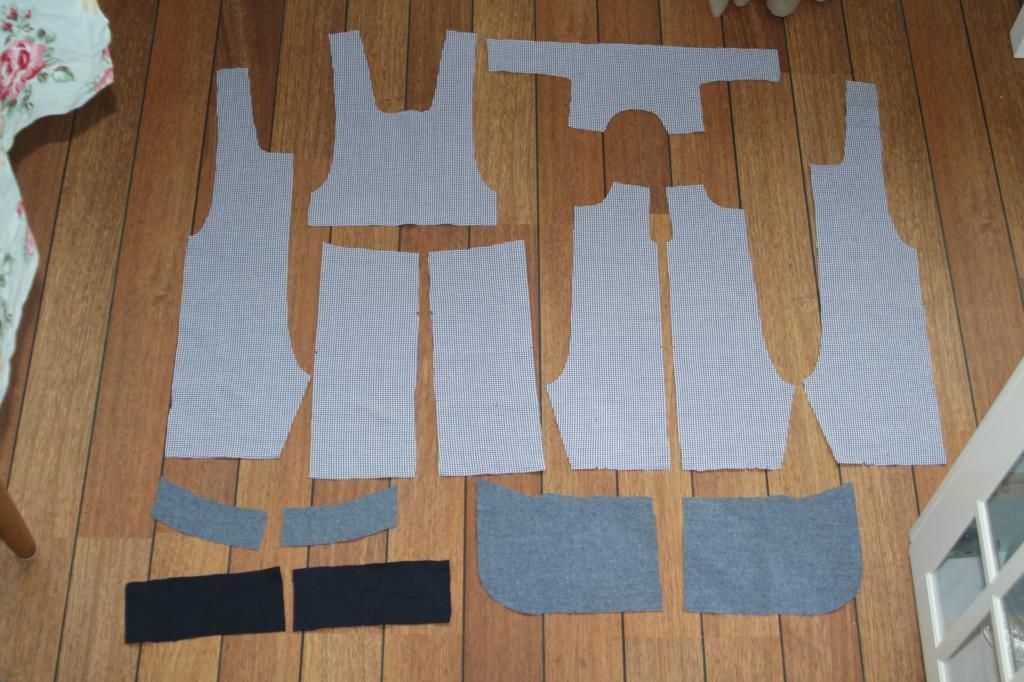 Sy innsnitt på for og bakstykke etter hakk og markering. Jeg bruker her en rettsøm med stingavstand 2. Etterpå syr du en kantstikning. Jeg bruker stinglengde 3 på kantstikningen da jeg syns det blir penest.
Sy forstykkene og bakstykkene sammen på midten. Jeg bruker en søm som heter vario-overlock. Du kan fint bruke vanlig rettsøm på dette, men sy gjerne en runde med sikksakk like utenfor rettsømmen, så blir det penere på innsiden og du slipper at stoffet rakner så lett. Klipp av overflødig stoff mens arbeidet skrider frem.
Sy en pyntesøm på høyre side av sømmen. Pass på at bretten til sømmen under også ligger mot høyre, så kantstikningen syr fast denne fliken.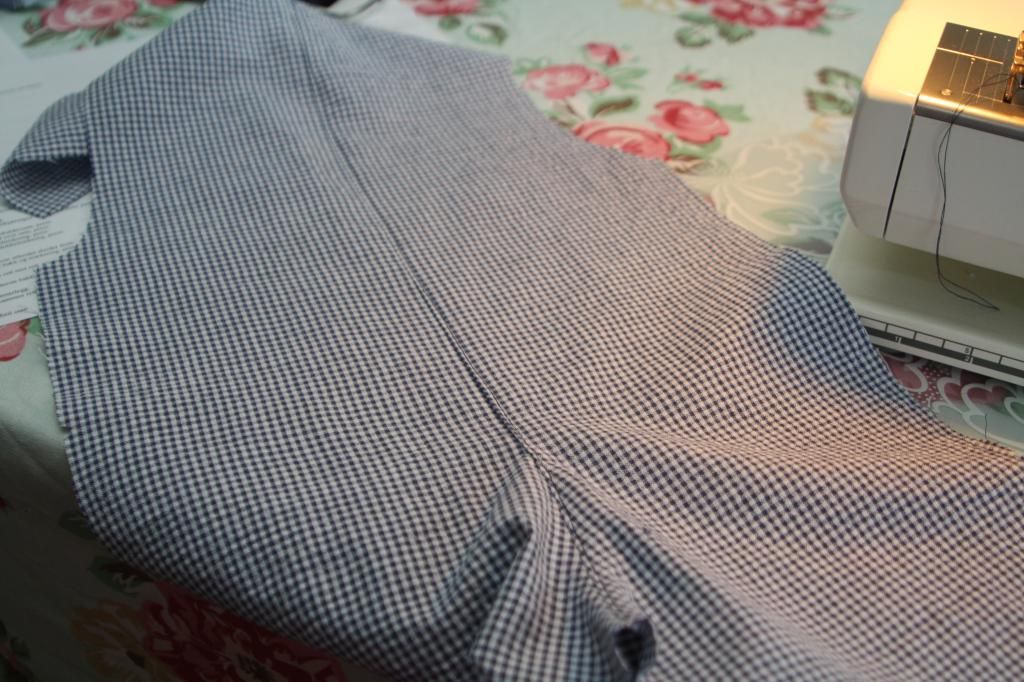 Sy fast sidestykkene i forstykket og sy en kantstiknin etterpå.
Over til lommene. Brett lommene rett mot rett etter hakk og sett nåler.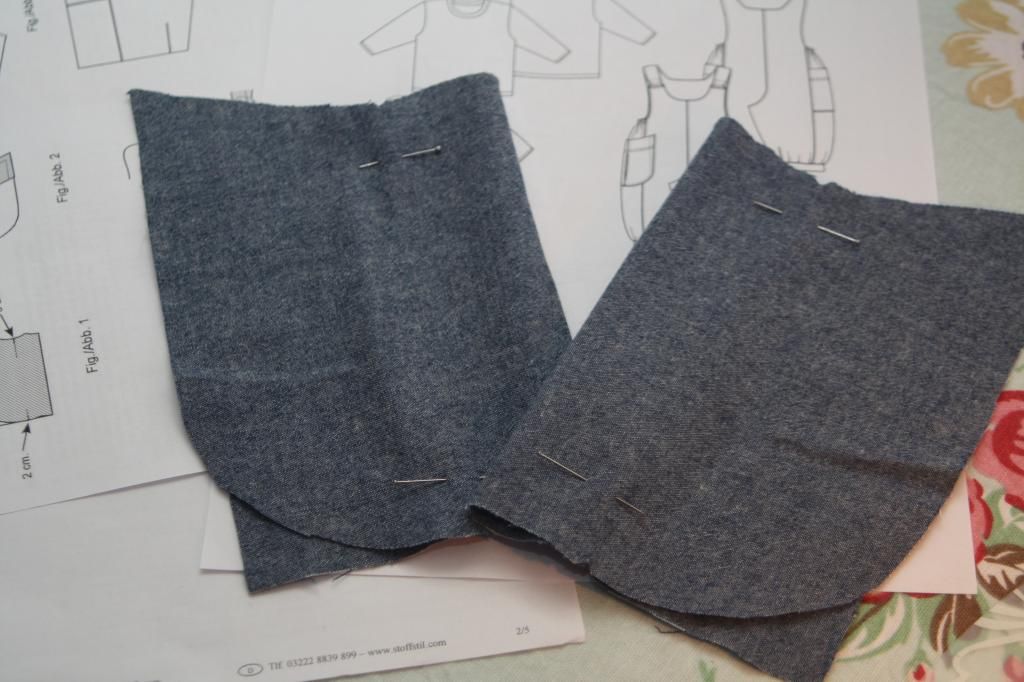 Mål 5 cm fra toppen og 2 cm fra bunnen og sett nåler og sy en rettsøm fra hakk og til nålen.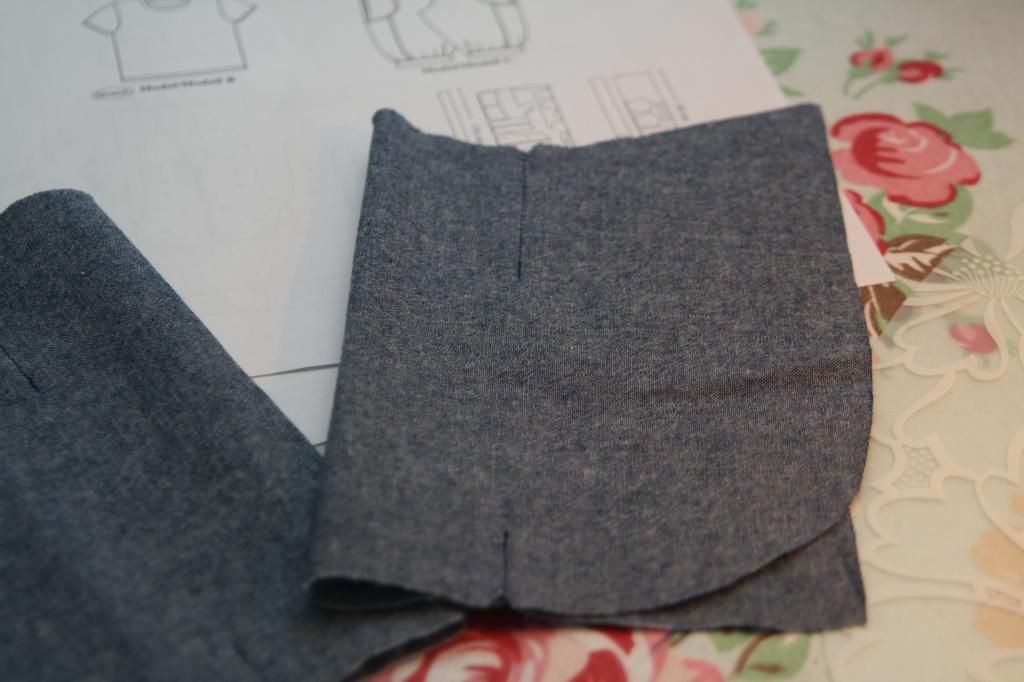 Åpne opp lommen ogbrett midtpartiet som på bildet under. Lommeklaffen fester du rett mot rett som på bildene under: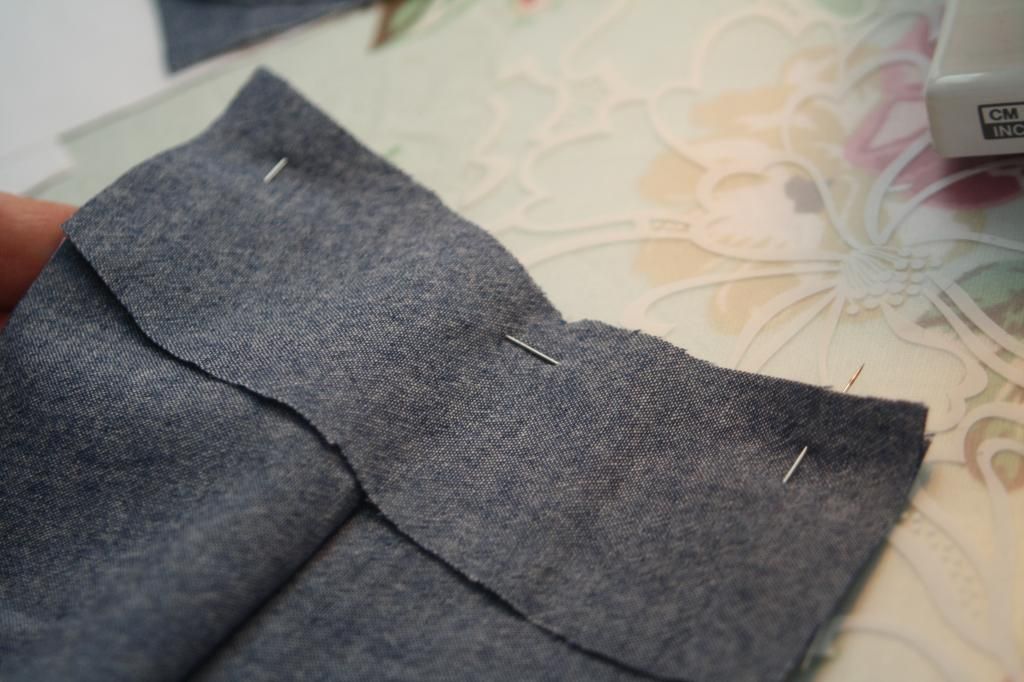 Sy fast klaffen og klipp av hjørnet.
Vreng lommen så rettsiden kommer ut, og press ut hjørnet. Sy en stikning ca. 3 cm fra toppen av lommen. Ha nålen sentrert i forhold til foten.
Når den første sømmen er klar, starter du på nytt og setter foten så streken står midt på den første sømmen. Flytt nålen fra å stå i midten, til å stå på venstre side. Gjør det samme med tredje søm, men høyre side. Da får du lik avstand mellom alle tre sømmene: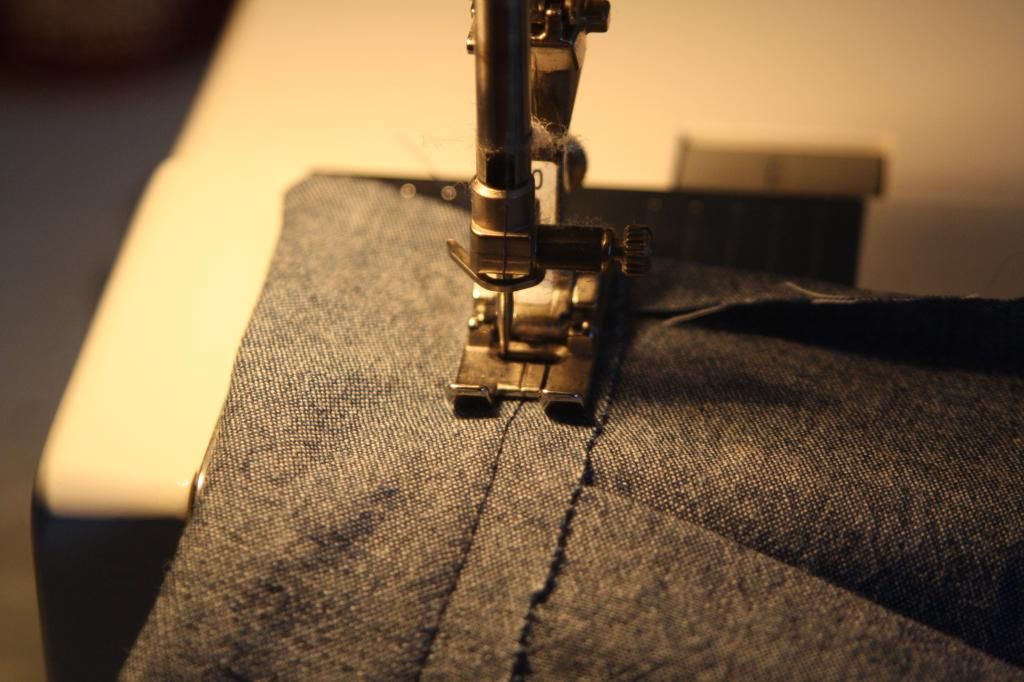 Her kan dere se at foten er sentrert i forhold til den første sømmen, mens jeg har flyttet nålen et hakk til venstre.
Tada!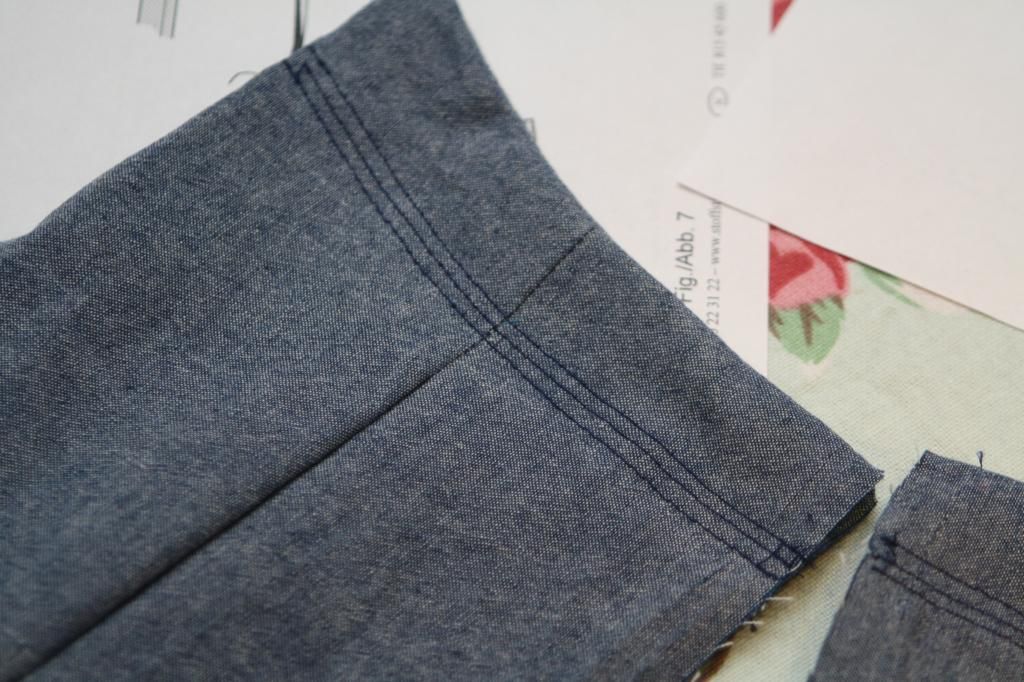 Man skal egentlig stryke en hel masse i denne oppskriften, men det syns jeg blir litt slitsomt, så jeg har klart meg uten. Når du skal feste lommene kan det derimot være en fordel og stryke denne kanten, men jeg syns resultatet her også ble helt greit uten, jeg brukte nåler istede: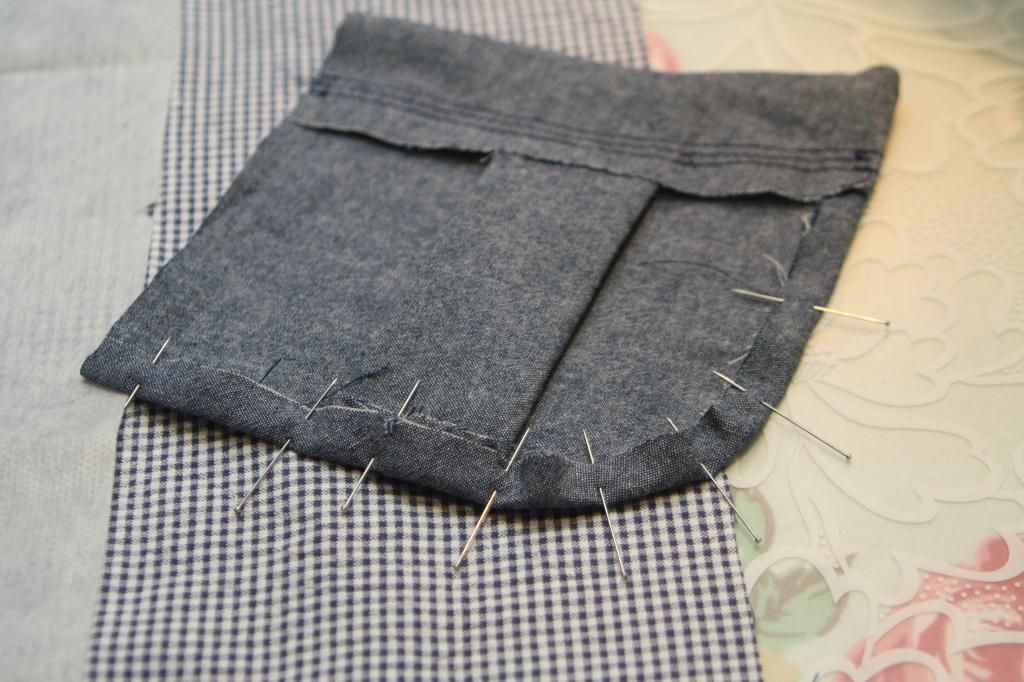 Plasser lommen på buksen. Jeg plasserte den så enden gikk helt ut kanten til sidestoffet, og ca. 2-3 cm fra toppen av buksen. Sy en stikning som vist på bildet under. Start med den ytterste sømmen nederst på lommen, og avslutt her.
Sy fast foret i buksen, rett mot rett: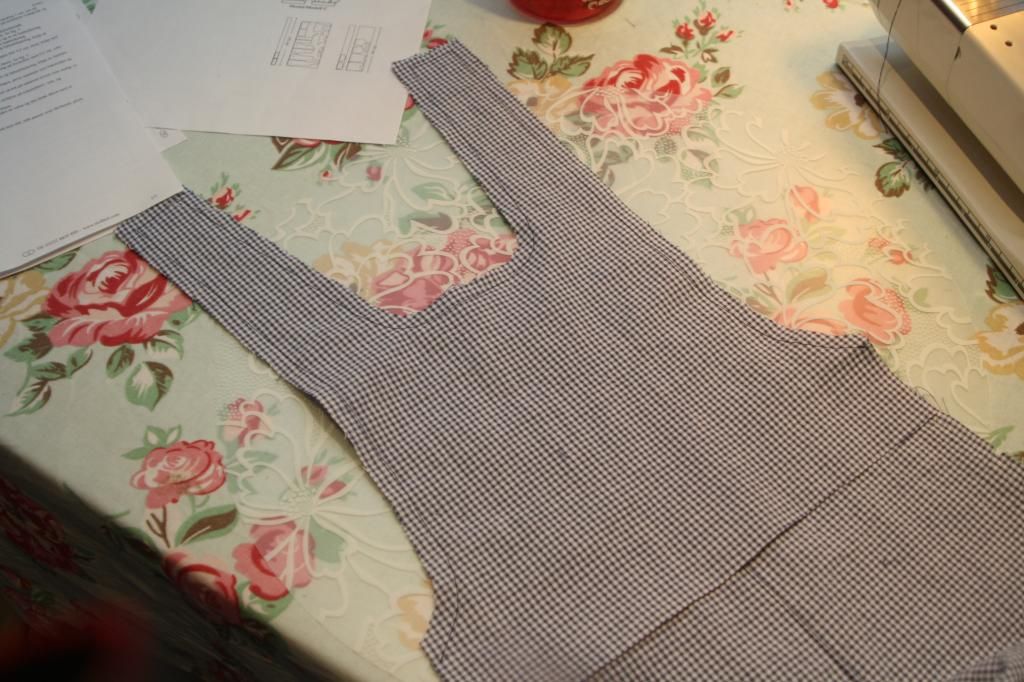 Klipp et par hakk i kurvene og klipp av hjørnene:
Vreng foret og press ut hjørnene:
Sy skrittsømmen:
Sy sidesømmen til for og bakstykke. Brett opp foret så du også syr foret sammen rett mot rett (her gjorde jeg feil første gang, og fikk dermed ikke festet strikken riktig):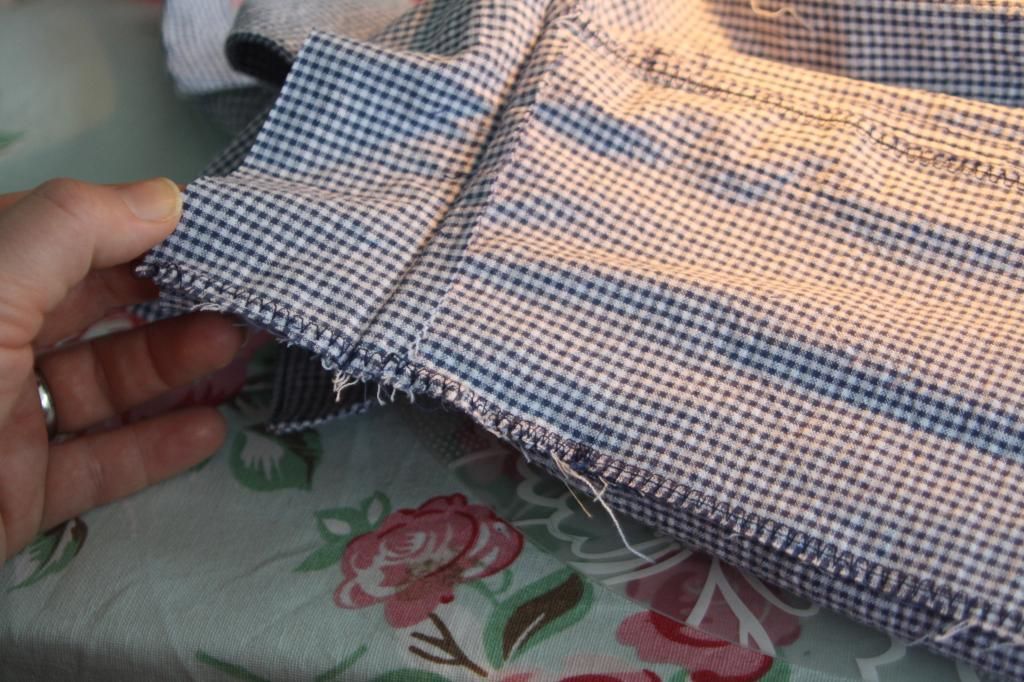 Klipp to strikker på 8 cm og fest i sømmene til sidestykket, under foret, så nære toppen som mulig: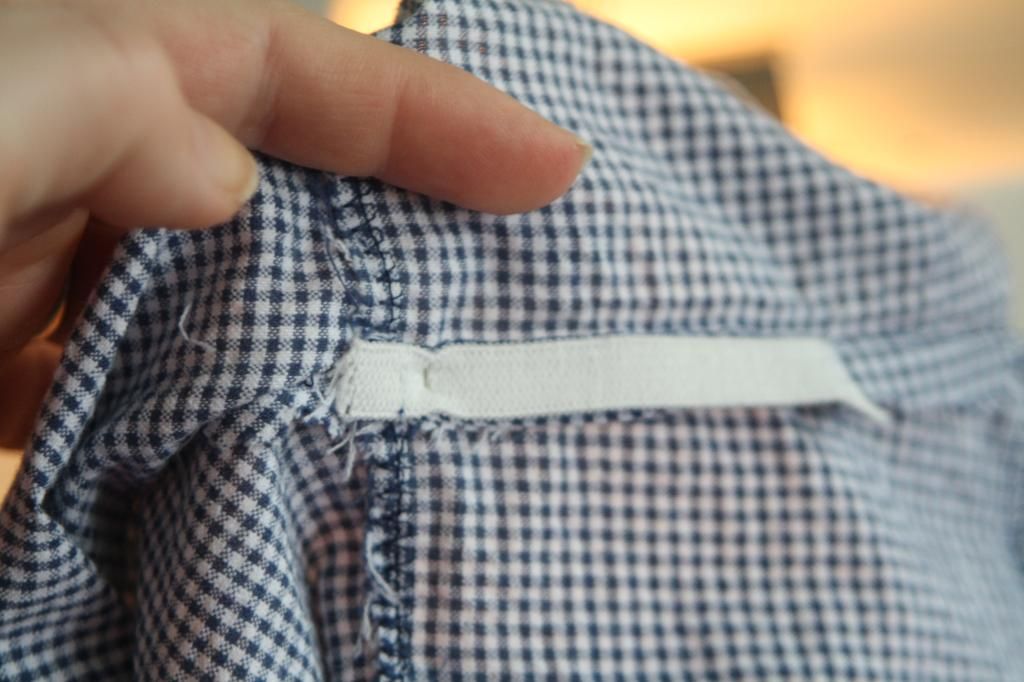 Og sy den fast. Her skal man altså egentlig bruke 35 mm strikk, mens jeg brukte 5 mm.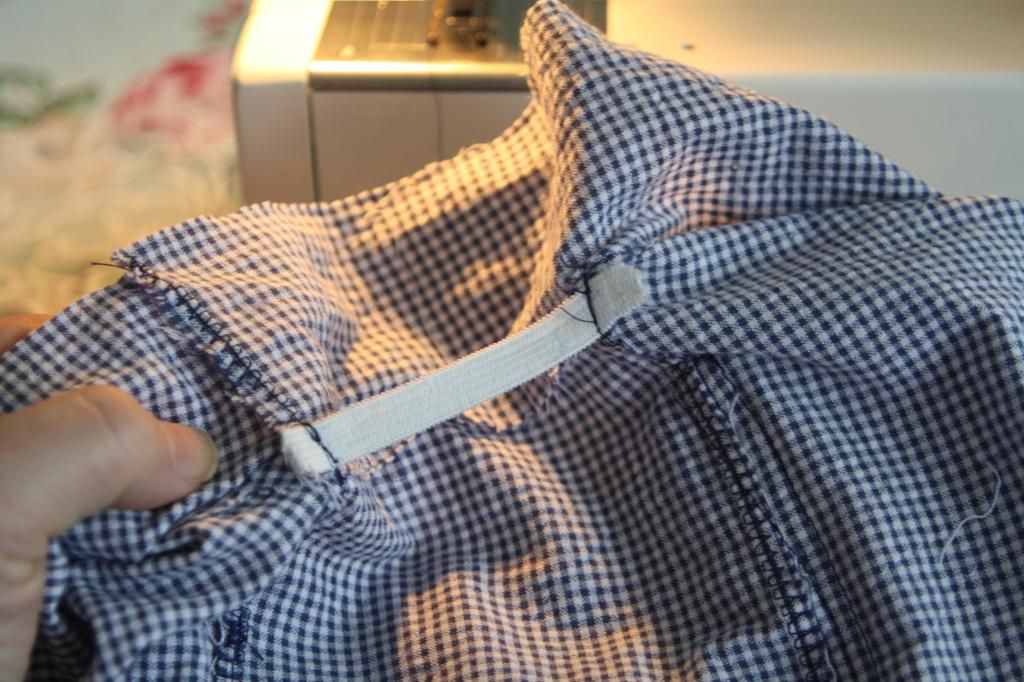 Sy en kantstikning rundt hele toppen av buksen. Pass på at du syr igjennom strikken i begge sidene. Hold det stramt så strikken legger seg pent.
Dette er ikke i oppskriften, men for å få en pen innside brettet jeg foret og sydde en søm rundt her:
Om du velger en bredere strikk vil jeg anbefale å sy en stikning nederst på strikken og. For at foret ikke skulle blafre opp hos meg, festet jeg det til alle fire sidesømmer manuelt:
Sy sammen ribben, rett mot rett: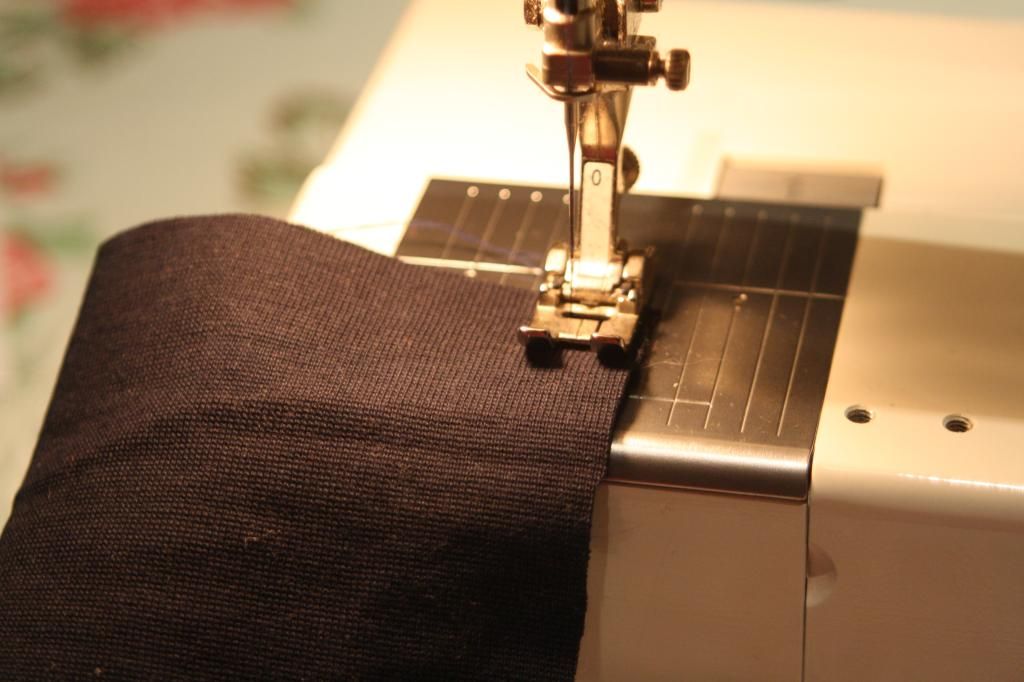 Brett ribben i to, vrang mot vrang:
Fest ribben i buksebeina med et par nåler. Pass på at sømmen i ribben treffer innersømmen til buksen:
Og hold god strekk mens du syr hele veien rundt.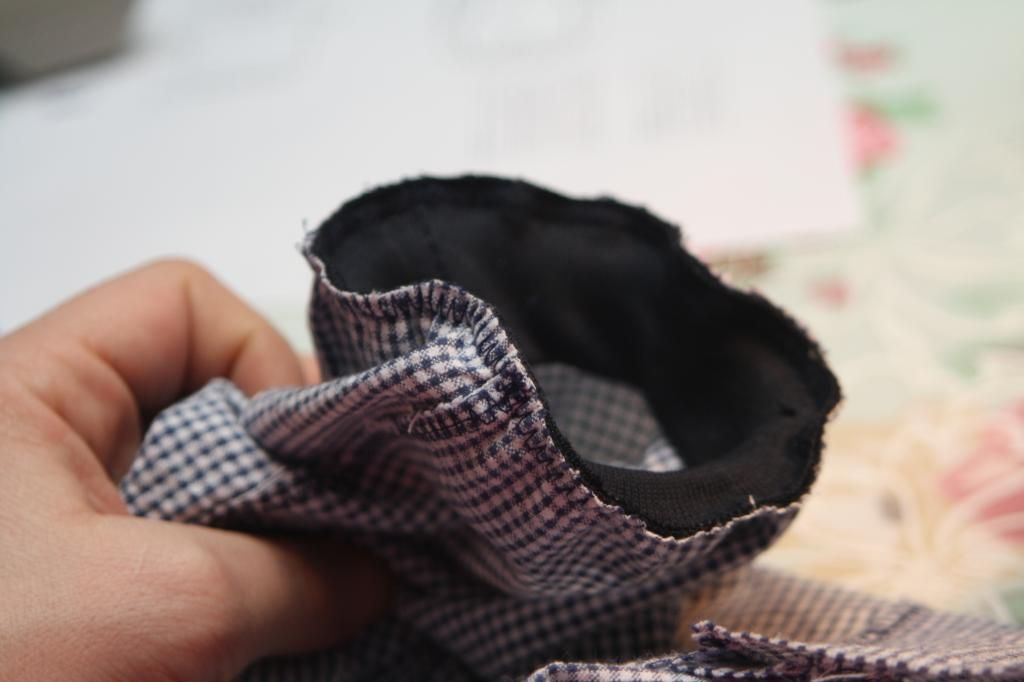 Sy til slutt en kantstikning rett over ribben: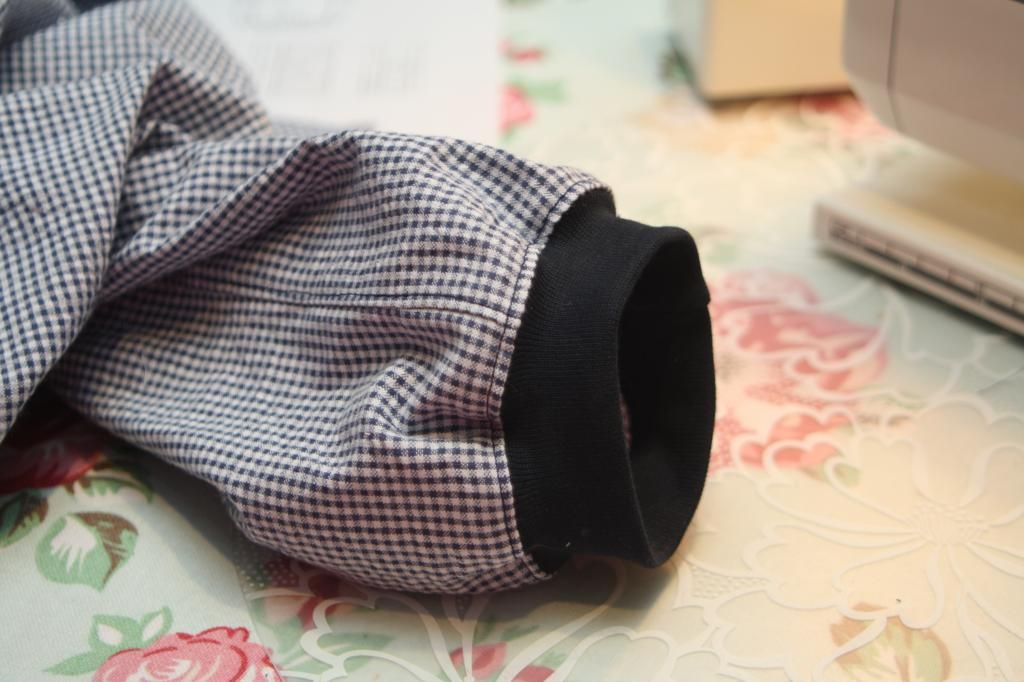 Da mangler bare knappene :)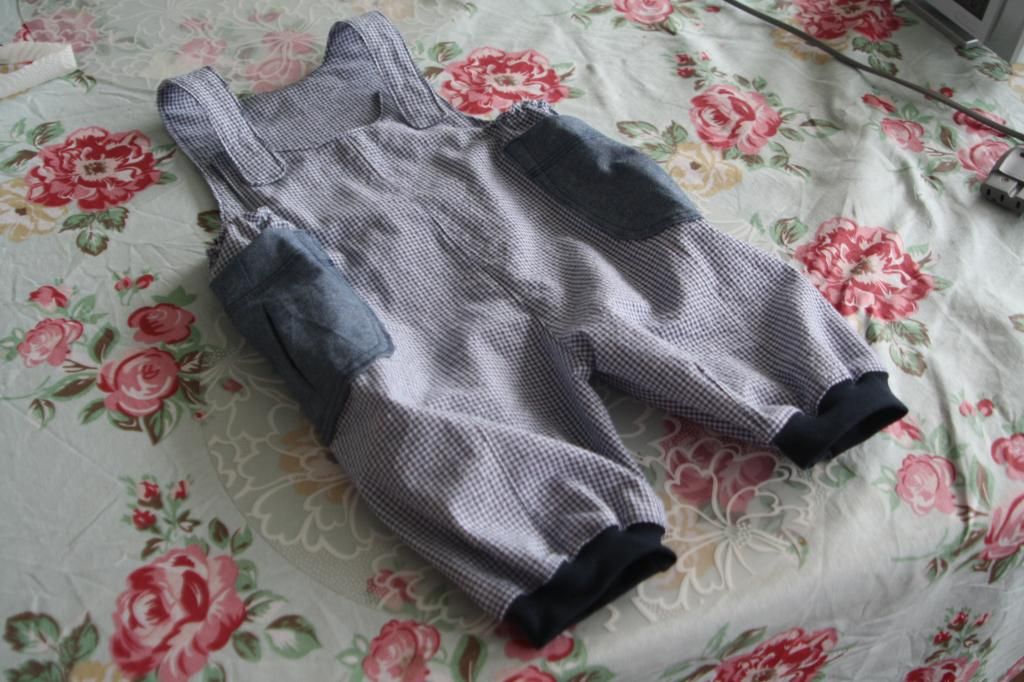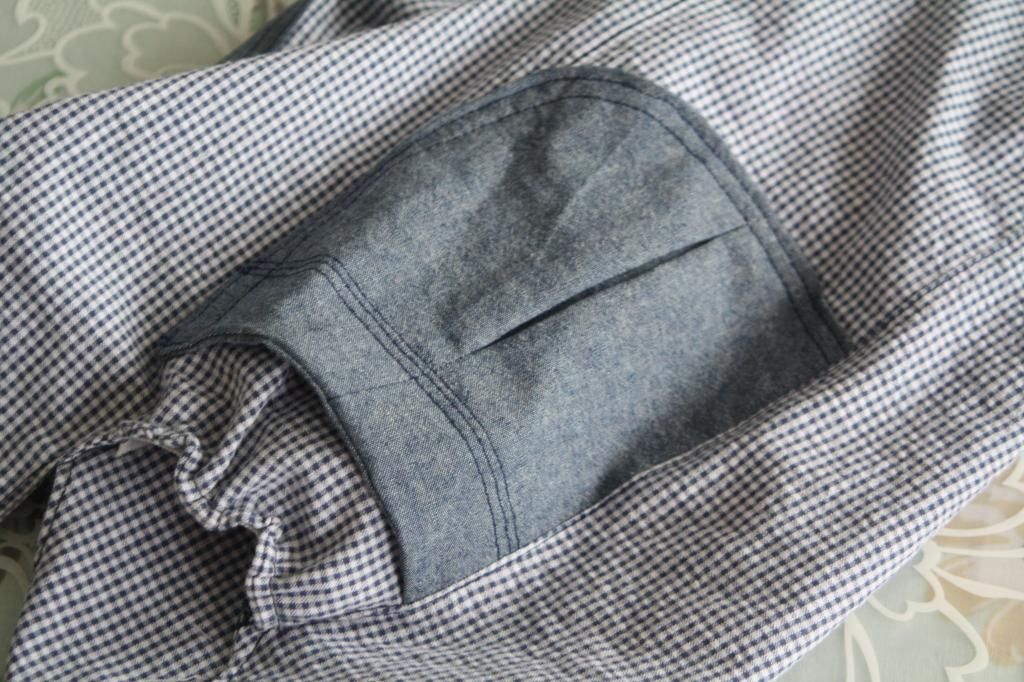 Jeg prøvde først med disse knappene kjøpt på Panduro hobby. Det gikk skikkelig dårlig da jeg ikke fikk knappene til å feste seg. Jeg rpøvde alt, og endte til slutt opp med å ødelegge flere stykker.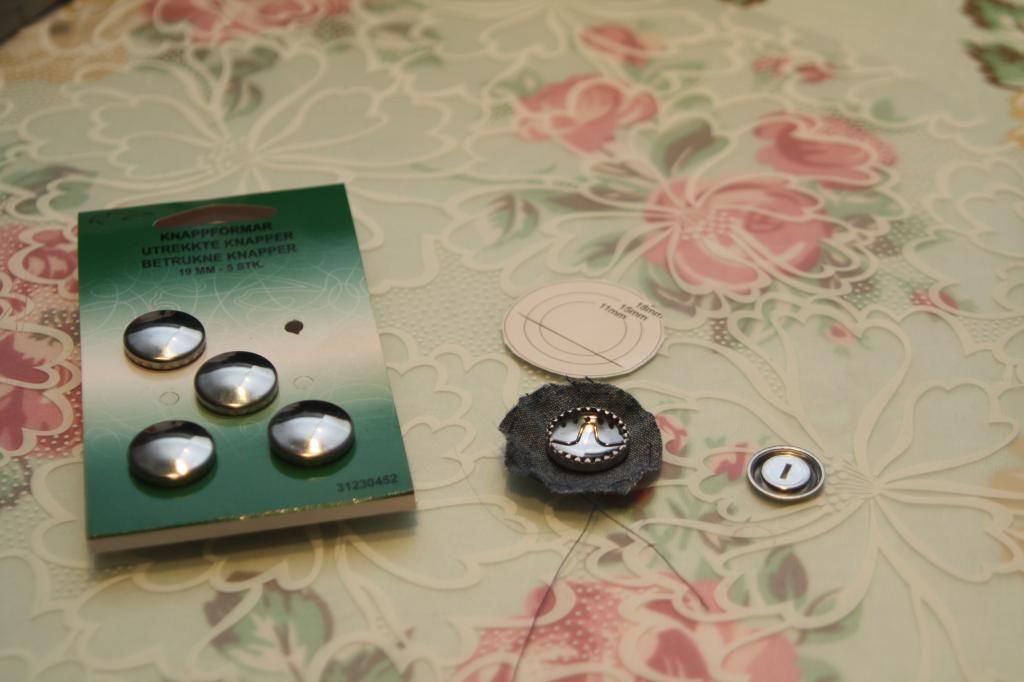 Løsningen var disse knappene fra Stoff og Stil i plast. Svært mye enklere å bruke!
Klipp ut to sirkler etter malen som følger med. Sy en rett søm langs kanten av stoffet hele veien rundt:
Stram og knyt:
Press til slutt på bakstykket med taggene ned. Man kan bruke verktøyet avbildet over om man vil, men det var stregt tatt ikke nødvendig. Jeg klarte det fint med fingrene:
Så var det å sy knappehull på buksestroppene. Jeg har ALDRI sydd knappenål før nå, men veldig glad for at jeg har den funksjonen på min symaskin. Jeg vet ikke hva som er vanlig, men les bruksanvisningen på din maskin så ser du hvordan du lager knappehull. Her er hjulet man bruker på min maskin. Stinglengden skal være 1/4. Man starter på steg 1, går videre til 2 osv.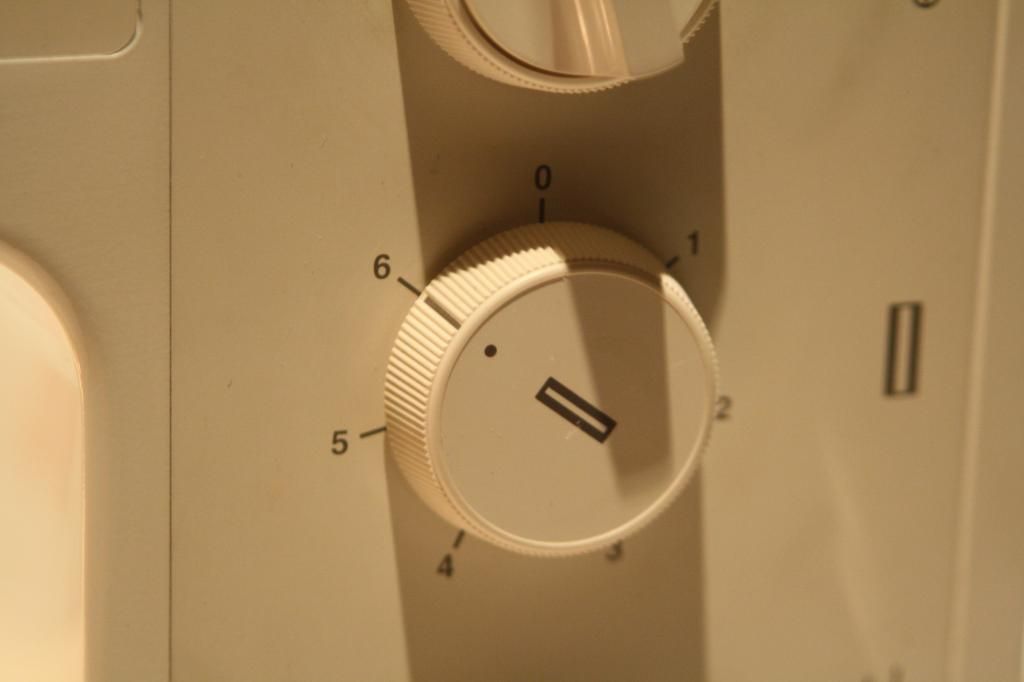 Én ting er veldig viktig når man syr knappehull – sy et prøveknappehull! Dette er viktig for å se hvor knappehullet havner, også kan man jo teste om knappen faktisk går igjennom. Som dere ser på bildet under så havnet knappehuldet et hakk til høyre i forhold til hvor jeg satte streken – veldig kjekt å vite på forhånd.
Tegn en strek og sy knappehullet. Jeg lagde knappehullene litt lenger enn diameteren til knappene.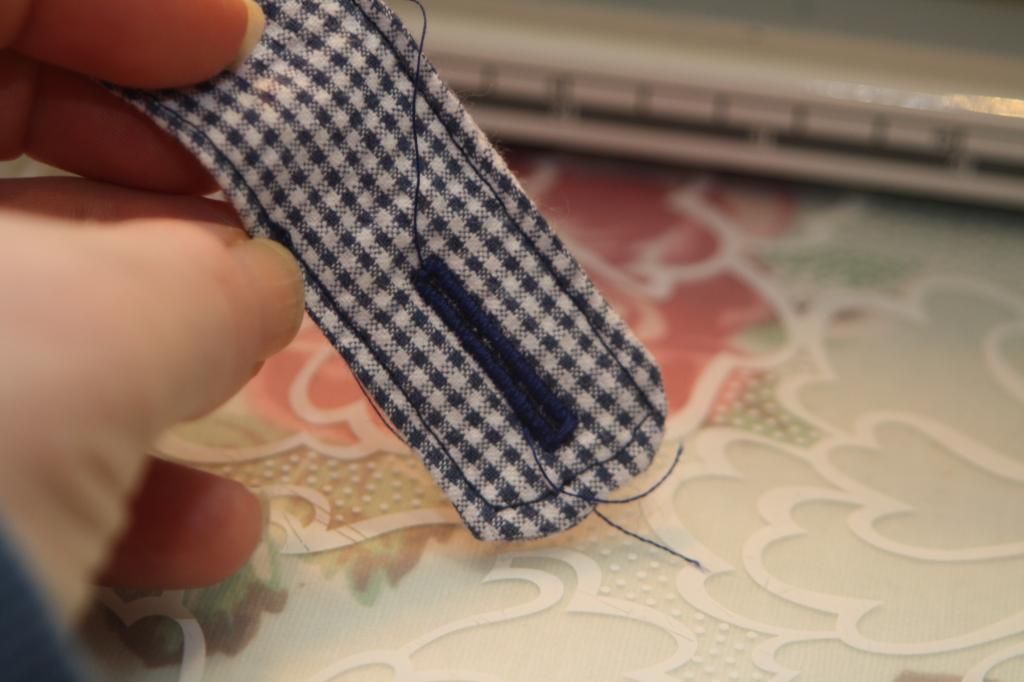 Klipp av alle tråder og åpne opp hullet i midten:
Nå er det bare å sy fast knappene, det gjør du enkelt for hånd. Bruk gjerne dobbel tråd så går det raskere:
Tada! Veldig fornøyd altså :)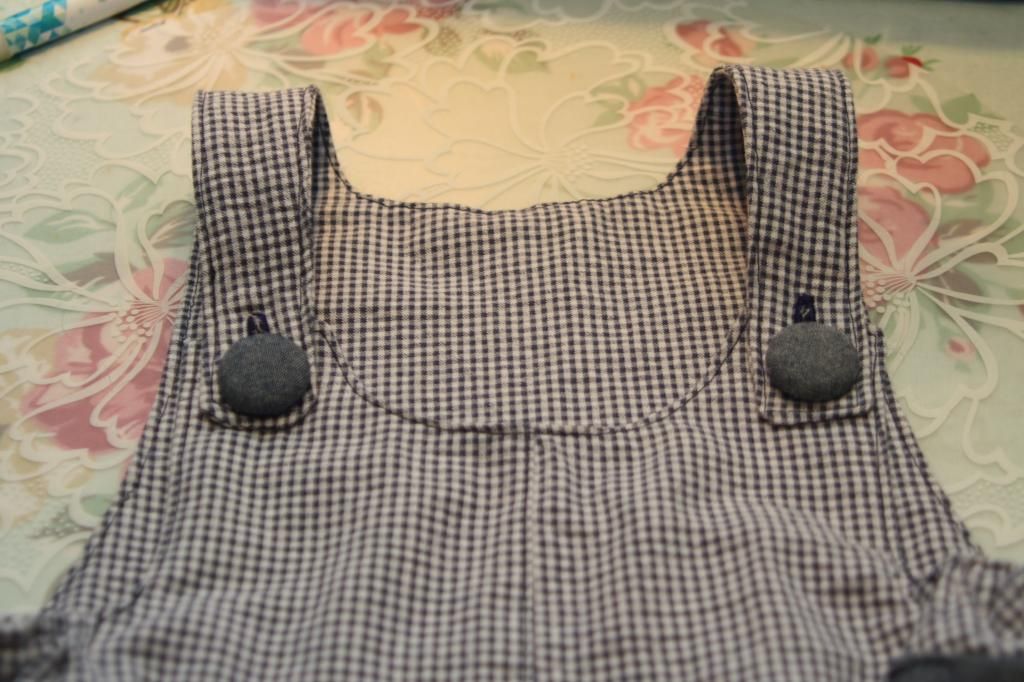 Og her er det ferdige resultatet! Suuuperfornøyd! Er så spent på denne på :) Både body og bukse er i størrelse 62, så det skal hvertfall ikke være for lite. Lille er tross alt bare 3 måneder gammel på 17. mai i år ;)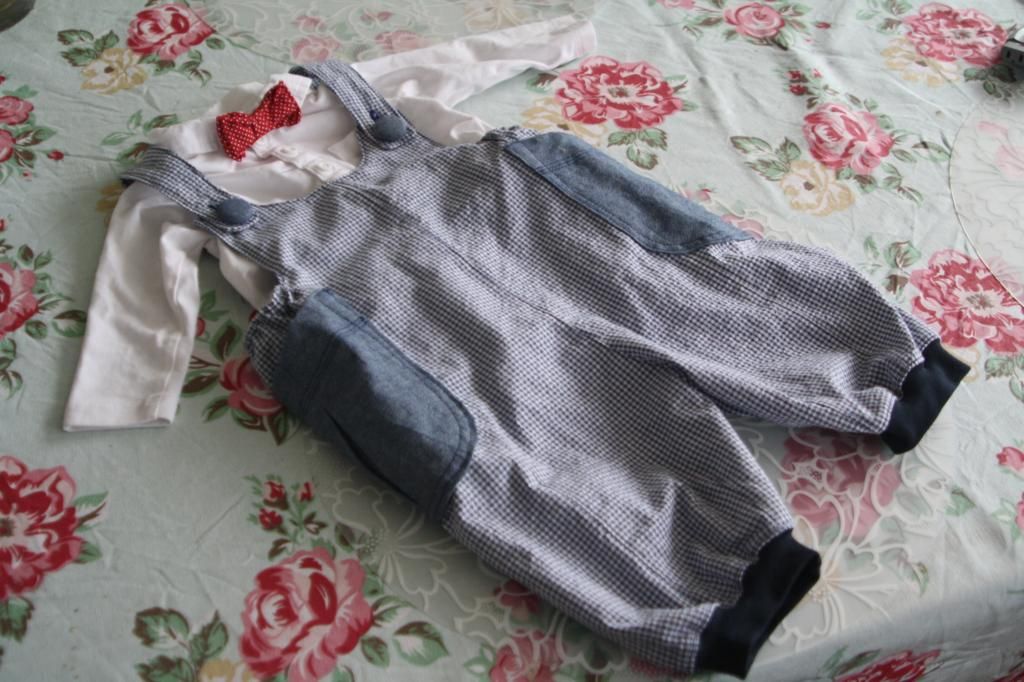 Nå skal jeg prøve meg på en sixpence og. Om jeg får det til skal jeg selvsagt dele oppskriften her :) Kanskje du har en oppskrift du vil dele med meg? Jeg vurderer nesten å kjøpe denne, ta den opp og sy en ny med riktige stoffer :)