Ja, hvordan har det gått med disse tøybleiene? Etter en litt humpete start er vi endelig i gang med tøybleier på fulltid, og jeg er sååå happy :)

Sjekk denne snasne stumpen a, sååå mye finere enn papirbleier!
Vi bruker kun én type bleie nå, nemlig newborn one size fra alvababy. Den har fått mye skryt fra andre, og er veldig billig å kjøpe inn. De har også gratis frakt, så én bleie koster under 40 kr. Man kan velge mellom snaps eller velcro (borrelås), etter litt research har vårt valg falt på snaps og det fungerer veldig bra. Man kan også velge mellom en lodden versjon og en glatt versjon. Den loddne ser du avbildet over, og er den jeg liker best, men de glatte bleiene fungerer også helt fint. Nettsiden til Alvababy er både treig og veldig forvirrende, så bruk lenkene i teksten over for å finne frem :)

Glatte bleier til venstre og loddne bleier til høyre
Av innlegg kan man velge mellom tre forskjellige typer; 3-lags bambus, 3-lags mikrofiber eller 4-lags bambus og mikrofiber mix. Man kan også kjøpe innlegg løst i 1, 10, 20, 30, 50 eller 100-pakk, jeg har lenket til 10-pakningene over her. Jeg har kjøpt en 10-pakk av hver av de tre innleggene ekstra og vi driver fortsatt og tester hvilke kombinasjoner som fungerer best. På natten bruker jeg nå ett lag mikrofiber og ett lag bambus, med mikrofiber nærmest huden. Så fremt jeg skifter ved hver amming (som regel to ganger på natten ca. 02 og 05), så holder det tørt.
På dagen så eksperimenterer vi fortsatt litt og varierer mellom å bruke ett lag mikrofiber eller et lag mix. Sistnevnte har jeg hatt mest lekkasjer med, men det er ikke lenge siden jeg fikk innleggene så de er ikke vasket like mange ganger. Bambus skal gjerne vaskes en 4-5 ganger for optimal sugeevne; enn så lenge får vi passe på å skifte litt oftere. Jeg vil tro at disse kommer til å bli veldig bra etterhvert, så da vil vi kun bruke disse på dagen og den doble kombinasjonen på natten. Noen foretrekker formsydde på natta, men så lenge jeg klarer meg med alvableiene så kommer jeg til å holde meg til det. Prøver å unngå å kjøpe for mye greier :)
Siden jeg var såpass dårlig når vi kom hjem fra sykehuset så var ikke tøybleier førstepri, men vi prøvde å bruke noen tøybleier hver dag. Hver eneste papirbleie du ikke trenger er jo en seier, alle monner drar! Vi hadde kun ett bambusinnlegg per bleie, men for at disse skulle holde måtte vi ha doble innlegg i bleiene. Så selv om vi hadde 13 nyfødtbleier hadde vi plutselig bare innlegg nok til seks før vi måtte vaske. Jeg innser jo i ettertid at vi kunne ha brettet innleggene til de store bleiene i to, men flere innlegg trengte vi uansett. Jeg bestilte to pakker til med ekstra innlegg, og etter ca. en uke kom de, og vi var klare for å gå all in. Nå som vi kjører tøy 100% så må vi vaske hver dag med 13 bleier, så jeg har bestilt 8 til. Da holder det nok med å vaske annenhver dag. Så nå har vi 21 nyfødtbleier, tre 10-pakninger med ekstra innlegg og fire våtposer.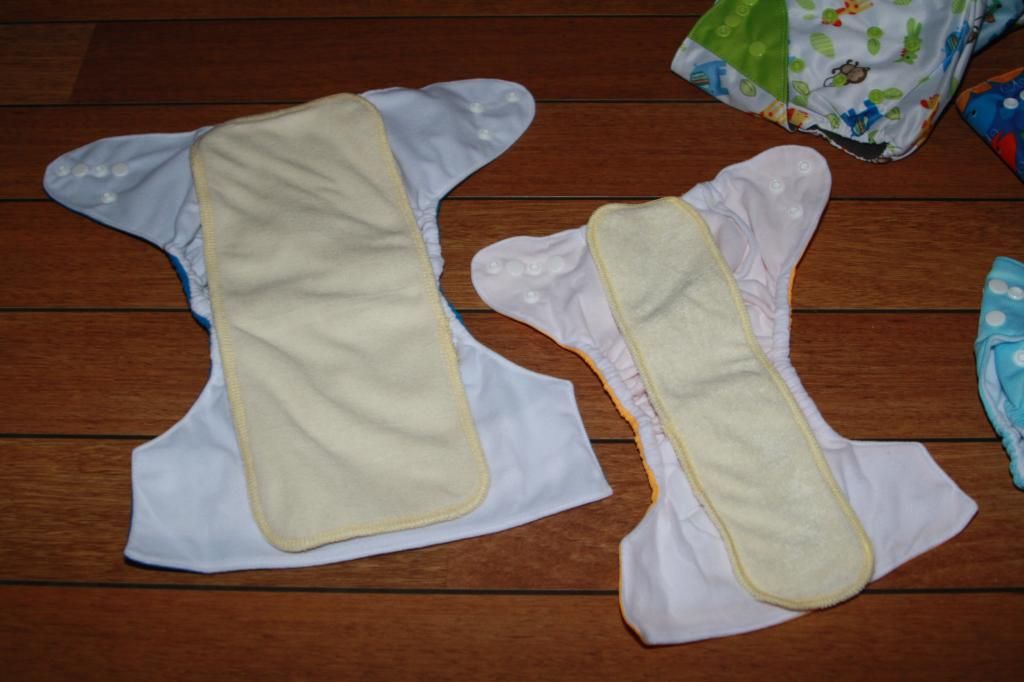 One size lommebleie til venstre og newborn one size lommebleie til venstre. Begge har et 3-lags bambusinnlegg på toppen.
Disse nyfødtbleiene regner vi med å kunne bruke til han er 4-5 måneder gammel. Vi har de på det ytterste hakket i livet (men de sitter relativt løst her), og på det innerste hakket i «høyden». Det er viktig at de sitter tight i låret og helt oppe i lysken for å forhindre tisselekkasjer. Vi har som nevnt hatt litt lekkasje av tiss, men aldri noe bæsjelekkasje, sånn oppover ryggen jeg hører man kan få med papirbleier. Det viktigste er å sette de på riktig, denne videoen viser veldig godt hvordan man setter de på i forhold til vanlige papirbleier:
Sjekk ut kategorien Tøybleier for å lese mer og for å finne lenker til de større bleiene.
Vask av bleiene
Jeg samler opp bleier i en våtpose som henger ved siden av stellebenken. Jeg fjerner alltid innleggene fra bleiene før jeg legger de i posen, og de værste bæsjebleiene skyller jeg litt i vasken først, men det er egentlig ikke nødvendig. For å slippe ammoniakklukt som tiss kan gi så skyller jeg alltid bleiene i maskinen i kaldt vann først. Jeg kan velge et program som heter skylling + sentrifuge, og om jeg trykker bort sentrifugen så tar dette programmet 6 minutter. Når dette programmet er ferdig hiver jeg i en kapsel økologisk vaskemiddel og øvrige håndkler, kluter og undertøy og vasker på 60 grader bomullsvask. Innleggene tørkletomler jeg mens pul-trekkene (altså selve bleiene) og våtmposene henger jeg opp til tørk (disse tørker fort). Bambusinnleggene må som regel tørke litt ekstra etter en runde i tørketrommelen.
Tøybleier til tørk :) Innleggene har vært en runde i tørketrommelen først
Har du testet tøybleier? Fikk du lyst til å prøve?